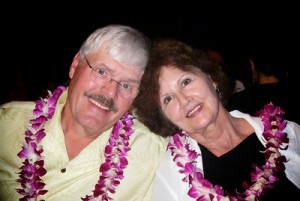 Many readers may recall that Andy and I played the role of Hawaii tour guide for my parents in April. The four of us vacationed in Maui for a week plus we hopped over to Oahu for a day trip. It was rewarding for me to be able show my parents why I've been inspired to write over a thousand blog articles about Hawaii.
I'm always especially interested in hearing the opinions from a first time Hawaii visitor. After the vacation buzz was over, I interviewed my parents to learn their lasting impressions of their visit to Hawaii. I interviewed them separately so that I would be sure to capture their individual thoughts.
For some background information, my parents live in the beautiful Blue Ridge Mountains of North Carolina. They have traveled quite a bit on the Mainland US as well as Europe. So, a trip to Hawaii was a little bit of a departure from their normal travels. Here's what they had to say about their visit to the Aloha State:
When you reflect back on your trip to Hawaii, what thoughts or images pop into your mind?
Mom: "I picture the flowering trees, especially the African tulip trees. I also recall the blue water, rain forest and waterfalls. Hawaii looks like a stereotypical paradise."
Daddy:  "I visualize how green and lush parts of the islands are. The clear, blue ocean water is another beautiful memory."
What was your biggest surprise about Hawaii?
Mom: "I didn't realize that the islands had mountains with such high elevations. We live in the Blue Ridge Mountains with elevations in the range of around 4000 to 6000 feet above sea level, but Hawaii's mountains are even taller! "
"When we visited Maui in April, we were still experiencing some winter weather at home, so it was really a pleasant surprise to be in a tropical environment. Living in an area that has very distinct changes of season, it's hard for me to grasp that the weather in Hawaii is warm and tropical year-round. Even flowers bloom year-round in Hawaii."
Daddy: " I was surprised at all the different climates on Maui. Some areas were very dry while others were so green and lush. It's almost unreal."
"I was also very surprised at how high the elevation was on Maui and how we could drive from sea level to 10,000 feet above sea level in less than 1.5 hours."
Which sights or activities did you enjoy the most?
Daddy: "I got to see and do things I'd always dreamed of doing like visiting the USS Arizona Memorial and Pearl Harbor. I had always wanted to go to a luau, so I really enjoyed that too.
Watching the sunrise at the top of a volcanic crater on Haleakala was really incredible. It was beautiful to be at cloud level and seeing the clouds try to spill over into the crater.
Growing up on a farm in Tennessee, I found it fascinating  to see the pineapple and sugar cane fields.
We did so much in a week, it's hard to remember it all"
Mom: "I really enjoyed whale watching, touring the Garden of Eden, going to a luau and seeing the pineapple and sugar cane fields."
What new foods did you enjoy trying?
Mom: "All the fresh fruits like papaya and mango were delicious. I thought it was interesting to try poi, though I probably won't be in a hurry to try it again. 🙂 For sweet treats, I loved shave ice and coco puffs."
Daddy: "I liked the fresh fish like ono, ahi tuna and mahi mahi. It seemed like just about every dish was served with nice tropical fruits. I didn't realize that the food in Hawaii had such an Asian influence and I really liked that."
——-
Andy and I enjoyed seeing Maui and Oahu through my parent's eyes. It was almost like experiencing Hawaii for the first time again.
What were you're first impressions and surprises from your first time in Hawaii?