Liliha Bakery Coco Puffs: A Must Try On Your Oahu Vacation
I don't know how Liliha Bakery coco puffs managed to elude me until my fifth visit to Oahu and my second visit to this bakery.  When I visit Oahu, they will never evade my grasp again!
Are you wondering what coco puffs are? I'm finding it a challenge to describe them, but I'll give it a shot. It's a small puffed pastry filled with a creamy chocolate pudding and topped with a thick, semi-hard, vanilla and coconut frosting. They are similar to an eclair, but much better. Coco puffs are refrigerated, but with the first bite, they melt in your mouth. The photo below shows our selection of pastries from Liliha Bakery. The coco puffs are on the lower right-side of the box. When my parents, Andy and I took our first bite of our coco puff at the same time, there was a brief pause followed by a simultaneous "mmmmm!"  We then wondered why we didn't buy more.
Liliha's coco puffs are popular with Hawaii residents. On a recent flight from Oahu to Maui, I noticed some folks bringing boxes of coco puffs with them. According to the bakery's Web site, they sell between 4,800 and 7,200 every day. Dubbed as "the magic puff",  the bakery's Web site claims that sharing them can help you "make amends with a friend, impress your significant other's family and celebrate a milestone." Liliha Bakery's coco puffs are that kind of magic. The butteriness and creaminess of this chocolate-filled puffed pastry can't be matched nor explained." Oh yes, I believe it!
I don't know how these delightful pastries have remained hidden from visitors. This bakery and these pastries have even escaped the radar of Hawaii travel guidebooks. (I haven't found Liliha Bakery mentioned in any Oahu travel guidebooks.) As savvy Hawaii travelers and readers of Go Visit Hawaii, you now know this secret.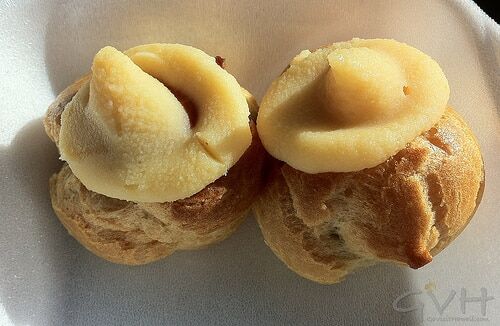 I suppose the reason Liliha Bakery isn't in any Oahu guidebook is that the bakery's original location is hidden away from typical tourist areas. The original location is in Honolulu, but away from any major hotel. Though it's off the beaten path, it is a convenient diversion if you are on your way to:
The original Liliha Bakery is located in Honolulu at 515 N. Kuakini Street. See this Google Map with the location indicated.
*** 2021 UPDATE***
Liliha Bakery is adding a new location in the heart of Waikiki at the International Marketplace. This additional location will make it much more easy to access coco puffs for folks vacationing in Waikiki Beach.
Check the Liliha Bakery website for hours, locations and other helpful information.
I must thank my friend Evelyn from Homespun Honolulu who first told me about Liliha's coco puffs. I had mentioned to Evelyn that I had breakfast at Liliha Bakery. She asked me if I tried one of their famous coco puffs. I was embarrassed to admit I didn't even know what a coco puff was much less knew to try one. She told me I would have to go back to try a coco puff. Thank you, Evelyn, for urging me to return.