What's the weather like in Hawaii?
Temperatures
Hawaii's weather is warm all year round with daytime high temperatures ranging from 78F in the "colder" months to 88F in the hotter months. Hawaii's proximity to the equator means that its weather is tropically warm and consistent throughout the year. Flowers are always in bloom in Hawaii.
Typically December, January, and February are the coolest months, while July, August and September are the warmest months.
Evening low temperatures range from 65F in the cooler months to 75F in the warmer months.
Rainfall
The months of April – October tend to have less rain than the months of November – March. The following chart shows how the average rainfall varies by month and by Hawaiian Island.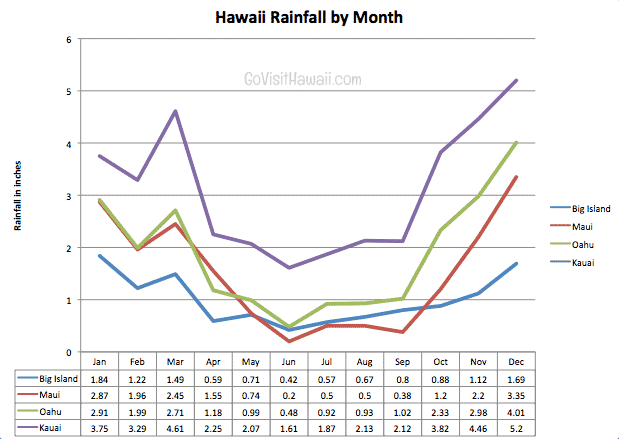 An interesting aspect about Hawaii rainfall is that most if the Hawaiian Island precipitation falls overnight. Even if a rain shower should interrupt your day, it rarely lasts more than a few minutes before the glorious sunshine breaks through again. You may even be treated to a rainbow afterward.
Micro-climates 
Each Hawaii island boasts its own micro-climate depending on where you stay. The island weather is very much influenced by the trade winds which generate windward and leeward regions. In general, the north and east facing coasts tend to get more rain than the south and west-facing coasts. From the following satellite view of Hawaii, notice how the north and east sides are very green in comparison to the other sides. That's an indicator of the rainfall levels.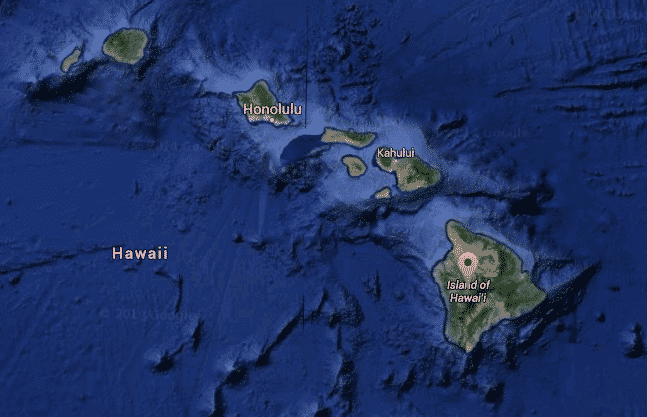 The tall volcanic mountains of Hawaii are significantly colder than the beach elevations. With elevations over 13,000 feet above sea level, it's not unusual for Mauna Kea and Mauna Loa on the Big Island to get snow in the winter. At an elevation over 10,000 feet above sea level Haleakala on Maui can also get snow.
Oahu's Weather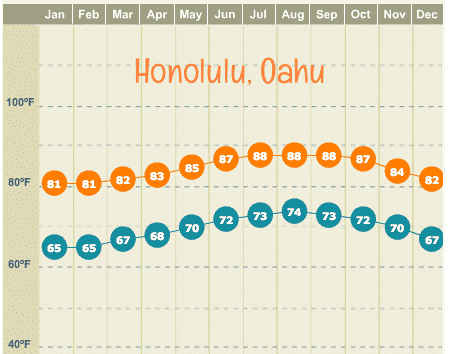 The southern side of Oahu, including Waikiki and Honolulu along with the southwest coast at Ko Olina are your best bet for lots of Hawaiian sunshine. Though the North Shore also gets its fair share of sunshine. We wouldn't hesitate to head to any part of Oahu any day of the year.
For more Oahu weather details, read our Oahu Weather Guide.
The upcoming Oahu forecast is as follows:
Honolulu
Feels like: 72°F
Wind: 6mph NNE
Humidity: 65%
Pressure: 30.08"Hg
UV index: 0
81/68°F
79/70°F
81/70°F
84/72°F
84/72°F

Maui's Weather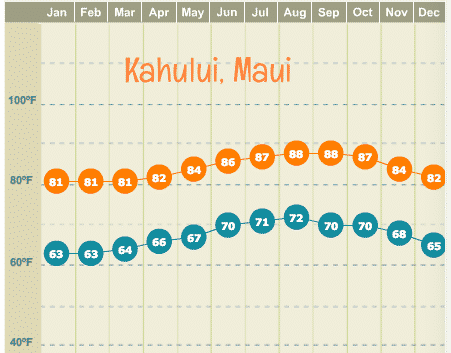 Choose the sunny South Coast near Wailea for a nearly guaranteed sunshine all year round. While Lahaina Kaanapali and Kapalua in West Maui get a bit more rain as compared to South Maui, overall the area has relatively low rain levels and good amounts of beautiful Hawaiian sun.
The windward east side of Maui, including beautiful Hana, tend to have more rain which creates those beautiful waterfalls and rainforests.
If you plan to venture to the top of Maui's inactive volcano, Haleakala, plan to bring a warm windproof jacket, hat, and gloves as it can get cold – especially overnight during the night.
For more Maui weather details, read our Maui Weather Guide.
The upcoming Maui forecast is as follows:
Kaanapali
Feels like: 70°F
Wind: 7mph ENE
Humidity: 79%
Pressure: 30.07"Hg
UV index: 0
77/66°F
77/68°F
81/68°F
82/70°F
82/68°F

Kauai's Weather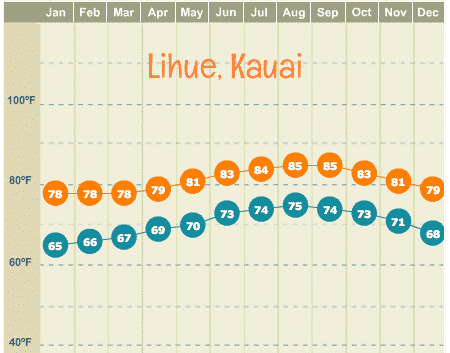 Princeville and Hanalei on the North Shore of Kauai bring a mixture of sunshine and showers needed to make all of the wonderful rainbows and waterfalls.
The East and South shores are likely to offer more sunshine and less rainfall.
For more Kauai weather details, read our Kauai Weather Guide.
The upcoming Kauai forecast is as follows:
Lihue
70°
Partly Cloudy
6:17am6:57pm HST
Feels like: 70°F
Wind: 9mph ENE
Humidity: 77%
Pressure: 30.1"Hg
UV index: 0
77/66°F
75/68°F
77/70°F
81/70°F
81/72°F

The Big Island's Weather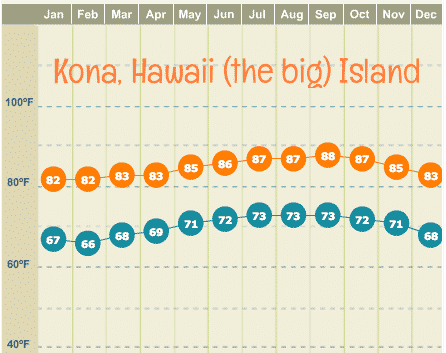 The Big Island of Hawaii offers the most diverse climates within the Hawaiian Islands. Climatologists have determined that the Big Island has 11 of the world's 13 climate zones.
The Kohala and Kona coasts on the west of the Big Island are your best bets for plenty of sun and little rain. The Kohala Coast, in particular offers one of the sunniest resort spots in all of Hawaii.
In comparison to the dry Kona and Kohala coasts, Hilo on the East side tends to have significant amounts of rain year round. In fact, compared to all the other Hawaiian airports where weather data is collected, Hilo receives several more inches of rain on average.
If you visit the higher elevations, you want to be prepared for chillier temperatures. If you go into Waimea town in the evening, you'll want to have a light sweater. If you go up to the summits of Mauna Kea and Mauna Loa, you'll want to wear long pants and a coat.
For more Big Island weather details, read our Hawaii (Big) Island Weather Guide.
The upcoming Kona forecast is as follows:
Kailua-Kona
Feels like: 70°F
Wind: 3mph E
Humidity: 73%
Pressure: 30.04"Hg
UV index: 0
79/68°F
81/70°F
81/70°F
82/70°F
82/70°F

Lanai's Weather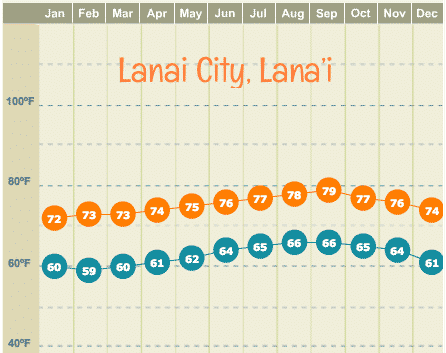 The island of Lana'i has just a few areas where you'll find lodging — in Lanai City and nearby Koele in the upcountry and Manele Bay down on the coast. The highlands or upcountry of Lanai enjoy a mild/cooler climate as compared to the warmer and sunnier Manele Bay. Please note that the above chart is based on Lanai City in the higher elevation. To estimate the weather in Manele Bay, add about 10 degrees Fahrenheit to Lanai City temperatures.
The upcoming Lanai City forecast is as follows:
Lanai City
79°
Mostly Cloudy
06:1918:14 HST
Feels like: 82°F
Wind: 12mph NE
Humidity: 68%
Pressure: 29.88"Hg
UV index: 7
79/69°F
79/69°F
80/69°F
79/68°F
79/67°F

Molokai's Weather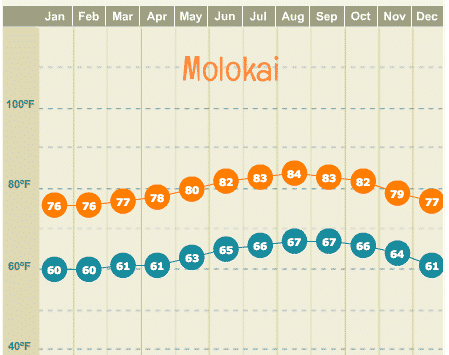 Molokai's weather doesn't vary quite as much as some of the other Hawaiian Islands. The north and east sides of the island are rainier than the south and west sides of the island.
The upcoming Molokai forecast is as follows.
Kalaupapa
Feels like: 73°F
Wind: 10mph NE
Humidity: 74%
Pressure: 30.04"Hg
UV index: 0
min 72°F
83/72°F
83/72°F
84/72°F
83/72°F

Frequently asked Hawaii weather questions:
When is the best time to go to Hawaii?
Anytime is a great time to go to Hawaii. We've been to Hawaii several times in every season and enjoyed wonderful weather. For the best weather and prices, we recommend visiting Hawaii in mid/late April, May, early/mid June, September and October. We provide many more details with advice on when to visit Hawaii in this article: which time of year is best for visiting Hawaii.
Is Hawaii cold in the winter?
We don't think it's cold. Look at the above weather charts which indicate that even in the coldest months, the average daytime high temperatures average between 78 and 82F, which is quite pleasant. You'd have to visit Hawaii during a particularly odd weather pattern to be cold in Hawaii. During winter months, you might want to have a light sweater to wear in the evenings, but during the daytime, you'll most likely enjoy "bikini weather" while playing in the ocean.
Is Hawaii's weather humid?
The degree to which a person feels humidity depends on the humidity of the climate where they live. For example, someone who lives in the humid southeastern United States probably won't notice much humidity, while someone from an arid southwestern state may take more notice in the humidity.
If the tradewinds are blowing, which they normally do, the breeze helps to keep you comfortable in the humid environment.
Do I need to be concerned about rain in Hawaii during the winter months?
As we've previously mentioned, the north and east sides of the island tend to get more rain than the south and west sides of the islands. If you plan to stay on the south and west sides of the islands, you'll likely minimize your chances of experiencing rain. See our article on where to stay to avoid rain in Hawaii.
Is winter a good time to go to Hawaii?
Yes! See our article about visiting Hawaii in the winter.
Are the northern Hawaiian Islands colder than the southern Hawaiian Islands? 
There are perhaps just a few degrees difference between the extremes, but nothing drastic. If you flew from one island to the other, you probably wouldn't notice a difference. Review the above temperature charts for Kauai, the northernmost Hawaiian Island, to the Big Island, the southernmost Hawaiian Island for comparison. Note that there's very little difference.
What's the water temperature in Hawaii? Can I swim in Hawaii in the colder winter months?
You can swim in the ocean in Hawaii throughout the year — even in winter months. The average ocean temperature for Honolulu is about 78F and ranges from a low of 76F to 81F. See our Hawaii ocean temperatures article for more details.