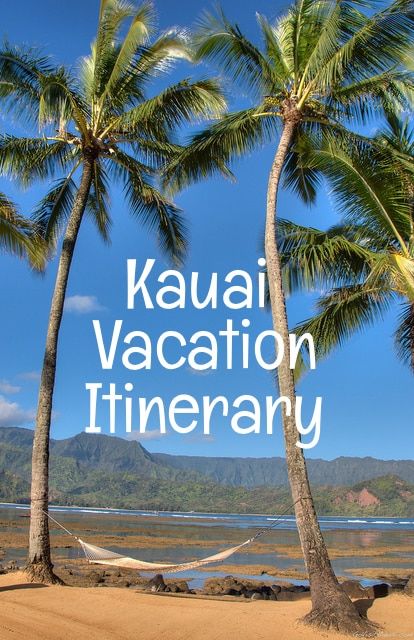 Need help and inspiration to plan your Kauai vacation activities? Well, look no further than our scenic and adventure-packed itinerary. This travel plan includes all the top attractions and "must-dos" of a Kauai vacation.
While there are lots of great sightseeing and activities to do, we've actually carved out time to relax into this week-long itinerary. If relaxing isn't your style, then choose from the list of additional activities listed in Day 4 of the itinerary.
You can customize this Kauai vacation plan to your interests and liking. If you prefer a different sequence, switch the days around as you desire. If you don't like the recommended activities, swap them out for something else of your liking.
If you have less than a week on Kauai adjust the plan to your available time. One easy way to make the plan fit less days is to eliminate the free/customizable days.
The links included within each day's plan provide photos, some videos directions and many more details about those attractions.
Arrival Day
For the day you arrive on Kauai, we don't recommend scheduling any activities due to a long day of travel and jet lag. On this day, we recommend you get settled into your accommodations and then perhaps catch a sunset with some pupus (appetizers) and refreshing drinks.
Day 1 – Helicopter Tour + East Kauai Sightseeing + Free Time
Kauai is by far the most beautiful Hawaiian Island for a helicopter tour. With remote canyons, cliffs and waterfalls the bird's eye view is nothing short of spectacular. We suggest taking a helicopter tour early into your Kauai vacation to help you get a great orientation of the island. See our tips for choosing a helicopter tour for more advice.
Most helicopter tours take off and land at the airport in Lihue, which is on the east side of the island. Since you're already in the area, it makes sense to do some sightseeing.  The East Kauai sites you should see are:
Wailua Falls is Kauai's most famous waterfall. It's located off Ma'alo Road, Highway 583.
Opaekaa Falls, Poliahu Heiau and overlook to Wailua River valley. All of these attractions are located off Kaumoo Road, Highway 580
See Sleeping Giant
The remainder of the day is open for beach or pool time or perhaps some other activities.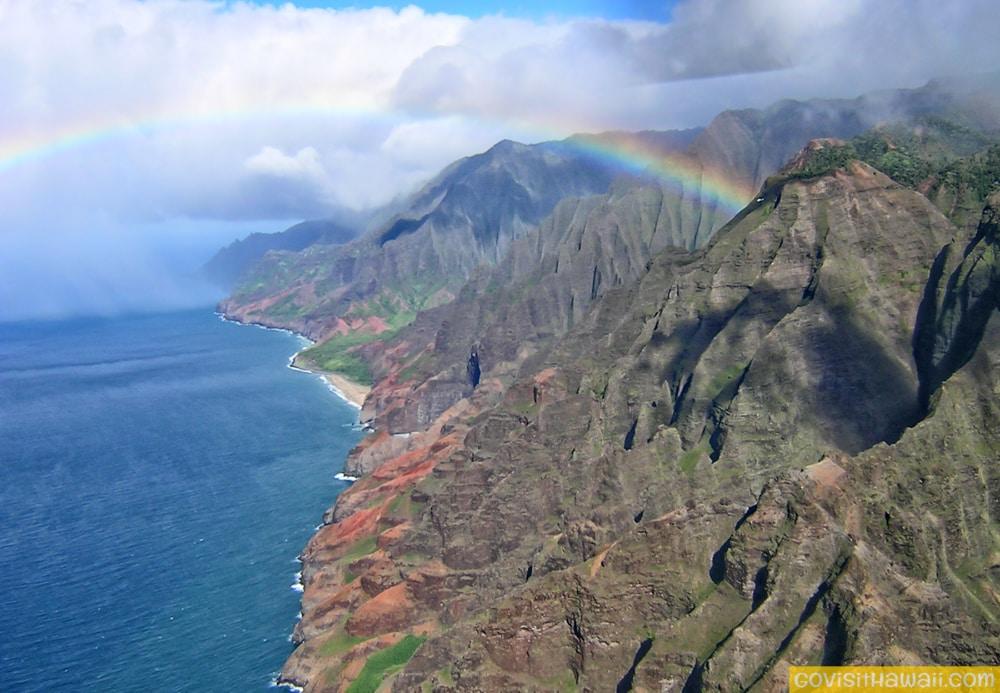 Day 2 – Waimea Canyon + Kalalau Valley Lookout
Today, you'll get to enjoy two of Kauai's most famous sights –  Waimea Canyon and Kalalau Valley. There's a lot to do this day, especially if you choose to hike the Canyon/Cliff Trail. If you don't want to hike and/or you tend to be efficient sightseers, you might be able to combine the South Kauai Sightseeing attractions of Day 3 (minus the catamaran cruise) with Day 2 activities.
From you accommodations, make your way to Highway 550, Waimea Canyon Drive. You'll be heading towards Waimea Canyon State Park and Kokee State Park.
Stop off at the various lookouts for sweeping views of the canyon. Most of the canyon lookout points will be obvious and have paved parking. Note that one of our favorite spots for seeing the waterfall in the canyon, if it's visibly flowing, is between mile markers 12 and 13. Between those mile markers, there's a small dirt turnout.
Continue driving further on Highway 550. We recommend a stop at the Kokee Museum for a short visit at this free museum. (Note there aren't many restrooms in Waimea Canyon State Park or Kokee State Park, but there are restrooms at the Kokee Museum.)
Carry on driving Highway 550 until it ends at the lookout for Kalalau Valley. If the valley is filled with fog, wait patiently and it will likely clear.
If you'd like to hike in these two beautiful state parks, we recommend:
The Cliff/Canyon/Waipoo Trail, which is a moderately strenuous hike that's under four miles. The trailhead is located between mile markers 14 and 15. This hike is one of our two favorite Kauai hikes. See our post for more details on this trail.
For a much shorter and easier trail, try the Iliau Nature Loop that's only 0.3 miles long. It's located between mile markers 8 and 9. It's a dirt trail with easy inclines and offers great views into Waimea Canyon. This trail features the namesake iliau shrub which is native to Kauai only.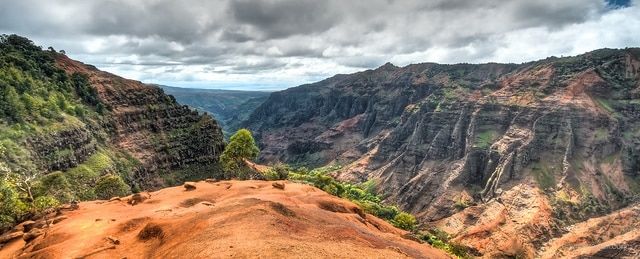 These activities will take most of the day to do. Depending on where you're staying, the drive to and from can take a good chunk of time, too. For example, if you are staying in the Princeville area on the North Shore, the drive to Kokee Museum can take over two hours each way. Don't let the length of the drive put you off, though, because the scenery is absolutely worth the effort. Besides, you're on vacation, get out and discover the wonderful scenery of Kauai!
Day 3 – Catamaran Cruise of the Na Pali Coast 
The main objective for this day is to enjoy a catamaran cruise of the beautiful Na Pali Coast.  There are only three ways to see the Na Pali Coast and by catamaran allows you to savor the views for the longest amount of time.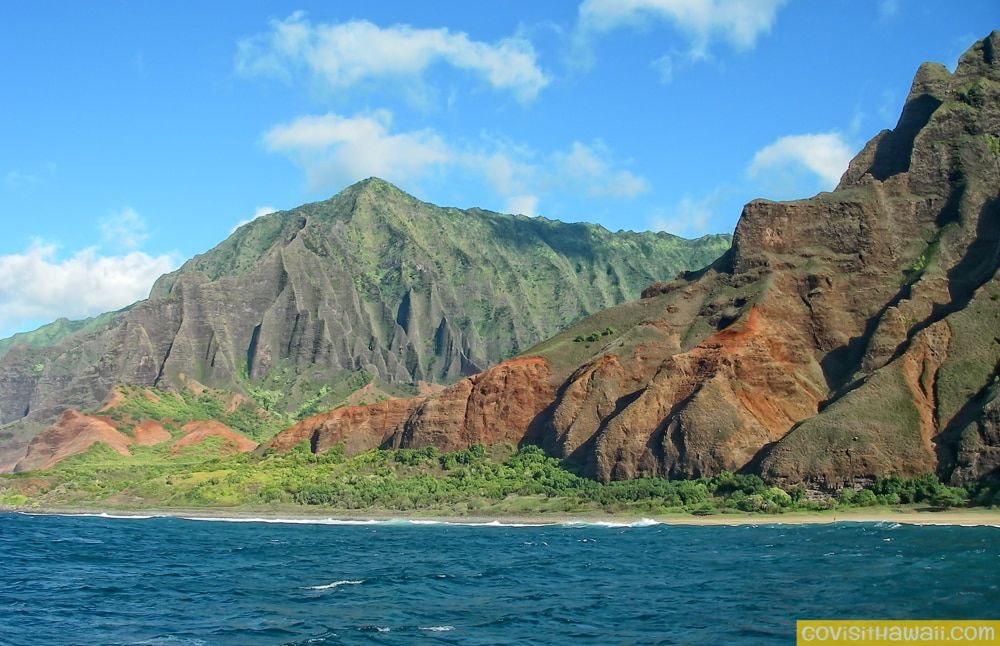 There are two options to see the Na Pali Coast by catamaran. It's a bit complicated to explain because your choices primarily depend on where you're staying and the time of year you are visiting. Here are the two main options:
From Port Allen on the south side – most Na Pali Coast cruise companies operate from this port. Generally speaking, tours from the south can operate throughout the  year. Though, sometimes ocean conditions are not safe for cruises and the companies will have to cancel and rebook tours. Catamaran companies from the south side that we've sailed with are Blue Dolphin, Captain Andy's and Kauai Sea Tours.
From Hanalei on the north side – there is one tour company, Na Pali Catamaran, that leaves from Hanalei. This would be the most convenient tour for those staying on the North Shore. The only caveat is that the ocean conditions are only favorable from March through October. Even then, there may be days in March, April and October that are not favorable. If you are staying on the North Shore from March – October, consider cruising the Na Pali Coast from the north side. If you do that, you should combine the South Kauai Sightseeing from below with the plan for Day 2.  Be flexible, though because ocean conditions are not always conducive for boat tours. 
The following Day 3 play is for visitors taking a catamaran cruise from the South Side:
You will need to arrange your sightseeing sequence depending in which time of day you choose to do the catamaran cruise. You could do the catamaran cruise in the morning or afternoon/sunset. The Na Pali catamaran cruise options can include cruises with or without snorkeling. For this day, you should pre-book a catamaran sail to secure the sailing you desire.
The time of day that you choose to take a cruise doesn't matter a great deal, but we tend to think that afternoon/sunset sails of the Na Pali Coast are a little better due to the sunset lighting on the coastline. So, for the logistics of this day, we will assume a sunset sail. Those cruises typically require an early afternoon check in and departure so make sure you fit all the earlier sightseeing in with enough time to get to your check in point.
In addition to the Na Pali Catamaran cruise, here are the South Kauai attractions to enjoy on this day.
South Kauai Sightseeing
Day 4 – Customizable Day
We are intentionally leaving this day as customizable. Relax if you want, but if you desire more activities, here are some fun suggestions:
Kayak the Wailua River and take the short hike to Secret/Sacred Falls – highly recommend – its one of our favorite Kauai activities. It's not as daunting as it may sound.
Mountain Tubing – highly recommend – it's one of our favorite Kauai activities.
Ziplining – we've been zipling with Princeville Ranch Adventures, but there are a few others zipline tour companies.
ATV riding – we've been ATV riding with Kauai ATV.
Horseback riding – the North Shore is particularly picturesque for horseback riding.
Biking – there's a lovely oceanside path that runs along the Coconut Coast on the east shore.
Hiking – we've listed two top hiking trails, but you can find many others on the island. Kauai Explorer has a nice list of trails. Guided hikes can offer access to extra trails.
Golf
Spa – our favorite is Anara Spa at the Grand Hyatt Kauai Resort in Poipu
Evening luau
Tour a garden – there are three national tropical botanical gardens on Kauai. We note two on Day 3 and one on Day 5 as options.
Fern grotto tour – if you don't do the tour to kayak the Wailua river that's mentioned at the top of this bulleted list, this is a nice way to get a tour of the Wailua River.
Shopping
Most of the above activities, with the exception of the day trip to Oahu,  will take a half-day or less. So, you should have some free time to relax if desired.
Day 5 – North Shore Sightseeing
As if you've not seen enough amazing Kauai attractions already, the North Shore sites are going to pile on with even more beauty! We'll list the attractions in the order you'll encounter them if you are heading from southeast to northwest, but you may decide to reverse the sequence.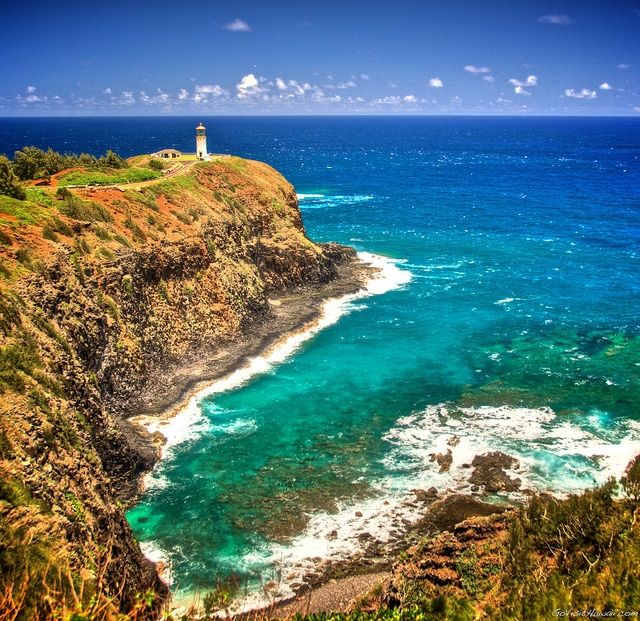 First up is Kilauea Lighthouse for an absolutely picture perfect scene. See our post on Kilauea Lighthouse for more details and directions.
Next we recommend a stop at the Hanalei Valley Lookout. See this link to our Hanalei Valley Lookout post for more information and to get directions.
Continue on the scenic drive on Highway 560 down the slope into Hanalei Valley. Make your way to Hanalei Bay this picturesque area. See this our Hanalei Bay post which has more information plus directions to get to the pier. Note that the town of Hanalei is often referred to as a "hippie town." It certainly has a unique vibe. In this small town, you'll find shops, restaurants and food trucks galore.
*** Very important note: As of June 2019, a new reservation system was implemented for visitors to access Ha'ena State Park, Ke'e Beach, the Kalalau Trail, and Limahuli Gardens. Please see our article regarding the new Kauai North Shore reservation and shuttle system. ***
At the end of the road is Ke'e Beach and also the start of the famous Kalalau Trail. If you're up for a fairly strenuous, but beautiful hike into the Na Pali Coast, we recommend hiking the first two miles of the Kalalau Trail. Allow three to four hours for this hike. See our Kalalau Trail post for advice.
If the Kalalau Trail sounds too daunting and/or if you have extra energy after hiking the trail, check out the Limahuli Garden and Preserve.
Day 6 – Customizable Day
By now, you've definitely seen the highlights and "must-sees" of Kauai. As this is towards the end of your week on the island, you could take the opportunity to relax and reflect on you visit or choose from the list of activity suggestions on Day 4.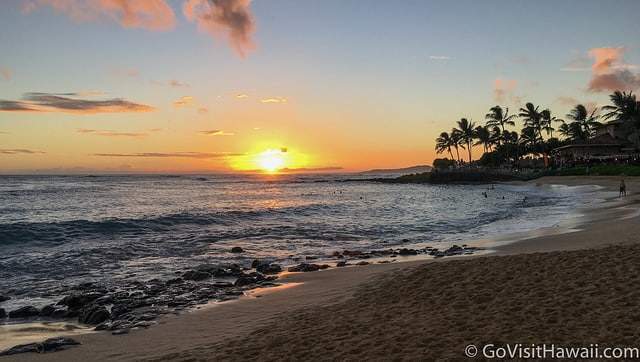 Day 7 – Final Kauai Moments
The final day of your week-long Kauai vacation can be the most difficult to plan. On this day you will need to pack, check out of your accommodation and leave the island.
Have a nice breakfast from an ocean view restaurant or grab a take out breakfast to enjoy at a nearby beach.
If your time allows, enjoy some last minute beach or pool time at or near your accommodation.
If your flight leaves later in the afternoon or evening and you want to enjoy some more attractions and/or pool/beach time, you'll need to come up with a plan to deal with your luggage. See our suggestions for what to do with your luggage on your last day.
—
Notes:
– This Kauai vacation itinerary is easy to implement no matter where you are staying on the island.
– Note that if you are staying on the North Shore, you may end up doing a bit more driving. To minimize driving, see the options specified for Day 2 and Day 3.
– There's noting special about the order of the days, so, feel free to switch days around to suit your schedules and weather forecasts.
– Even if you have more or less than seven days, you can adapt this vacation itinerary to suit your available time and interests.
– Check ocean/beach safety conditions before swimming, snorkeling or other ocean activities.
– If you need more suggestions and/or would like a guidebook, we recommend the Ultimate/Revealed guidebook for Kauai.
– For other Hawaiian Island vacation planners, see ur Maui itinerary is here and our Oahu vacation planner.