One week vacation itinerary & travel planner for the Big Island of Hawaii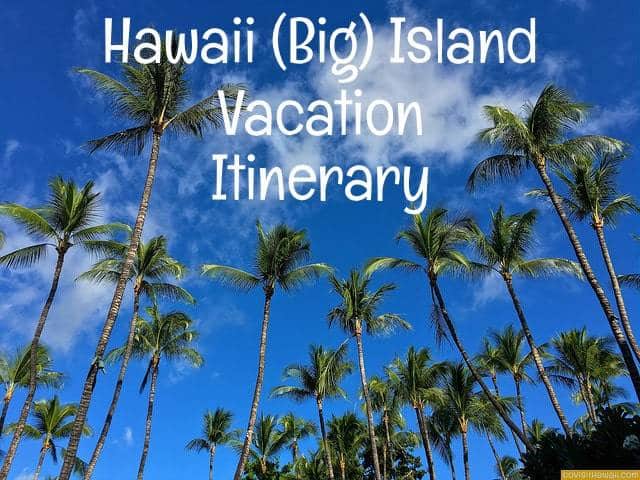 Fun days of adventure finished off with evenings of sigh-worthy sunsets are in store for you with our week-long Big Island vacation itinerary. In just seven days, we include all the major highlights of Hawaii's wonderful Big Island — the incredible volcanic landscapes, amazing waterfalls and much more!
Though this itinerary is based on one week, you can easily adapt it for more or less time.
Ideally, we recommend a longer stay than a week on the Big Island and splitting time between the Hilo/Volcano side and Kona side as we describe on our where to stay on the Big Island article. There are days-worth of interesting things to see and do in Hawaii Volcanoes National Park alone. However, we recognize that most people typically plan just one week's vacation and that they stay only on the Kona side. With that in mind, we've created this itinerary assuming a one-week stay on the Kona side of the Big Island.
Arrival Day
Most likely you'll have a long day of travel to get to the Big Island. You might also have a bit of jet lag. So we don't recommend scheduling any activities on your day of arrival.
A nice way to get your Hawaii vacation started is to get settled in your accommodation by unpacking and then exploring your hotel and its amenities. Grab some pupus (appetizers), a refreshing drink and enjoy a beautiful Hawaiian sunset if you can.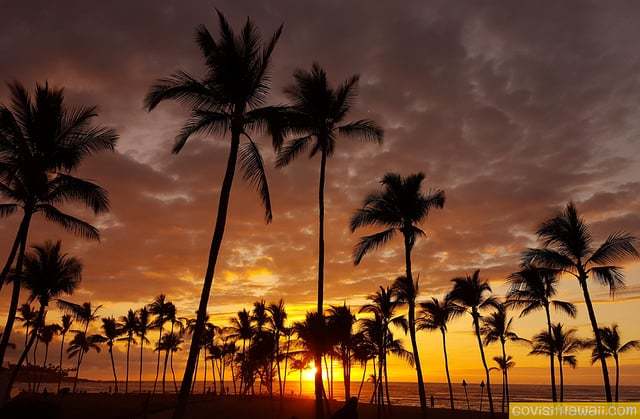 Day 1 – Ocean Fun + Free Time
The big, beautiful, blue Pacific will be beckoning you to enjoy it. So, the first day is a great day to take a tour that gets you out on the ocean.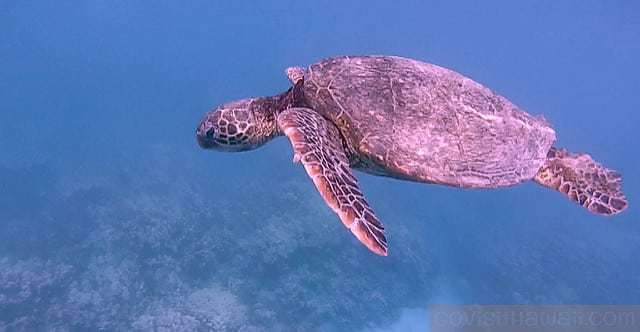 You'll likely be waking up early with jet lag and the excitement of being in Hawaii. So, make your jet lag work for you by taking advantage of the smoother ocean conditions that are typically found in the mornings. Snorkel tours, submarine tours and whale watching tours (in peak season from January – March) are all great options.
We love to start our Hawaii Island vacation with a morning snorkel tour. Some snorkel tours that we recommend are:
If you're staying in Kona, the Kona Boys shack rents snorkel equipment and the snorkeling is quite good just off the beach by the shack.
If snorkeling is too adventurous for you, but you'd still like to see what's under the sea, a great way to do so is via a submarine tour out of Kona. We haven't been on this particular Atlantis tour, but we've been on the Atlantis submarine tour out of Maui and it was really well done.
Snorkel tours normally take three to five hours, so you'll have free time to relax for the rest of the day.
Day 2 – Waterfalls & Volcanoes 
There's so much awesomeness in store for this day. You'll be seeing several of the Big Island's top attractions including Waipio Valley, Akaka Falls, Hawaii Tropical Botanical Garden, Rainbow Falls, Hawaii Volcanoes National Park, and if you're lucky, volcano activity. We've detailed all the attractions to see on this day in this article: Kona to Hilo Day Trip.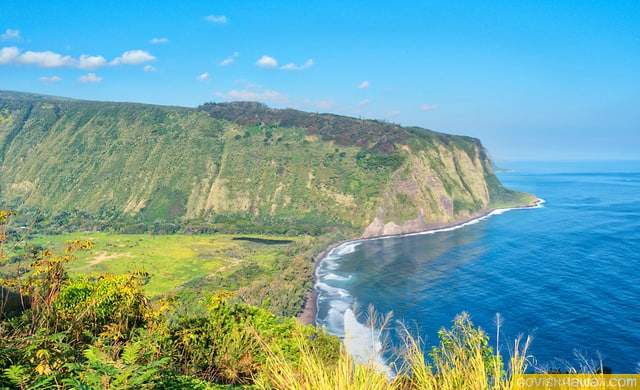 This will be a long, but very energizing and enjoyable day of adventure! We recommend an early start, say around 7am or even a bit earlier, if you can. You'll most likely be a bit jet lagged, so an early start will probably not be much of an issue.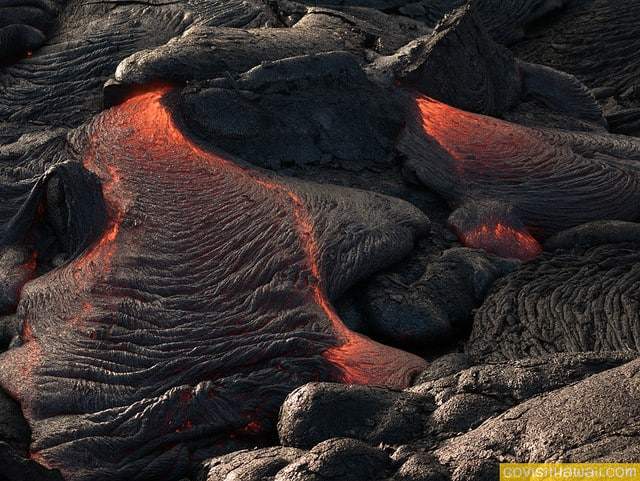 Again, for the detailed agenda for this day see this article: Kona to Hilo Day Trip. We've taken several friends on this day trip and they loved it. We never bore of it either.
Day 3 – Customizable Day
After the long day of Day 2 of our itinerary, you may want to relax on a beach or by a pool by Day 3.
A great beach to spend the day is Hapuna Beach on the Kohala Coast. There are restroom and shower facilities here as well as lifeguards. Learn more here. Other great beaches are Aneho'omalu Bay ("A-bay") in Waikoloa. Kikaua Point Park is a bit of a hidden beach gem.
If relaxing on a beach is not your style, choose from these popular activities:
Waterfalls hike and swim tour – note that if you choose to do this tour, you could combine it with Day 4 sightseeing. It's one of our favorite tours.
ATV tour
Zipline tour
If you didn't get enough of Hawaii Volcanoes National Park on Day 2, you could return for more including our favorite Big Island hike, Kilauea Iki.
Day trip to Oahu (Note this is a very ambitious sight seeing day, but you can cull it down to make it easier to accomplish.)
Evening manta ray snorkel tour – this is a wildly popular activity that you don't find on the other Hawaiian Islands.
Evening luau
Day 4 – Kohala Sights + Free Time
On this day, we have a Kohala driving plan that's sure to amaze you as you go through several climate zones – from almost desert-like conditions to a lush rainforest. You'll see stunning Pololu Valley, a statue of the king who first united the Hawaiian Islands, a former sugarcane plantation town and more. The plan is all here.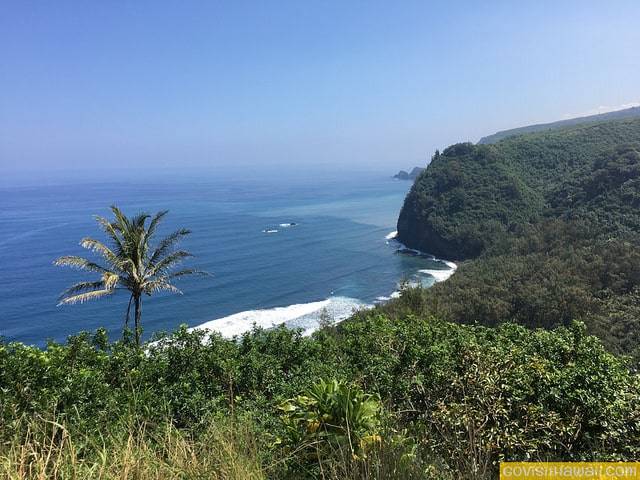 The sightseeing plan for this day shouldn't take your entire day, so you should have time left over to relax, shop, etc.
Day 5 – Place of Refuge, Coffee Farm and Kona Sights 
On this day, you'll learn about ancient Hawaiian culture, check out a Kona coffee farm and enjoy a stroll around the town of Kailua-Kona.
Start the day at Pu'uhonua O Honaunau National Historical Park which was designated as a place of refuge in ancient Hawaiian laws. Stroll around the beautiful, oceanfront grounds and get a glimpse of what Hawaiian life may have been like centuries ago.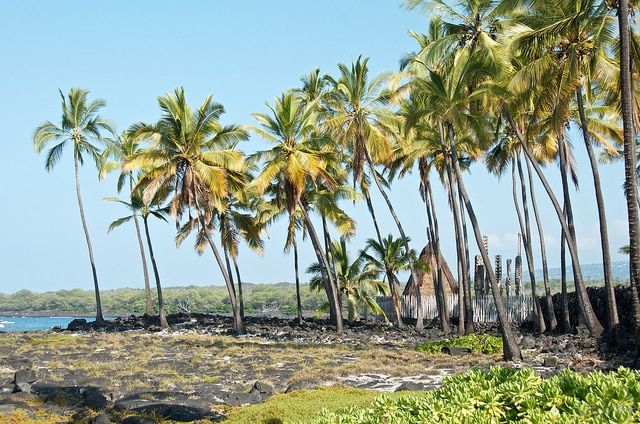 (Optional – see the historic Painted Church – directions.)
Next, taste and learn about Kona Coffee with a free coffee farm tour at Greenwell Farms.
Go to Kailua-Kona town to walk around this historic bay front town. Three of the most historical buildings to see are Mokuaikaua Church, Hulihee Palace and the grounds of Kamakahonu beside of the Courtyard King Kamehameha Kona Beach Hotel. There are lots of shops and restaurants located off Ali'i Drive.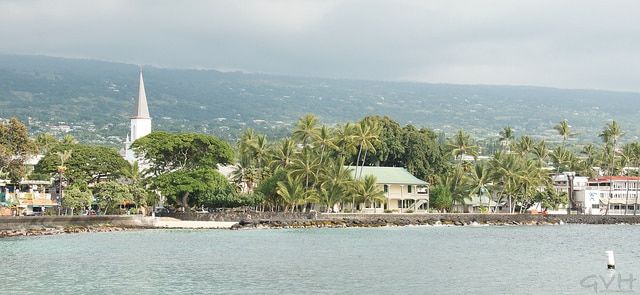 (Optional – end the day with a historical sunset cruise of the Kona Coast.)
Depending on how much time you spend at each of the suggested sites, you may end up with some free time to relax.
Day 6 – Customizable Day
Spend the day relaxing or choose from the activities listed from Day 3.
Day 7 – Enjoy Your Final Big Island Moments
On the final day of your Big Island vacation, start out by enjoying a nice breakfast with an ocean view.
If your time allows, enjoy some last minute beach or pool time near your accommodation.
If your flight leaves later in the afternoon or evening and you want to enjoy some more attractions and/or pool/beach time, you'll need to come up with a plan to deal with your luggage. See our suggestions for what to do with your luggage on your last day.
An activity that we've enjoyed by the Kona airport is touring the sea horse farm.
—
Notes:
– Check ocean/beach safety conditions before swimming, snorkeling or other ocean activities.
— Is this your first trip to Hawaii? See our first time Hawaii visitors guide.
— Be sure and review where you need reservations for a Hawaii (Big) Island vacation. If you are visiting around a holiday or during summer vacation months, you'll especially want to plan ahead and be prepared. (See what you need to know about visiting Hawaii during a holiday.)
— Our Big Island itinerary has been tested by multiple friends and family and they have all raved about their Big Island vacation.
– If you need more suggestions and/or would like a guidebook, we recommend the Ultimate/Revealed guidebook for the Big Island.
– For other Hawaiian Island vacation planners, see our Maui itinerary, our Oahu vacation planner and Kauai vacation planner.