Updated advice for visiting the USS Arizona Memorial at Pearl Harbor in Honolulu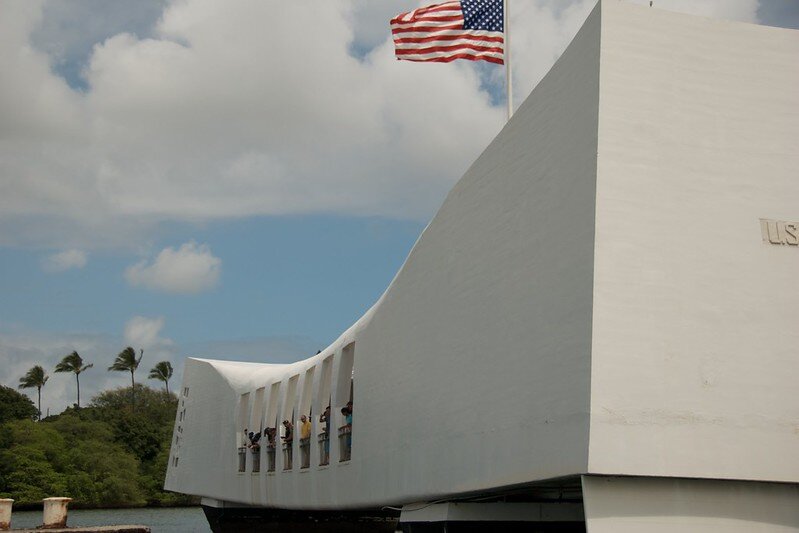 Visiting the USS Arizona Memorial is an exceptionally moving experience. We've visited Pearl Harbor multiple times and each time it conjures up so many emotions.
I highly recommend a visit to the USS Arizona Memorial on your Oahu vacation and it is included in our Oahu vacation planner. Even if you are vacationing on one of the other islands, you can take a day trip to visit Pearl Harbor either by organized tour or independently.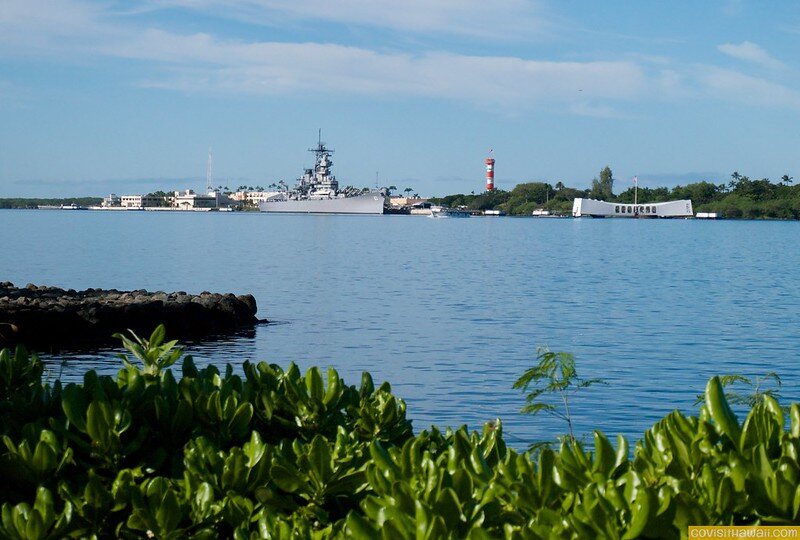 Here's what you should know and expect when you visit the USS Arizona Memorial:
1.  The USS Arizona Memorial is located in the Pearl Harbor area of Honolulu. The physical address is 1 Arizona Memorial Place, Honolulu, Hawaii. By car, it's roughly a 30-minute drive from Waikiki. Of course you can drive there in your rental car, but you also have an option of public transportation (TheBus) or using the services of an organized tour operator. See this link for directions and public transportation options.
2.  It's inexpensive to visit this national park. The museum itself is free to visit and it's also free to take in the views of the USS Arizona Memorial, Battleship Missouri Memorial and the USS Bowfin Submarine from the shoreline. Parking cost $7 parking per car effect April 15, 2023.
3. A lot has changed since we originally published this article in 2009. If you want to take the boat ride to the USS Arizona Memorial, effective March 2021, you must make a reservation for a specific time slot. The cost to reserve a ticket is $1 per person reservation fee. See this link to reserve a ticket. The ticketing process is very much subject to change. Check the park's website as well as this park page for their current policies. As of our most recent update in May 2021 the reservation ticket program releases tickets as follows:
The first allotment of reservation tickets are released up to eight weeks in advance effective May 3, 2021.
A second allotment of reservation tickets are release one day in advance.
If you are not able to secure a ticket/reservation couple of alternatives:

Inquire about a stand-by ticket when you arrive onsite.
Consider taking a guided tour organized by a tour company as they generally have a contract in place for a ticket allotment. Here are some options that we know of:
3.  The memorial is open every day of the week from 7am until 5pm. It is only closed three days of the year — Thanksgiving Day, Christmas Day and New Years Day. Check this link for any changes in operation hours and days. It's busiest times are around holidays, spring break and summer vacation.
4. Absolutely no bags of any kind are allowed. I've observed many people who are carrying purses, camera bags, etc read the sign that bags aren't allowed and then proceed on as if it does not apply to them. Every single one of them are turned away. So, you do need to think about the logistics of securing your valuables. See this link for more information on the security measures and planning your visit.
You can carry in cameras, wallets, cell phones, etc. You just can't bring them in a bag. A Go Visit Hawaii reader, Dave, commented that if you need a bag, you can ask for a bag from the bookstore once you are inside the facilities.
A private vendor operates a storage facility for visitors to all the attractions at Pearl Harbor. There is a nominal storage fee.
Do not leave your bags in plain sight in your rental car. If you want to leave your bags in the trunk, you should very discreetly place them in the trunk prior to arriving at the memorial parking lot. I should note that it is still risky to do that.
5.  Your ticket will include an assigned time for the memorial tour that includes watching an excellent 23-minute documentary film depicting the attack on Pearl Harbor, taking a short boat ride to the actual USS Arizona Memorial, and touring the memorial.
6.  There's quite a bit to see and do in addition to the USS Arizona program. You can do your own self-guided tour of the museum, walk around the harbor grounds, and peruse the bookstore. By the way, it's a good idea to be prepared to repel mosquitoes as I have been mosquito bitten in the museum.
7.  Please be respectful when you visit the memorial as it is the underwater tomb of 1,177 service members.
8.  For a great view of the USS Arizona Memorial, sit in the back of the boat on the return trip back to the shore.
Please enjoy our video showing scenes of a the boat ride in Pearl Harbor. Please note that this video was taken at a time when the Arizona Memorial ramp was under construction and therefore not accessible.
Have you visited the USS Arizona Memorial? What did you think of your visit?