Suggestions for a seven-day Oahu vacation itinerary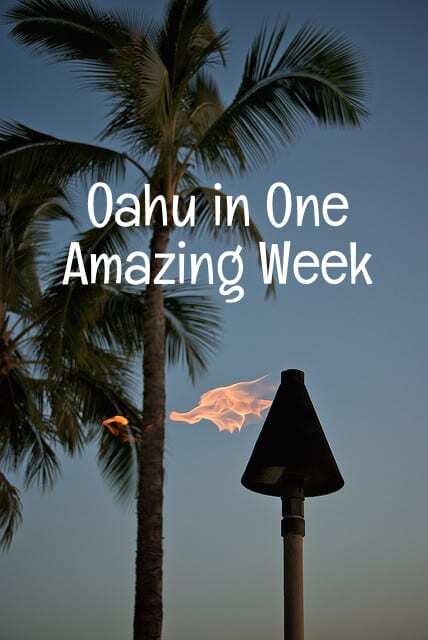 We completely understand how daunting Oahu vacation planning can be. The island has so very much to offer that the options seem endless.
When planning your Oahu vacation, there are so many decisions to make – like when to go and where to stay — that by the time you're ready to plan what you'll do and see, you're almost ready for a vacation from your vacation planning! That's why we've created this seven-day Oahu itinerary to make your planning much, much easier.
We designed this itinerary to include outstanding scenery, adventure and history along with insights into Hawaiian culture. By the end of the week, you'll definitely take home wonderful memories of your Oahu experiences.
This Oahu itinerary is flexible and customizable to suit anyone's interests. Feel free to reorder the days to fit your needs and the weather forecast.
Please note that each link provides much greater detail about each site or activity.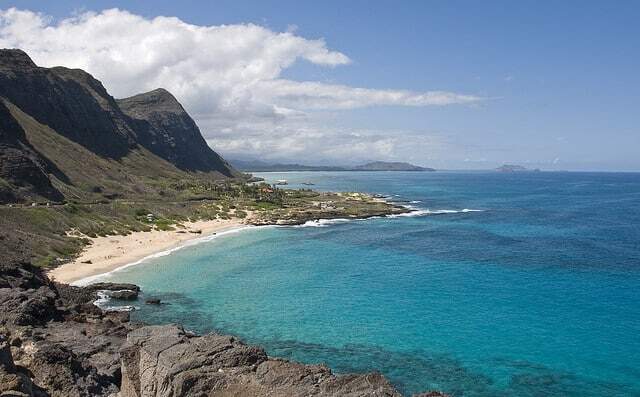 Oahu Day 1 – Discover Oahu's East Side Sight-Seeing
You'll most likely be anxious to get out to see the island. Chances are you'll also be jet lagged and waking up earlier than you anticipated. So, we recommend you take advantage of the early start and discover the amazing scenery along the eastern shore.
We start this day's sightseeing at Hanauma Bay Marine Preserve. It's a beautiful protected bay that's Oahu's most sought-after snorkeling spot. For this itinerary, we recommend simply stopping here and enjoy the view from the Hanauma Bay Lookout. You can visit without a reservation, but you will need to pay a parking fee. Please note that it is closed on Mondays and Tuesdays.
<Potential add on: If you're interested in snorkeling at Hanauma Bay, start your day here. You can spend as little or as much time as you like in beautiful Hanauma Bay. Bring a towel and consider bringing a change of dry clothing for the rest of the day of sightseeing. (There are freshwater, outdoor showers.)
Special Notes about Hanauma Bay:
Closed on Mondays and Tuesdays
A new reservation system was implemented in April 2021. The number of visitors is limited throughout the day. If you do not have a reservation, you might not be able to get in.
Entrance fees have gone up significantly — from $7 to $25 per person — which leads us to debate whether the cost to snorkel here is worth the fee. >
After Hanauma Bay, carry on onto Kalaniana'ole Highway (Hwy 72) heading north and east to enjoy the following highlights:
– Koko Head Crater (on your left as you are heading north and east on Highway 72)
– Take in the views and action of Halona Blowhole.
– Makapuu Lookout offers a stunning view of the coastline and islets in the area. From here, you have a great view of the islet Manana Island, also known as Rabbit Island, and Kaohikaipu Island, which is the flatter of the two islets. If your time and interests permit, you might want to take the 1.4 mile (one-way) Makapuu Lighthouse Trail for great views of the lighthouse.
< Potential add on: Sea Life Park Hawaii is just around the corner from Makapuu Lookout. They offer marine life shows and exhibits plus hands-on experiences with dolphins. For reviews of Sea Life Park see this link to TripAdvisor. >
Waimanalo Beach is a very scenic beach and worthy of a stop.
< Lunch ideas: We like Hawaiian Island Cafe. Alternatively, there are lots of restaurants in Kailua. Cinnamon's is a popular Kailua restaurant that's open for breakfast and lunch only until 2pm.
At the end of Highway 72, you'll come to the intersection of Highway 61. From here you can go towards Kailua and Lanikai Beaches. Lanikai is arguably one of Oahu's most beautiful beaches.
From Kailua and Lanikai, navigate your way to Highway 83 heading towards the North Shore. Make a scenic stop at Byodo-In Temple.
Continuing on Highway 83, make a stop at Kualoa Beach Park for a beautiful view of Mokoli'i, which is also known as Chinaman's Hat.
< Potential add on: Kualoa Ranch offers activities including horseback riding, ATV tour, zipline tour, ancient fishpond and garden tour and a movie site tour. You could easily spend an entire day here taking their tours. The movie site tour may be of particular interest for fans of LOST, Hawaii Five-0, 50 First Dates and Jurassic Park. See this link for TripAdvisor reviews of Kualoa Ranch.>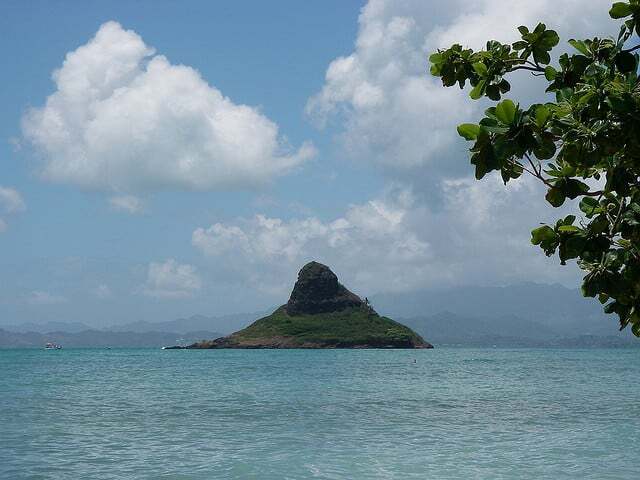 Oahu Day 2 – Pearl Harbor, Punchbowl & Tantulus Drive
We recommend visiting Pearl Harbor early in the day while the temperatures are a bit cooler and you might avoid crowds. Start with the USS Arizona Memorial, which is not to be missed. Please note that the ticketing process has changed numerous times over the years. At the most recent check it was necessary to pre-book a reservation (fee $1) for the boat ride to visit the actual memorial. Check the park's website for their current policies on reserving a time slot. The USS Missouri Battleship Memorial is also worth visiting while you are in Pearl Harbor. If you'd like more military and history insights of Pearl Harbor, you might consider visiting the USS Bowfin and the Pacific Aviation Museum.
< Lunch ideas: though Nico's at Pier 38 is not immediately nearby, it's somewhat convenient for lunch. This restaurant is very popular with local residents. Alternatively, another convenient stop for lunch that's near this sightseeing plan is Liliha Bakery which is near your next stop, Punchbowl. Don't miss Liliha's famous Coco Puffs.>
Next, visit the National Memorial Cemetery of the Pacific, which is also known as Punchbowl.
Our final suggestion for day two on Oahu is to take a jungle drive up Tantalus Drive and stop at Puu Ualakaa State Park for amazing views of Honolulu.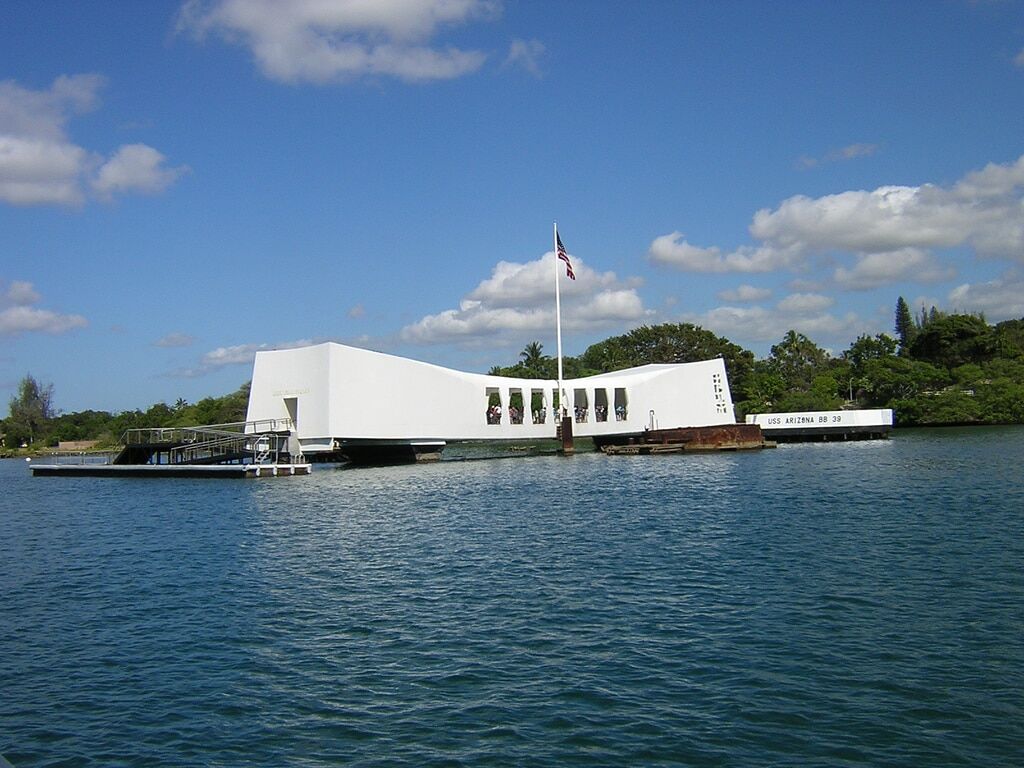 Oahu Day 3: Customized Day + Luau
For your third day on Oahu, we want to plan in flexibility for you to customize the day to your interests. Perhaps you'd like to enjoy a beach day, relax by a pool or rejuvenate with a spa treatment. But, if you are up for more Oahu exploration, see our post with over 50 suggestions of what to do on Oahu. From that list, here are recommendations we'd like to highlight:
Kayaking to the Mokulua Islands is a fun adventure.
Consider taking a catamaran cruise. You can hop on a catamaran to sightsee, snorkel and/or whale watch (mid-December – March.) It's a beautiful way to see the island from the water.
To learn about the cultures of the Polynesian Islands, spend the day at the Polynesian Cultural Center. The island villages and presentations start at noon. You could stay through the day exploring the villages, enjoy a luau and then catch the excellent evening show Ha: Breath of Life. Please note that the Polynesian Cultural Center is open Monday through Saturday.
For culture and history, go to the Bishop Museum
End the day with a Polynesian dinner and dance show at a Oahu luau. Before you go, know what to expect from a luau.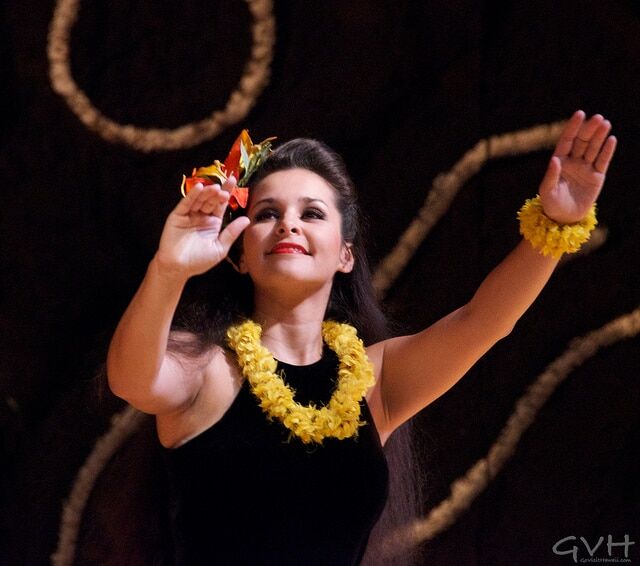 Oahu Day 4: Diamond Head & Explore Waikiki
2022 Update: A new Diamond Head reservation system with specific time slots goes into effect May 12, 2022. If you are unable to secure a morning slot, you may have to opt for an afternoon time which would require that you adjust this day accordingly. For information of the reservation system, see this link to the park's website.
Start this day with a hike to the top of Diamond Head for an amazing view of Honolulu. We recommend a very early start (gates open at 6:00 a.m.) to avoid crowds and for more comfortable hiking temperatures.
After your hike, you'll likely be ready for lunch and you can find many options in Waikiki. A couple of our favorite Waikiki lunch spots with great ocean views are Hula Grill, Duke's Waikiki, and Tropics Bar and Grill for casual fare. For a bit more of an upscale lunch with an ocean view, we like Veranda at the Beachhouse and House without a Key.
< If you will be parking a car in Waikiki, see our guide to free or cheap Waikiki parking. >
After lunch, we recommend you take in the following Waikiki sites and activities:

Oahu Day 5: Explore Oahu's North Shore
While Honolulu offers Oahu's hustle and bustle, Oahu's North Shore provides the relaxed, surfer-town vibe for a completely different experience.
For other days in this Oahu itinerary, we've organized activities and attractions in a logical sequence. For this North Shore day, there's not a particular order we recommend. Organize it based on your interests. If you end up having to backtrack a time or two, at least it's a very scenic area so you won't mind backtracking. Here are the North Shore sights and experiences to plan into your day:
Tour Waimea Valley where you can learn about Hawaiian culture, admire a beautiful variety of trees, shrubs and plants and enjoy a swim at a waterfall. (See this link for TripAdvisor reviews of Waimea Valley.)
<Lunch ideas:
See the laidback, surfer town of Hale'iwa. There are quite a few unique shops here. For a refreshing treat, get a shave ice in Hale'iwa. 
See Laie Point.
Stop at some of the scenic North Shore beaches that you'll see along Kamehameha Highway (Hwy 83) that hugs the North Shore coast. A few beaches we'll highlight are:
If you are visiting from mid-December to February, you may get to observe the massive winter waves. The Banzai Pipeline at Ehukai Beach is a popular spot to watch the waves and possibly a surfing competition.
Laniakea Beach, which is also known as "Turtle Beach", is a popular beach for honu (Hawaiian sea turtles) to come to rest. Admire them from a minimum distance of 10 feet or 3 meters! This beach is located immediately by Kamehameha Highway (Hwy 83). Parking patterns have changed here a number of times over the years. You may have to double back to access parking depending on which direction you come from. Be sure to use designated crosswalks for your safety and to make traffic flow more efficiently. Use this Google Map link to find Turtle Beach.
Fans of the hit TV show LOST may find the beach where LOST was filmed of particular interest

.  
Go up to Puu O Mahuka to see an ancient Hawaiian temple. From here, you can also enjoy a gorgeous view of Waimea.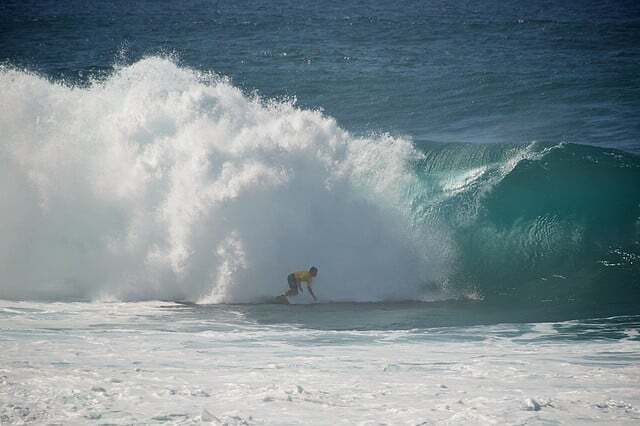 Oahu Day 6: Hike Manoa Falls + Customizable Time
This day of your Oahu vacation itinerary recommends hiking to Manoa Falls for a walk in a green jungle that ends at the base of this 100-ft waterfall.
The waterfall hike will not take your entire day, so you will have time to customize based on your personal interests. For suggestions, see our post with many great Oahu vacation attractions and ideas.
(Please note that you don't have to start the day with the waterfall hike. If there's an activity that starts in the morning that you want to do, it's perfectly fine to start with that and then hike Manoa Falls later.)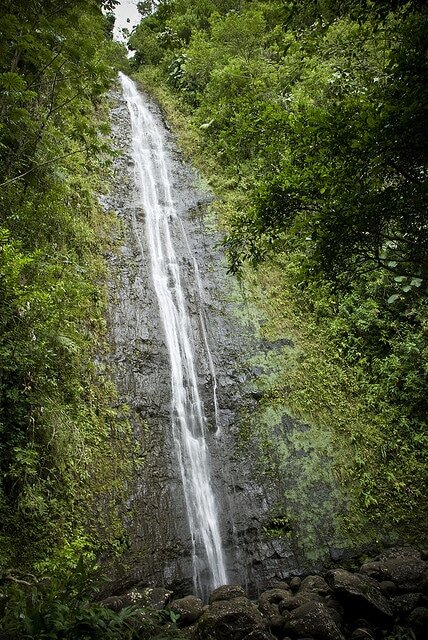 Oahu Day 7: Enjoy Oahu Beach Time
The final day of your week-long visit to Oahu can be one of the most challenging to plan. This is the day you'll be packing up and checking out of your accommodation.
We recommend starting the day with an oceanfront breakfast near where you are staying. Savor a tasty meal to start your day along with ocean views.
Enjoy some beach or pool time before you head back home. Just relax and reflect on your week-long trip to Oahu's paradise.
If your flight leaves later in the afternoon/evening and you want to enjoy more Oahu attractions and/or beach/pool time, you'll need to come up with a plan to deal with your luggage. Some ideas to help you with this challenge are as follows:
Inquire at the front desk about the possibility of a late checkout. Call the front desk to inquire first thing in the morning. It has been our experience that most Hawaii hotels will extend checkout time from a typical 11am to 1pm if possible,  subject to availability. Some hotels might offer extended check out for an additional fee.
Check to see if your hotel offers a courtesy suite and luggage lockers. Some hotels provide a suite for guests to use to shower and clean up after check out.
If your budget allows, consider paying for an extra night. Even though you won't be staying one more night, it's very convenient.
Ask if your hotel will hold your luggage after check out.
Take your luggage with you and put it in the trunk of your rental car. Please note that this can be risky it is easy for thieves to break into rental cars.
Check with your airline to find out how soon you can check your luggage at the airport.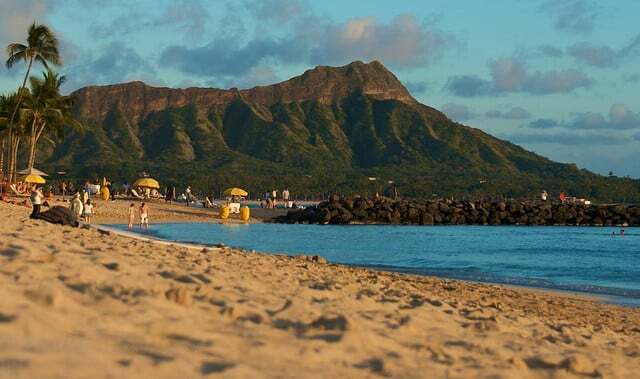 Notes:
– You may have noticed that this itinerary does not plan activities for the day of arrival. There are so many potential variables — like flight delays, heavy traffic, lost luggage, etc. — that it's difficult to plan in activities. Plus, depending on how far you've traveled, you may be too exhausted to do anything except check-in, unpack and grab a quick dinner. 
– Depending upon the amount of time you spend at the suggested sites, you might have time left over to see more or not enough time to see it all in a given day. It all depends on your interests. You may find that you have to plan in some flexibility to suit your interests.
– Since we can't cover in one article what a 300-page guidebook can cover, we suggest that you purchase an island guidebook. Review the guidebook prior to your visit to help you identify the sights and activities that you don't want to miss. We recommend the Oahu Revealed guidebook.
– This Oahu vacation itinerary can be adapted and applied no matter where you are staying. However, this guide was primarily written based on staying in the Waikiki/Honolulu area.
– This itinerary works best when you have a rental car, but you can still see and enjoy the vast majority of these sights and activities through guided tours or TheBus. If you are unsure about renting a car, see this post for advice : Do I Need a Rental Car If I Stay in Waikiki Beach.