I was recently asked where would be a good place to stay for a first time trip to Maui and my immediate response was Kaanapali. Now this is not to say that there aren't other fantastic places to stay in Maui, on the contrary! In my opinion, Kaanapali offers the amenities that suit most first time Hawaii vacationers' needs and desires.
So, why does Kaanapali make a great Hawaii vacation base?
Kaanapali has a great beach. In fact, Kaanapali Beach won the number one spot in 2003 Dr. Beach America's Best Beaches list. The golden sand beach is three miles long and has a wonderful paved path that hugs the beach. I love this path for exercise or a romantic walk. It is beautiful in the evenings when the tiki torches are lit and you hear the waves crashing on the shore and the wind swaying the palm trees.
Kaanapali has a great mix of shops, restaurants, and activities that are all within walking distance. I love being able to walk to restaurants when I'm on vacation and there is a great selection of restaurants at Kaanapali Beach Resort. Whalers Village is centrally located within Kaanapali and there you'll find shops restaurants, a whale museum and free entertainment. From golf to tennis to snorkeling to spa pampering, you'll find a just about anything you want to do right in Kaanapali.
Kaanapali has a good location. As real estate gurus say, "location, location, location." Kaanapali Beach has wonderful sunset views with the islands of Lanai and Molokai off in the distance. This location is as good as any for exploring Maui. The resort is located about 45 to 50 minutes from the airport and only about five minutes from historic Lahaina town.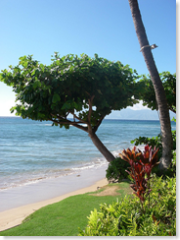 Kaanapali has a mixture of condos and hotels to meet most budgets. Most hotels are in the four-star range.
Is Kaanapali perfect for me? So, you might be wondering if there are any downsides to Kaanapali and there are some worth mentioning. First, it can be crowded in spots. There are new hotels and condos being built there all the time. It is starting to feel like a "miniature Waikiki beach" to me, though not nearly to the same extent as Waikiki. If you prefer a resort that's "away from it all", then Kaanapali isn't right for you.
Another downside I should mention is the southern end of the beach is very thin and you can't really lounge there on the beach. (Note that the Hyatt and Marriott resorts are on the southern end.) If you want to lounge on the beach, then stay at a resort on the middle to northern end of the beach.
Have you vacationed at Kaanapali Beach? What did you think?