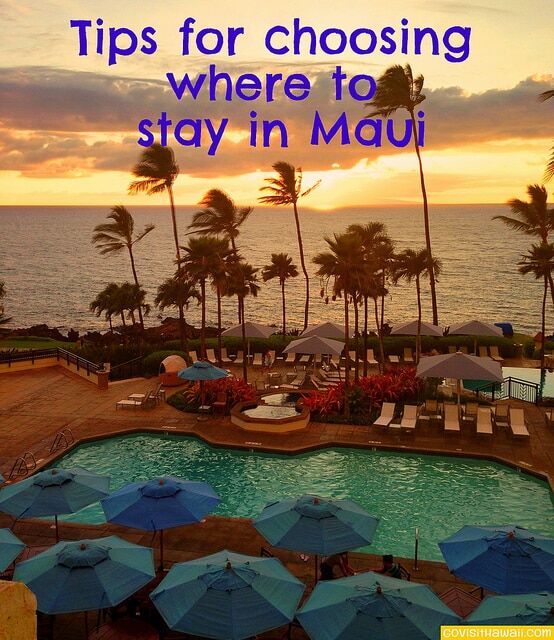 On Maui, the major beach resorts are on West and South Maui where beautiful beaches almost anywhere you look. In those resort areas, you'll find a range of accommodations from budget hotels and condos to 5-star hotels.
During the winter months of December through March, the island is blessed with a bit more rain and rainbows. As we describe in this article, Where to Stay on Maui for the Best Weather, South Maui is a better bet for more sun-filled days.
Maui's road to Hana, that hugs the East Maui coastline, is one of Hawaii's most scenic drives. You can drive this road beyond Hana and back from the West and South Maui resorts in a day. Ideally, this drive and its scenic diversions are best enjoyed if you can take it at a slow pace so that you can stop off at more points, take short hikes to waterfalls, etc. So, if your vacation time and budget allows, plan to stay a night or two in Hana. There is only one hotel in Hana, Traavasa Hana, but you can find vacation rentals and B&Bs in the Hana area as well.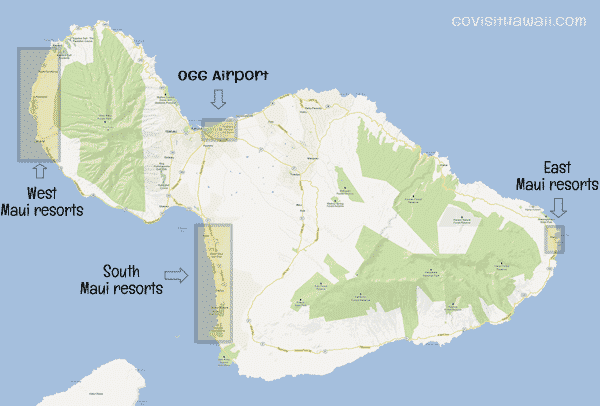 You really can't make a bad choice of where to stay on Maui if you choose a West or South Maui accommodation. The main difference between the two is that West Maui tends to be slightly more green and tropical, while South Maui is slightly drier/sunnier. For that reason, we tend to stay in South Maui in the wetter winter months of December – March. Sometimes that's made a difference and other times the weather was not an issue and it wouldn't have mattered where we stayed. You just never know what kind of weather you'll actually experience on your Maui vacation.
West Maui – Kapalua, Kaanapali, Lahaina

West Maui makes a very nice base for a Maui vacation with great beaches, a large variety of restaurants and good shopping. For more details about the resort areas, see the following links:
South Maui – Maalaea, Kihei, Wailea
South Maui also makes an excellent base for a Maui vacation with beautiful beaches, a nice selection of restaurants and some shopping. The drive from the airport, Haleakala and road to Hana is slightly shorter to South Maui as compared to West Maui. For more details about the resort areas, see the following links:
East Maui – Hana
There's only one hotel in Hana, Travaasa Hana. See our review of Travaasa Hana which is an upscale, but rustic resort. In addition to Traavasa Hana, you can also find vacation rentals. Hana is a nice location if you want to be secluded and away from it all. There aren't many choices for restaurants and shopping. While a stay in Hana is great for exploring the waterfalls and sights off the road to Hana, is not convenient for experiencing the rest of Maui.
Other Maui Locations
The vast majority of Maui accommodations are covered with South and West Maui, but you can find a few, small boutique hotels/lodges, airport hotels, vacation rentals and B&Bs scattered all over Maui. Paia and Kula both have small hotels. With the exception of Paia and Kahului, you won't find many nearby restaurants choices at most other options.
There are a few hotels in the Kahului area, which is where Maui's main airport is located. We've stayed at the Courtyard Marriott Kahului Airport location due to a missed connection to Molokai. While is was clean and nicely decorated, it didn't have the same vacation feel as the beachfront hotels in West and South Maui.
Where we've stayed in Maui
We choose our Maui accommodations very carefully as we want to have the best experience possible. Here's our growing list of places we've stayed in Maui. Hotels with links lead to our unbiased reviews:
More articles and tips to help you select a Maui accommodation: