As we continue our series on the best infinity pools in Hawaii, let's hop over to Hawaii's Big Island. There are two, Big Island  hotels with fabulous infinity pools.
Westin Hapuna Beach Resort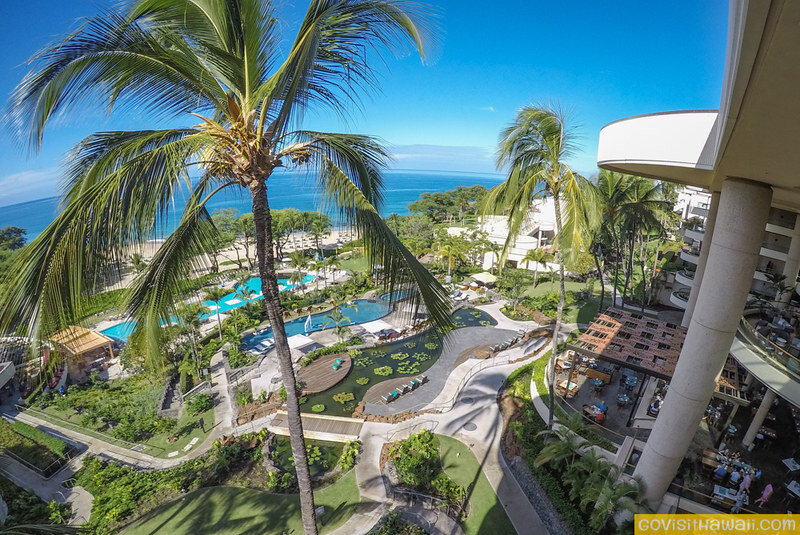 First up, let's look at the lovely Westin Hapuna Beach Resort on the Kohala Coast. This resort is nicely perched on a bit of a hill with several pools situated in a terraced configuration.
The resort's infinity pool is located between a water feature with lily pads and koi fish and the main, lower-level pool. So, the infinity pool is high enough to to have a good view of the beach.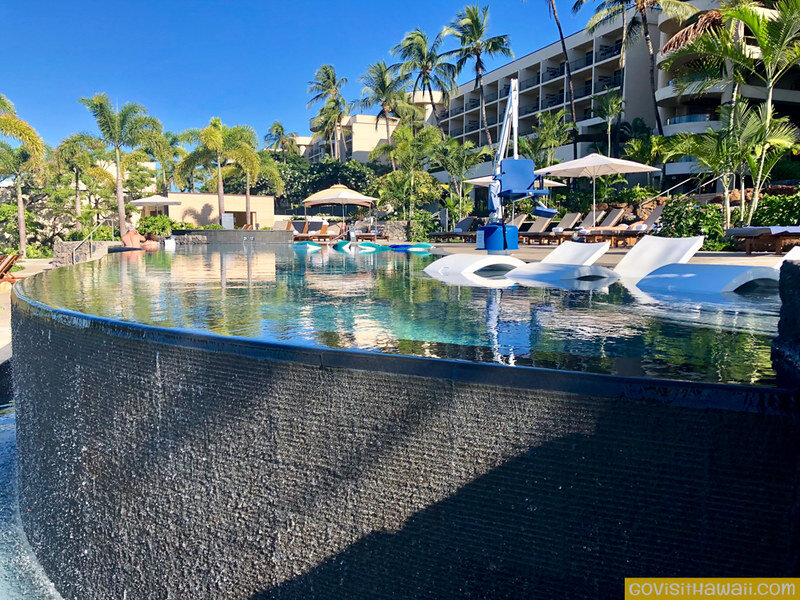 When we stayed at the Westin Hapuna Beach Resort in 2019, we spent just about every free moment at the infinity pool. It was so peaceful to rest along the edge and look out onto the ocean.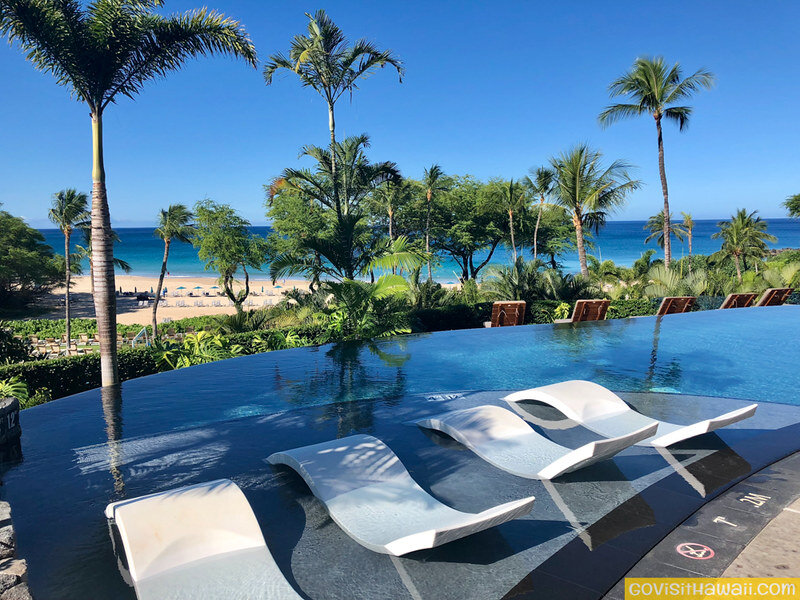 Several lounge chairs and umbrellas are situated by the infinity-edge pool. There are four loungers in a section of the infinity pool.
Please note that the resort's infinity pool is designated for adults-only.
Four Seasons Resort Haulalai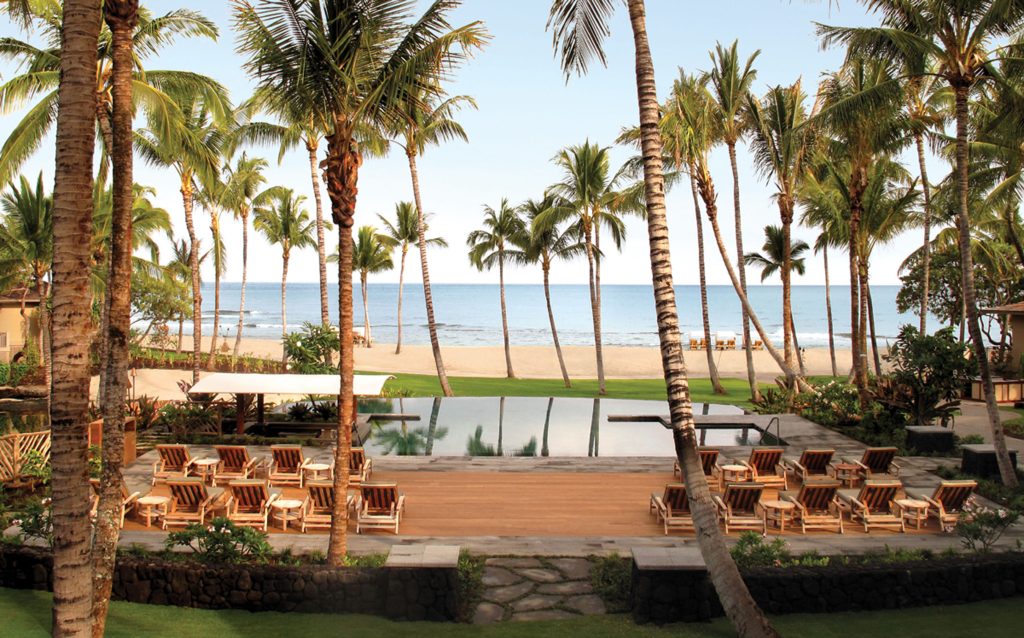 The Four Seasons Resort Haulalai is one of Hawaii's most luxurious resorts, so it's no surprise that it has an infinity-edge pool. The Palm Grove Pool is an adults-only pool that features both a swim-up bar and a Jacuzzi. Niiiice!
We haven't stayed at Four Seasons Resort Haulalai yet. For reviews, check out this TripAdvisor link.
Mauna Lani Auberge Resort – Addition
Well, I'm not sure how we missed Mauna Lani's new adults-only infinity pool, but we did! Mahalo to Janielle for alerting us to this omission in the comments of this post.
This new pool looks quite nice from photos we've seen. Here's a photo that was posted on their Facebook page.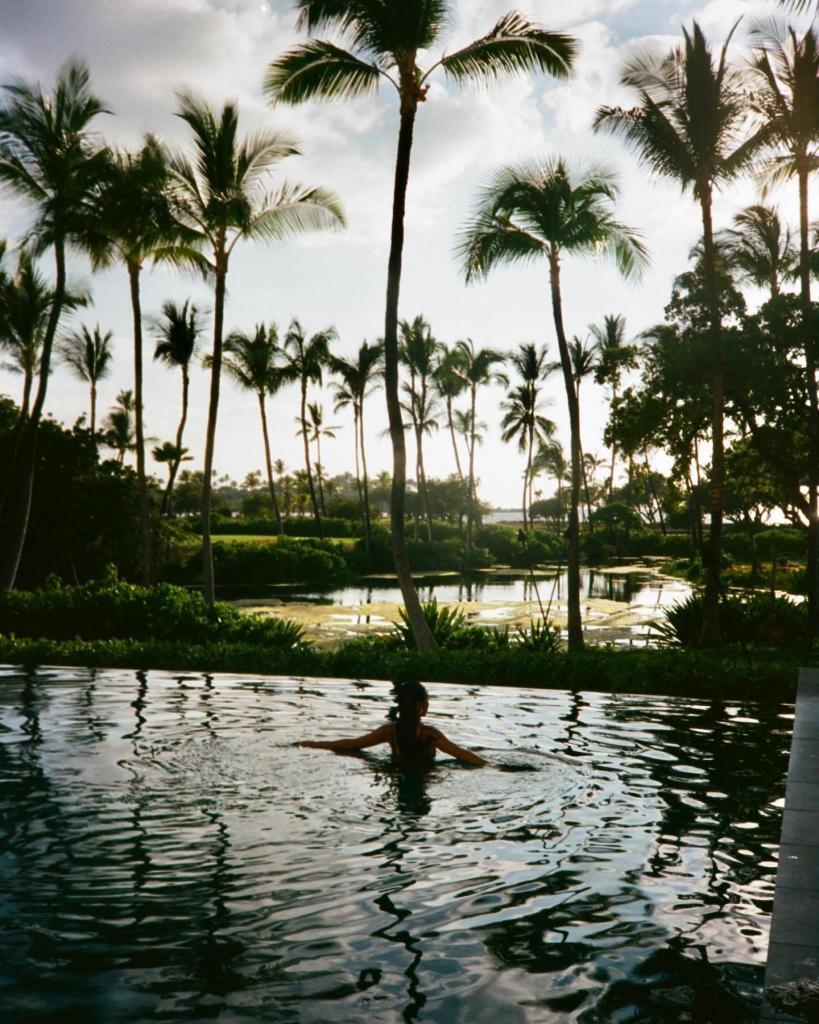 We have stayed at the Mauna Lani resort many times, but not since it rebranded to an Auberge resort in January 2020. Here's our review from the past.
For more information see the resort's website.
—
So, to our knowledge, these are the only infinity-edge pools on the Big Island. Both are lovely.