See the Big Island's Akaka Falls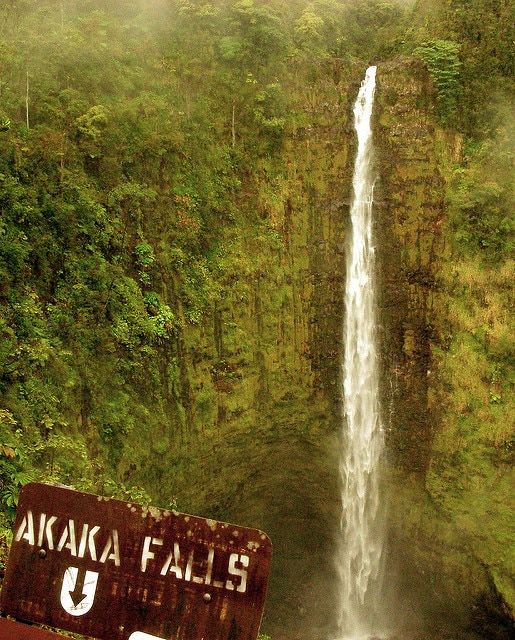 If you are driving in between Waimea and Hilo on Highway 19, perhaps on our scenic Big Island drive plan between Kona side and Hilo side,  then don't miss a detour up Highway 220. You'll find Highway 220 between mile markers 13 and 14. This rewarding diversion is Akaka Falls State Park that showcases a beautiful 442 foot tall water fall.
To see this Akaka Falls, from the parking lot walk to the left. The 0.4 mile, paved path takes you through a lush rain forest and past a small stream with a small 15 foot waterfall. As you approach the waterfalls, you might hear its forceful flow before you get to the overlook. Then when you actually see it, you can just pause and admire this impressive sight.
At this park, there is also a smaller (100 foot) waterfall, the Kahuna Falls that's inside the park. So, at this stop you can potentially see three waterfalls at one stop. We liked seeing both Kahuna and Akaka Falls on the loop trail — starting the trail on the right to see Kahuna first and then Akaka. Unfortunately, the path is not always open to Kahuna Falls.
If you go:
Check the state park webpage for Akaka Falls for any updates or alerts.
As of October 2020, the park system began charging a $10 parking fee per car.
As of April 2021, the park system began charging a $5 per person entrance fee.
Sometimes when it rains here a mist will roll in and block the view of the falls. If you have time, wait in your car until the rain lets up.
Bring a rain jacket or umbrella in case you need it.
To be on the safe side, you probably want to have mosquito repellent on.
Be sure that you don't leave any valuables in your car and lock your car doors.
There are restroom facilities here at the parking lot.
—
Get more ideas of what to see on your Big Island vacation.