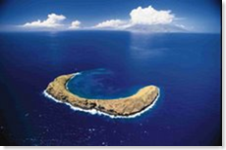 Molokini is Hawaii's crescent shaped island that is located about 3 miles off the coast of Maui. (See our interactive Hawaii map to find Molokini off the South coast of Maui.) Molokini is actually the top of an extinct volcano. This island is a state bird and marine sanctuary.
Molokini is one of the top snorkeling and diving spots in Hawaii, according to the head dive master, Mike Jones at Trilogy. It may even be one of the top spots in the world. I have been snorkeling around the world and Molokini was the first place I saw an octopus. The clear water and visibility here can be outstanding. One of my friends who is a scuba diver told me that the visibility at Molokini was the best he had ever seen.
There are several snorkeling tour operators in Maui that will take you out to Molokini by boat or catamaran. I prefer the catamarans because you get to spend some time sailing which is so peaceful. If you have a choice of times, go with an early morning trip for best conditions.
Tip: If you go between January and April, keep your eyes peeled for humpback whales while you're in the boat. Also, it's not uncommon to see turtles and dolphins year round from the boat.
Photo credit to Ron Dahlquist.