Q&A with Experts in Snorkeling and Diving in Hawaii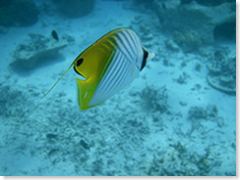 If you are going to Hawaii on vacation, do yourself a favor and plan to snorkel or scuba dive in some of the best waters on earth.  I wanted to provide you with some tips to help you decide how to choose the best snorkeling or diving excursion.  So I went to a source that I trust, which is Trilogy out of Maui.  Mike Jones, the Head Dive Master, was kind enough to conduct a Q&A with me.
Go Visit Hawaii:  What makes the Hawaiian Islands a great destination for diving and snorkeling?  Are there any special fish or sea creatures that are unique to Hawaii?
Mike:  Hawaii has the second cleanest ocean water in the world, so we constantly experience crystal clear blue water on dives. We are a volcanic island chain so we have dramatic drop offs and underwater lava formations. Hawaii is the most isolated location on Earth so our marine organisms have evolved in isolation, 25% of our fish live no where else but Hawaii. We are blessed with a moderate water temperature range between 72F – 79F degrees, we are able to dive and snorkel all year without wetsuits.
Go Visit Hawaii: What are the top 3 to 5 dive and snorkel spots on or around the Hawaiian Islands?
Mike:  The most famous by far is Molokini Crater, off the Southern coast of Maui. It is the most popular snorkel and dive location in the Pacific Ocean. The 2nd most popular would be the Cathedrals off the south shore of Lanai. Also the manta ray night dive at Kona on the Big Island of Hawaii is very popular.
Go Visit Hawaii: Do you have to know how to swim well in order to snorkel?
Mike:  You don't have to be a good swimmer, but you need to be very comfortable in the water.
Go Visit Hawaii: What are the advantages of taking an organized excursion versus snorkeling on your own?
Mike:  When snorkeling on your own there are no directions, no safety orientation, no lifeguards, no naturalist information, and no site orientation.
Go Visit Hawaii: What sort of questions, specifications, qualifications, and safety questions should you ask or look for when choosing a snorkeling/scuba tour?
Mike:  Does the company provide:
In water lifeguards? Flotation devices provided? On board naturalist? Environmentally aware? How old is snorkel/scuba equipment? Ratio of snorkelers/divers to guides?
Go Visit Hawaii: What do you tell people who are afraid to snorkel or dive because of sharks?
Mike:  People are more likely to be killed by a bee or struck by lighting than to be bitten by a shark.
Go Visit Hawaii: What kind of camera should someone bring on a snorkel trip and/or dive excursion?   (FYI – we're rarely had any good photos results from those disposable underwater cameras.)
Mike:  The disposable cameras are cheap and readily available at any store. If someone wishes to get a quality underwater camera they can purchase one before vacation online or at a camera store. With the digital revolution camera makers are now making underwater housing for most digital cameras now. If you have digital cameras check online to see if someone makes a underwater housing for your existing camera.
Mahalo to Trilogy for participating as the expert advisors for this Q&A!