Where to stay if you want to see Pearl Harbor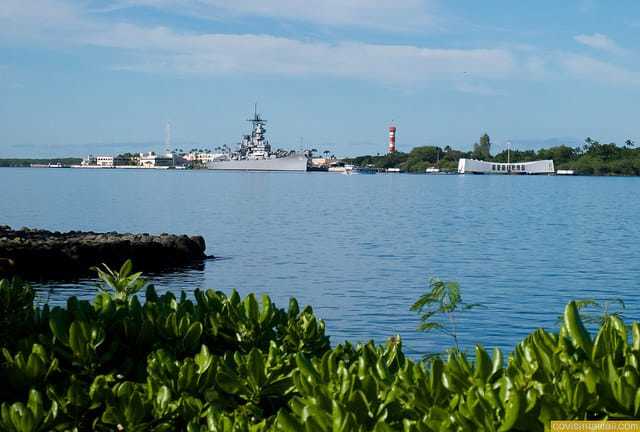 With its rich history, Pearl Harbor tops many visitor's list of places to see on their Hawaii vacation. That was definitely the case for us when we first visited Hawaii and it's a common priority I hear from our readers.
Often times, people refer to Pearl Harbor in a very general sense, but there are multiple attractions in this famous location.
If you'd only like to see the USS Arizona Memorial and tour the museum, we recommend you allocate 1.5 to 3 hours. To provide ample time to see all four Pearl Harbor attractions, we recommend you allow at least a full day.
So, where should you stay in Hawaii if you want to visit Pearl Harbor? Well, the good news is that you have lots of options. Let's take a look at them.
Oahu
Oahu is an obvious choice of island since Pearl Harbor is located on Oahu. There are four main resort areas on Oahu as we describe on our where to stay on Oahu guide. You can get around Oahu relatively easy by car or bus. Assuming you avoid morning and afternoon rush hours, you should be able to drive from one side of the island to the other in less than one hour and fifteen minutes. By bus, the travel time can be quite a bit more. Of course, you'll get to enjoy the beautiful scenery along the way.
So, you can stay anywhere you like on Oahu and still be able to get to Pearl Harbor. If you'd like to stay in one of Oahu's top resort areas that's relatively close to Pearl Harbor consider either Ko Olina or Waikiki Beach, which are both about a half-hour drive (longer by bus) to Pearl Harbor. In addition to the public bus, there are several tour companies who provide transportation to Pearl Harbor from Waikiki.
If you only want to see Pearl Harbor and have no interest in seeing any other Oahu attraction, you could use Google Maps to search for hotels near Pearl Harbor.
Other Hawaiian Islands
You don't have to stay on Oahu in order to visit Pearl Harbor. You can take a short, direct flight from any of the other Hawaiian Islands to Oahu for a day trip. You can see the USS Arizona Memorial as well as some other Oahu attractions with a day trip. We created two, detailed Oahu day trip plans that both include a visit to the USS Arizona Memorial in Pearl Harbor. You can customize those plans to your time and interests. So, you could stay on Kauai, Maui, Hawaii (Big) Island, Lanai or Molokai and take a quick island hop to Oahu to see Pearl Harbor and even more.
Actually getting to visit the USS Arizona Memorial has become increasingly difficult over the years. An ever-changing reservation system is the biggest hurdle. So, to make a day trip work, you must make sure you secure a reserved time. See the park's website for their current policies.