Hawaii, the Big Island July 4th Fireworks & Events 2013
**** See this link for 2016 July 4th events —> July 4th Fireworks & Celebrations on the Big Island 2016 ****
—
The following events are from 2013 for informational purposes only.
Wondering what's happening across Hawaii, the Big Island for July 4th? You'll find games, entertainment, fireworks and lots of fourth fun! 
 >>FIREWORKS & EVENTS ON WEST/KONA SIDE OF HAWAII ISLAND<<
Waikoloa Beach Resort Family Fourth and Fireworks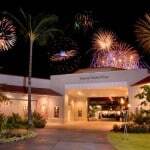 Fun, patriotic festivities will fill the day before the day is capped off with a fireworks show over Waikoloa Bowl. Starting at 12:30pm in the Coronation Pavilion in the Queens Marketplace, five island bands take the stage. Free cotton candy, popcorn, face painting, balloon sculpting will be available from 1pm to 5pm. Also during that time, you can find carnival games (25 cents) and Zoo Choo train rides ($2) with all proceeds benefiting Special Olympics West Hawaii. For more details, see this link. This event is free and open to the public.
Doors open to the Waikoloa Bowl at 5pm and live entertainment will start shortly after. Beach chairs and blankest are welcome, however coolers are not. This event is alcohol and drug free. The fireworks show is set to start at 8pm. The fireworks show is free and open to the public.
At the Kings' Shops in Waikoloa, festivities kick off at 10am with entertainment. The day's activities include a  watermelon eating contest, cooking competition, recognizing first responders and the 22nd Annual Rubber Duckie Race with proceeds benefiting United Cerebral Palsy of Hawaii. For the schedule of activities and to learn more about the entering the rubber duckie race, see this link. This event is free and open to the public.
24th Annual July 4th Turtle Independence Day Celebration at Mauna Lani Bay Hotel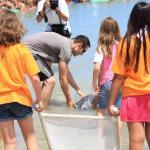 The hotel raises juvenile honu in their saltwater ponds until they are large enough to be released into the ocean. Starting at 10:30am on July 4th, these honu will be paraded from the ponds to the beachfront for release. Live entertainment, educational displays and a July 4th barbecue (for purchase) will be offered. The event is free and open to the public. For more information, see this link.
Parker Ranch Horse Races & Rodeo
The Parker Ranch Rodeo is set to start at 9am in the Parker Rance Arena in Waimea. See this flyer for more information.
Kailua-Kona July 4th Parade and Fireworks
The parade route runs from Palani Drive then along Ali'i Drive to Coconut Grove Marketplace in historic Kailua-Kona. The parade start time is 5:30pm. At around 8pm, the fireworks show will begin. (Source) The fireworks shoot from a barge in Kailua Bay, so, grab a spot to watch along the waterfront. For more information and to contribute, see this link.
>>FIREWORKS & EVENTS ON EAST/HILO SIDE OF HAWAII ISLAND<<
Volcano Village July 4th Parade & Silent Auction Benefit
Starting at the Volcano Post Office, the annual Volcano Village Parade proceeds down Old Volcano Road to the Cooper Community Center. The silent auction will be held at the Cooper Community Center from 9am until 11:30am.
Hilo Bay Blast with Fireworks
Along Hilo Bayfront, you'll find games, entertainment and a cook-off during the day. The Hawaii County Band will perform at the Mo'oheau Bandstand at 7pm, followed by fireworks at 8pm over Hilo Bay. Parking and ride shuttles will be available from the County Aupuni Center and Afook-Chinen Auditorium to downtown Hilo. (Source: Kona Web and BigIslandNow)
—
Notes:
– Mahalo to all these July 4th event sponsors and coordinators!
– All these details for 2013 Big Island July 4th events  are accurately reported at the time of publishing.
– Bookmark this page and check back for potential additions and updates.
Attention bloggers and journalists: If you use this post as part of researching your own article, please link back to Go Visit Hawaii. This comprehensive list is a result of many phone calls, emails, contacts, hours of research, etc.