Scenes from the Kona Coffee Festival
The Kona Coffee Festival is one of Hawaii's top festivals. As you've probably guessed, this festival is held annually on Hawaii Island, the Big Island and home of Kona coffee.
If you've not already made plans to attend this year's Kona Coffee Festival, you still have time to book your trip. Festivities begin Saturday, November 3rd and extend through Sunday, November 11th.
We certainly enjoyed last year's festival. We discovered that this event is just as much as about celebrating culture as it is about the Kona coffee plant, bean and product. The following photos will provide you with a flavor of the Kona Coffee Festival.
The Kona Coffee Festival Parade runs along Kailua-Kona's Ali'i Drive. It's an event that draws participation from organizations all across Hawaii's Big Island.
The Hawaii County Band marches in the Kona Coffee Parade.
This parade entrant, a shop that sells Kona coffee, adorned her car with Kona coffee bags.
These beautiful Hawaiian quilts display traditional design incorporating the Kona coffee plant and bean.
One of the most eye-catching displays was the lei-making competition that incorporated Kona coffee plant leaves and beans.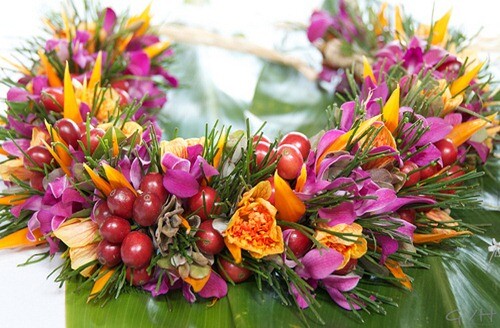 We encountered many friendly faces at the festival. These Filipino food vendors happily posed for our photo.
Entertainment included many cultural demonstrations.
Of course, Kona coffee farms and roasters offered tempting samples and bags of coffee to take home.
I hope you've enjoyed these scenes from the Kona Coffee Festival. Use these links for more photos and a brief Kona Coffee Festival video.