Aloha and welcome to our annual Big Island July 4th guide! As the venues announce what they're offering, we're updating this page. Anything that's updated for 2023 is noted with a bold, red 2023. Unless an event has a 2023 beside of it, you can assume that it was from 2022. It's likely that that same event will happen again, but we've not be able to confirm it yet.
In the meantime, if you are planning a 2023 July 4th vacation, we have these helpful suggestions:
Review the events on this page. Most events are repeated year after year. As such, you can get an idea of what might be coming up in 2023.
Subscribe to our free newsletters that are generally issued twice per week. You'll stay up to date all Hawaii travel advice, news and ideas. Plus, we'll announce that this page is up to date via our newsletter. Subscriptions are free and you can unsubscribe at any time.Carefully enter your email address at this link to subscribe to our free newsletters.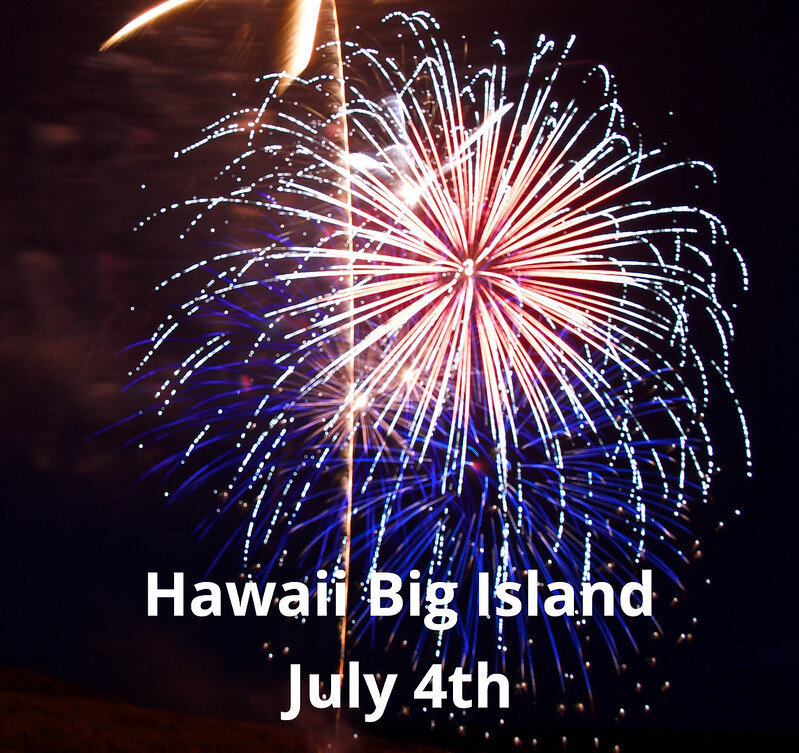 Many of the traditional Independence Day celebrations are back in action! It's shaping up to be a fun July 4th on the Big Island!
We are in the process of updating this page as venues announce what they have planned. Here's what we know so far:
Kailua – Kona July 4th Parade & Fireworks over Kailua Bay

2023
The annual Kailua-Kona parade and fireworks show is planned to be back in action this July 4th! The patriotic parade, which runs down Kuakini Highway and Ali'i Drive is set to start at 6:00 p.m. This year's parade theme is "Honoring Our Vietnam Veterans." The firework show over the bay is set to start at 8:00 p.m. The professional pyrotechnics set off from a barge moored in Kailua Bay. Check for any updates and to make a donation at this link.
Hilo Bay Blast Fireworks & Celebration 
Hilo hosts a wonderful day of fun and fireworks. Here's the schedule of events for this July 4, 2022:
At 7:00 a.m., "A Salute to Our Veterans" Hilo Bay 5K Run/Walk 2022 will take place at Lili'uokalani Gardens. For more information and to register to participate, see this link.

2023

From 10:00 a.m. through 3:00 p.m., the "Hot Rides Expo" car show will be held at the Hilo soccer fields (mauka fields.) – TBD for 2023
During the "Hot Rides Expo" live music and food trucks will be available at the Hilo Bayfront Soccer fields. Kids can enjoy bounce houses and water slides. – TBD for 2023
At 7:00 p.m., the Hawaii County Band will perform at Mo'oheau Bandstand. TBD for 2023
The big, "Hilo Bay Blast" fireworks show is set to begin at 8:00 p.m. The professional pyrotechnics are set off from a barge moored in Hilo Bay. The Hawaii County Band will play live music to accompany the fireworks. For those who are not near Mo'oheau Bandstand, the fireworks display will be synchronized to patriotic music aired on KWXX. – TBD for 2023
Special fireworks viewing advice for the kupuna (seniors): The area known as "Isles," located across from Liliʻuokalani Gardens, has been designated the Kupuna viewing station. The Department of Parks and Recreation's Elderly Activities Division will provide shuttle service from the Kamanā Senior Center, located at 127 Kamana Street. The shuttle to Isles will run from 5 p.m. to 7 p.m., and the return shuttle will run from 8:30 p.m. to 9:00 p.m. Individuals 55 years and older wanting to use the shuttle service may contact Elderly Recreation Services at (808) 961-8710 for more information.
Waikoloa Beach Resort July 4th Activities –

2023
The two shopping centers within Waikoloa, Kings' Shops and Queens' Marketplace, host fun events including free, live entertainment and plenty of fun family-friendly activities.
Queens' Marketplace will hosts their 4th of July Extravaganza 2023 with live music, carnival games, popcorn and cotton candy from 2pm to 6pm. See this link for more details on this event.

2023

Kings' Shops hosts their annual Great Waikoloa Rubber Duckie Race along  fun activities and live entertainment. See this link for the schedule of events for 2023.

2023
Prior to 2020, Waikoloa Independent Day events culminated with a spectacular fireworks display over Waikoloa Bowl at Queens Gardens. Fireworks were not held in 2020, 2021 or 2022. We are checking to see if Waikoloa fireworks might be returning for 2023.
Annual Fourth of July Rodeo and Horse Races at Parker Ranch –

2023
The 59th Annual Parker Ranch July 4th Rodeo and Horse Race is to take place the morning of July 4th. Traditionally, this rodeo celebrates the paniolo (Hawaiian cowboy) and their skills. See this link for more information and how to obtain tickets. 2023
—
Notes:
All events are subject to change without notice.
More events may be added or revised. Check back for updates.
Some events are very dependent upon fundraisers and local financial support. As such, they may be cancelled with little notice if they don't raise enough funds. When/if we know of these situations, we will note them.
Personal fireworks, alcohol, tobacco use and e-cigs are prohibited at all county and state parks.
Operation of UAVs/drones within five miles of the Hilo and Kona airports as well as within county and state parks is prohibited.
If you are a journalist or blogger using this post for researching an article you are writing, kindly do what's proper and provide a link back to Go Visit Hawaii. This work is a result of many hours of my very own research, long distance phone calls, emails, contacts, etc.
Happy July 4th!