Aloha Friday Photo: Rainbow Picnic Edition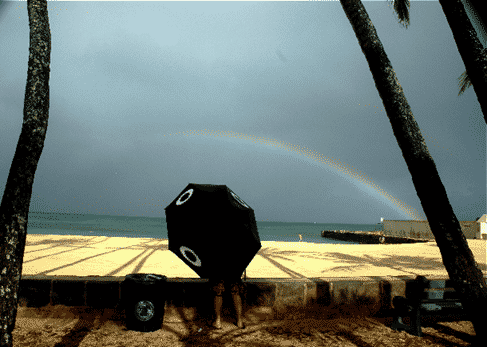 Today's Aloha Friday Photo was submitted by Karen in Honolulu. Karen was inspired to share this photo after seeing Dave's No Rain = No Rainbow photo. Karen took this photo at San Souci in Waikiki while waiting for the rain to clear up for a family picnic. Karen wrote,
We had not had one of our family picnics in 2 years. Finely we managed to get together and it rained all morning. We waited around and sat under our tarp, drank coffee and ate donuts. My son took out his umbrella and got on his phone and talked. That is when I took this photo. Finely we saw a rainbow, the sun came out and the rest of the day was great.
In this photo, I love the rainbow, of course, but I also admire those long palm tree shadows in the sand. It makes me want to go dig my toes in that sand and soak in the warmth of the sunshine.
Mahalo to Karen for sharing her rainbow connection photo and story with us!