Reader Reward Contest Update – New & Improved Edition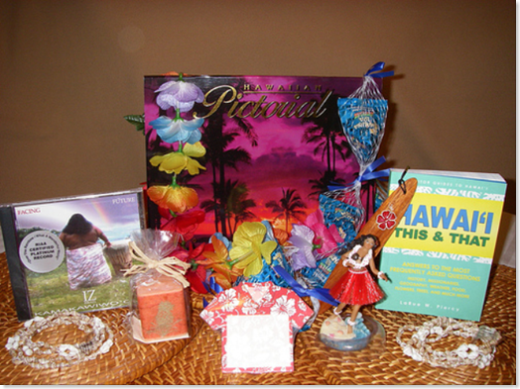 At the end of September, I announced a new reader reward contest. The prizes include an awesome Hawaiian music CD by Iz, handmade pineapple scented candle, wooden surfboard book mark, dashboard swaying hula dancer, Hawaiian pictorial 2008 calendar, book for Hawaii visitors, Hawaiian shirt sticky note pad, and a selection of leis. All the prizes are shown in the photo above.
As you may recall, the entry requirements were simple. All you have to do is be a free subscriber via RSS or e-mail then watch for a secret message at the bottom of a post. Once you see the secret message, you can use this easy contact form to send me secret message. Those requirements remain the same. Just to make the contest just a bit more fun, I'm going to be issuing more than one secret message periodically between now and November 15th. Each new secret message that you send me will result in an entry. So, you can have one new entry for each new secret message.
As a thank you to the nice Bloggers who blog about the contest, they will get an entry for blogging about the contest. So far, these are the Bloggers who have mentioned the contest:
(Please comment below if you have blogged about the contest and I've accidentally missed it.)
I hope you'll find the contest to be fun. I know I do! The contest ends November 15th. Good luck and thank for reading!