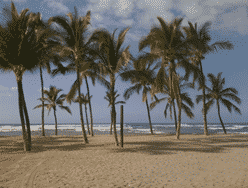 * The new Disney resort on Oahu has a name and a Web site now. The Aulani, a Disney Resort & Spa is due to open in the Ko Olina area of Oahu in the fall of 2011. The name Aulani means "the place that speaks for the great ones," or "the place that speaks with deep messages." (Source)
* Shape Magazine is offering a Hawaii vacation sweepstakes for a two-night stay at the Mauna Kea Beach Hotel. Enter to win here. Though it's only a two-night stay, you could make a bigger vacation of it and take advantage of this deal at the Keahou Beach Resort for a partial ocean view room and free breakfast for two at a rate of $139 per night.
* The next Pirates (of the Caribbean) movie will be filmed on Kauai and Oahu this summer and will premier in the summer of 2011. (Source)
* In other entertainment news, rumors are surfacing again of a Hawaii Five-O remake. (Source)
* The OHANA Waikiki Malia has completed a $6.6 million renovation and to celebrate it they're offering introductory rates starting at $79 per night. For more information, see this link.
* Valentine's Day isn't too far away, in fact, it's less than a month away. We all know that Hawaii is a very romantic place to celebrate love. If you're going to be in Waikiki for Valentine's Day, check out this special spa treatment at the Na Ho'ola Spa at the Hyatt Regency Waikiki Beach Resort . They're offering "a lovers' delight with the Valentine's Day Chocolate Body Scrub with Rose Body Butter Massage package. The two-hour package is available throughout the month of February for $249.  To find out more, or to make a reservation, please call Na Ho'ola Spa at (808) 237-6330 or visit www.nahoolaspa.com." Oo la la! 
* Guess what? Go Visit Hawaii is listed among the top 100 independent travel blogs per Travel Blog Sites. We actually rank as the 20th best independent travel blog. I'm excited about that ranking, especially considering the site only focuses on a single destination. Thank you for reading and helping us achieve this high rank!
* Andy and I are back home from our 17-night trip to Lanai and the Big Island. This trip was one of our best yet. I have so much advice and information to share with you. I just don't know where to start. Any requests?