Woohoo! It's Hawaii Contest Time Again!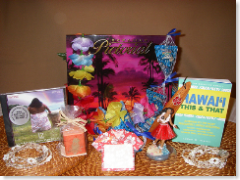 We had so much fun with Go Visit Hawaii's first reader reward contest, that we had to offer another one. I had asked for input on what you'd like and have tried to fulfill those requests. I also picked up some other items that I found on my recent trip to Hawaii. So, for you, I hand picked these items and lovingly carried them nearly 5,000 air miles back to the mainland.
Here's what's included in this Hawaiian themed giveaway:
Iz's award winning "Facing Future" CD. I selected this based on the popularity of the post with the YouTube video of Iz's famous song of "Over the Rainbow/What a Wonderful World". This CD includes that song.
A copy of "Hawaii This & That" which is a book that answers visitors' questions about Hawaiian history, culture, weather, food and more.
A 2008 calendar with scenes from Hawaii.
A pineapple scented soy candle. I found this candle at the Gifts of Aloha shop on Lanai. This candle is very special because it is handmade by my blog friend at Hawaii Vacation Gifts. Thanks to Lace for the scented candle suggestion.
A wooden mini-surfboard book mark per Matthew's request.
Three types of leis, per Laura's request. There is an edible macadamia nut lei, a silk flower lei, and two shell leis. Matthew requested leis, too, specifically the shell type.
A dashboard swaying hula girl figurine.
Hawaiian shirt shaped sticky note pad.
To win this prize pack, all you have to do is be a subscriber by email or by RSS and contact me with a secret message. Just to make the contest just a bit more fun, I'm going to be issuing more than one secret message periodically between now and November 15th. Each new secret message that you send me can result in an entry. So, you can have one entry for each new secret message. I will put a secret message (at the bottom of a post) that only subscribers will see. I will include the messages randomly sometime between now and November 15th. When you see the message, copy and paste it into this contact me form along with your name and e-mail address. I will then include your entry into the random drawing.
As a thank you to the nice Bloggers who blog about the contest, they will get an entry for blogging about the contest.
Good luck and a big Mahalo for being a subscriber!
Contest updated on October 17th to include multiple entries.