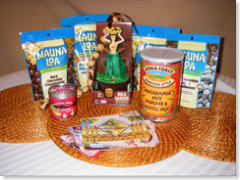 We randomly selected the winner of the Hawaii themed giveaway today. Congratulations to Paul Indelicato! When I informed Paul that he had won, he had this to say, "The difference in life between dreams and reality is action. Don't wait 'til it's too late.
Thanks to GoVisitHawaii for all your great information and a great contest. Oahu bound in October 2008." That's some very sound advice.
Many thanks to all the people who entered and blogged about the contest! I wish I had more prizes to give away because I really appreciate the Go Visit Hawaii readers! One of the unexpected surprises of the contest, is that I met lots of nice new people.
Stay tuned and subscribed. It was so much fun offering the contest that I plan to announce another giveaway later this month. I'll be in Hawaii this week and I'll be in search of another fun prize. Any suggestions?