Let me introduce you to a new pie that your taste buds will love! Meet the hula pie.
What's a hula pie, you ask? It's a very generous serving of macadamia nut ice cream on top of a chocolate cookie crust. Then this decadence is topped with chocolate fudge sauce, whipped cream and more macadamia nuts. Sound good? Did I just hear your stomach growl? Or was that mine?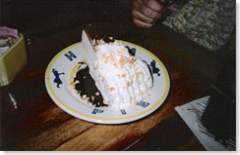 We took this photo of a hula pie that we shared at Duke's Kauai Restaurant. If I remember correctly, the plate was about nine or ten inches in diameter, so maybe that will give you an idea of how big this dessert actually is. It is definitely very sharable for two or more people.
Hula pie is so famous that the TS Restaurants even have a web page devoted to the pie with suggestions for how to eat it.  You can navigate to that page from this link.
When you're on Maui, Kauai, or Oahu, I'd recommend you try one of the TS Restaurants where they serve the hula pie. They all have an open-air, casual, island atmosphere. They serve fresh island fish as well as beef and chicken dishes. All of the restaurants in the collection have great ocean views. I've personally enjoyed dining at
Duke's Kauai – Located on the East side of Kauai in the Kauai Marriott
Duke's Waikiki – Located on Oahu at the Outrigger Waikiki Hotel
Kimo's – Located on Maui in Lahaina
Hula Grill Kaanapali – Located at Whalers Village shopping center on Maui's Kaanapali Beach. (At this location, there are tables that are literally on the beach and it's fun to kick your shoes off and let your toes play in the sand.)  2011 Update: looks like Hula Grill has pulled Hula Pie off their menu.
Leilani's on Kaanapali Beach at Whalers Village
To see the entire collection of TS Hawaii Restaurants, click here. If you plan to go to one of these restaurants for dinner, I'd suggest you book a reservation as these restaurants are pretty popular.
If you are looking for other Kauai Restaurants, you'll find loads of helpful information in this comprehensive Kauai restaurant and review guide