Best ways to avoid resort fees in Hawaii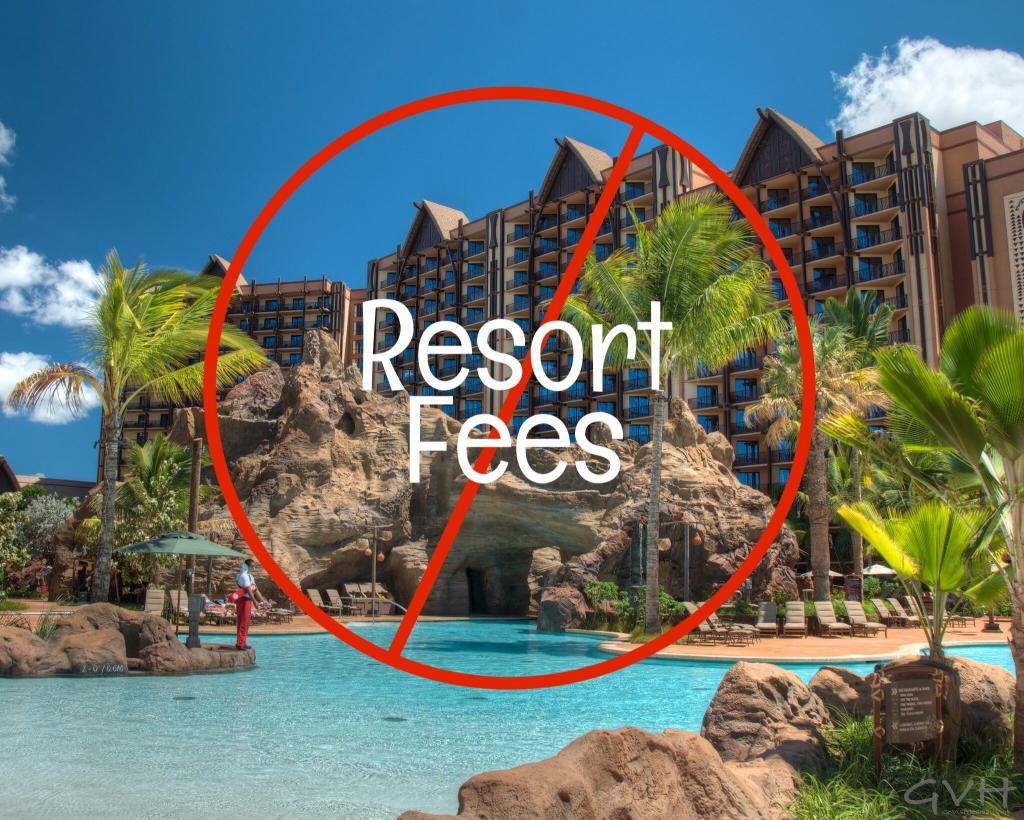 I remember the good old days when it was rare for a hotel to charge a resort fees. Now, it's difficult to find a resort that doesn't charge a resort fee.
I recall paying our first daily resort fee at a Hawaii hotel back in 2007. It was $15, which I thought was expensive at the time. Nowadays, Hawaii hotels are far more likely to charge a resort fee of $35 to $50 per night. Ouch! On top of that base fee, tack on another 17.962% in taxes. These daily charges quickly add up to hundreds of dollars for a weeklong stay.
From our experience, we've gotten very little value out of these ever-increasing resort fees. So, how can we avoid paying resort fees on our Hawaii vacations? Let's take a look at these helpful methods.
Look for deals on Costco Travel
Over the years, we've found some amazing hotel and car packages through Costco Travel. One reason their deals are so good is that resort fees are waived for the vast majority of their vacation packages. This link takes you to Costco Travel's Hawaii page.
As an example of Costco hotel and transportation packages that don't require resort fees, take a look at the following screenshot from their current Hawaii page. Notice the phrases like, "daily resort fee included," "no daily resort fee," and "waived daily resort fee" that I've added a box around.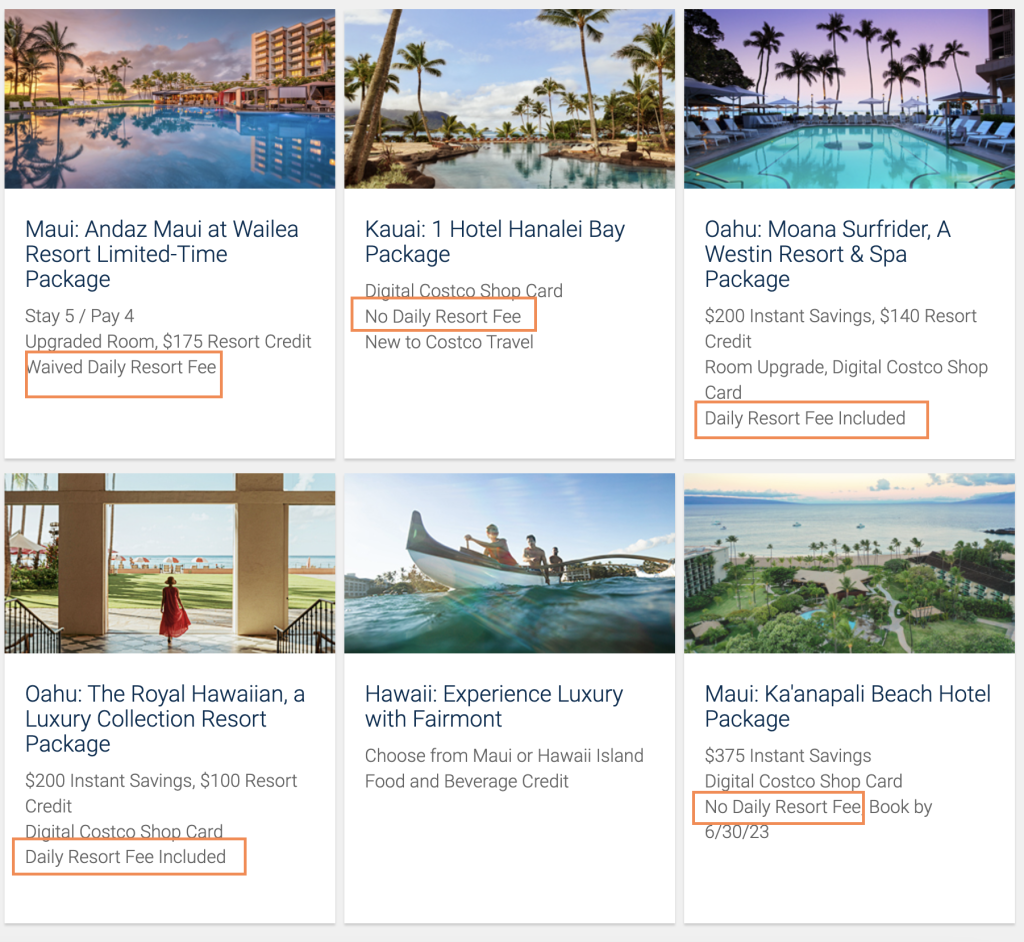 Look for Hawaii hotel deals on Travelzoo
Just like Costco, some of the Travelzoo hotel deals waive resort fees. It seems like at least once a month Travelzoo has a Hawaii hotel deal in their weekly top 20 deals. Check these links to find vacation deals:
As a current example of a Travelzoo Hawaii hotel deal that waives resort fees, see this link for a Hyatt Place Waikiki Beach deal. Notice the third bullet point under Travelzoo member perks says, "Waived resort fee…"
Stay in a vacation condo or villa
Most vacation rentals don't have resort fees. We've rented several condos over our many Hawaii vacations. There's only been one occasion that we've had to pay a resort fee and it was only a one-time fee of about $30.
We almost always rent vacation condos through VRBO. From our recent check, they've got quite an inventory of Hawaii vacation rentals – 25,790, to be exact.
Please note that even though VRBOs don't charge a daily resort fee, they do charge other fees, like one-time cleaning and booking fees.
Stay at a hotel that doesn't charge resort fees
Of course, the most obvious way to avoid resort charges is to stay at a hotel that doesn't charge them in the first place. Those hotels are very rare finds.
Here's a current list of Hawaii hotels that don't charge resort fees as of the time of publishing this article:
Please note that the list of hotels that don't charge resort fees are dwindling. As we were compiling this short list, there were resorts that we know we've not had to pay resort fees in the past that are now charging resort fees.
Check loyalty programs and credit card perks
If you are a frequent traveler and tend to stay at the same hotel brands, check to see whether their loyalty programs offer perks to avoid resort fees. Here are a couple of examples:
Additionally, some credit cards may offer benefits to waive or cover a portion of resort fees.
—
Are there any other ways you've successfully avoided resort fees on your Hawaii vacations?
—
P.S. Sale Alert! After publishing this article, Hawaiian Airlines notified us of a flash sale with one-way fares from the U.S. mainland starting at $85 ($170 roundtrip) for Main Cabin Basic. Travel dates run from August 15 through December 14, 2023. Tickets must be booked by June 15, 2023.