Hawaii packing tip: bring medicine and first aid supplies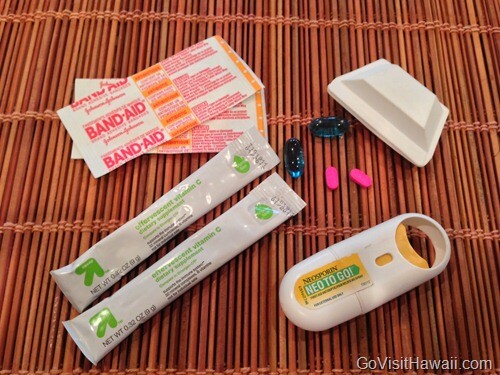 In our many trips to Hawaii we've needed cold medications, pain relievers, antibiotic ointment, loads of Band-Aids and more. Most of the time, we've brought what we needed with us from home. Other times, we've had to go on a hunt to find what we've needed. Unlike here at home, there's not a drugstore on every corner in Hawaii outside of Waikiki. So, if your hotel's gift shop doesn't carry what you need, you might have to drive a ways to find it.
Hopefully you won't catch a cold or get a scrape or cut on your Hawaii vacation, but if you do, you'll be glad you brought some medical supplies with you. Of course, if you can find items in many hotel gift shops, you'll pay a premium for them. So, I highly recommend you pack up a zip-top, quart-sized storage bag stocked with medicines and first aid supplies.
Ideas to help you make your own list of medical supplies to pack:
– Prescription drugs
– Pain relievers for headaches, sore muscles, etc. (Unfortunately, I am migraine prone. I can count on getting a migraine within 12 hours of arriving in Hawaii.)
– Allergy medication
– Anti-acids
– Cold medications (Individually packaged doses of Nyquil-like capsules seem to be convenient for travel.)
– Vitamins that may boost your immune system (Vitamin and mineral packets are convenient for travel.  Products like Airborne don't work for everyone, but they seem to have work for me to ward off a cold or shorten the duration of one.)
– Ginger in the form of candy or gum as a natural nausea reliever. (You may experience nausea on sailing or snorkeling excursions. Also, Maui's curvy drives like the road to Hana and to the summit of Haleakala may cause car sickness, so it's useful to have some form of ginger with you, just in case you need it.)
–  Topical after-bite itching/irritation relief. (One unfortunate souvenir we almost always get in Hawaii is a mosquito bite. So we like to bring a Benadryl itch relief stick with us. It's very portable, easy to bring on hikes and works fairly well.)
– Antibiotic ointment (We love our adventures in Hawaii, but sometimes, they may leave us with a cut or scrape.)
– Bandages (Some bandages even include anti-bacterial medicine in them, so you can kill two birds with one stone with those.)
I also recommend you pack your medicine supply in your carry-on luggage. If your checked luggage gets lost at least you'll have any medicines you need, including prescriptions, with you. You might also find that you need one of the medications during the long haul flight.
What other medications or supplies have you needed in Hawaii?
—
For more tips for what to bring to Hawaii, see our Hawaii packing guide.