Kona to Hilo day trip: see waterfalls, volcanoes (and maybe lava)!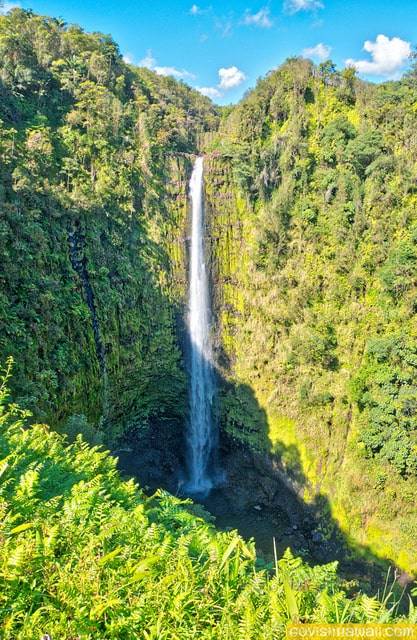 One of the most exciting attractions in Hawaii, the Big Island, is the active volcano Kilauea. The challenge that many first time Hawaii visitors discover is that the volcano activity is on the Hilo side of the island while the beach resorts are situated on the Kona side of the island.
The Big Island is big indeed. It's bigger than all the other Hawaiian Islands combined. With much to explore on each side of the island, ideally we recommend visitors split their Hawaii stay between the Kona and Hilo sides of the island. Though, we know that a split-stay doesn't always happen. That's why we're creating these tips for a day trip from the Kona side to the Hilo side.
Prepare for a long, but exciting day of exploring.
On one of our trips to the Big Island, we set out on the road to the Hilo side at about 7:30am and didn't get back to our Kohala resort until about 10pm. Go ahead and get your mind set that you're going to have a long day and make the most of it.
Though your day trip may be long, it will not be boring. There's much to see and many stops along the way that will keep you energized as you'll see further in these tips.
As we created this day trip, we designed it such that lava viewing, if possible, would be in ideal viewing conditions. Lava activity is ideally observed at dawn, dusk and dark. Our sightseeing plan provides you with a full day of activities with the aim of seeing lava at dusk and dark. If you've traveled across the Pacific Ocean to see lava, you might as well make a point of seeing lava at its best.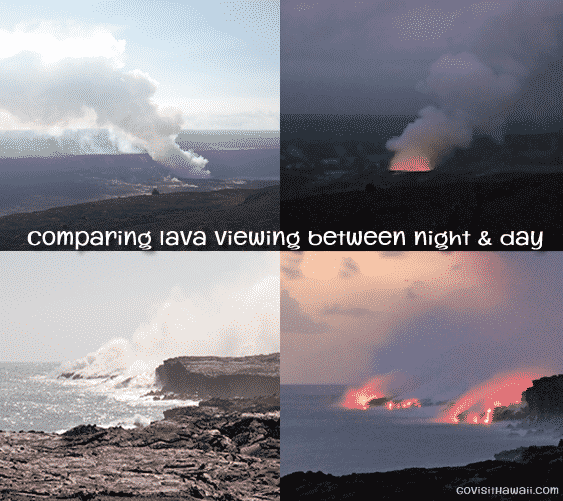 What do you wear and bring?
Sunscreen, mosquito repellant, hiking shoes or sneakers with good tread, flashlight and water are all musts. It's also useful to bring binoculars, camera, GPS device and wear long trousers. Read more detailed tips on our post with advice for viewing the Big Island lava.
Get an early start.
The earlier you can set out, the more you can see and explore in daylight. Try to start your day trip before 9am. Ideally, we recommend a 7am start.
Which way do you go?
Make your way to Waimea. We recommend you drive Highway 19 around the northern end of the island — going through Waimea and the lush, undeveloped Hamakua Coast. By following this route, you get to enjoy some short diversions to gorgeous scenery, which we will describe further in these tips.
We've driven this northern route many times. It's beautiful to see the morning sun waking up this part of the island.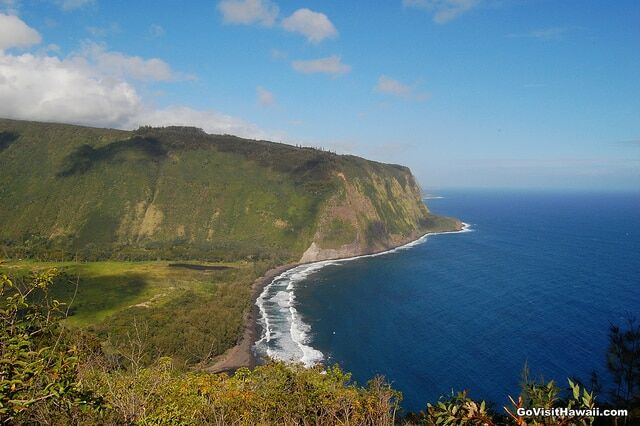 Enjoy many scenic spots on the way
By following our recommended route and stops, you catch some of the Big Island's most beautiful scenery– from valley views to cascading waterfalls. We'll list the stops in order. Check each link for additional information, photos and tips.
–  Waipio Valley is located off the main highway. From Highway 19, turn onto Plumeria Street between mile markers 44 and 43. Then turn left at Highway 240 and follow the road until it ends. After your visit here, get back onto Highway 19 to continue the journey. If you can carve out extra time here and you can time your visit to their tour times, we highly recommend the Waipio Valley Shuttle tour. Ideally, their 9am tour would be best, but you usually have to contact them about booking that tour time.
– At mile marker 43, if you need a snack, try a malasada from Tex Drive-In. They're famous for them.
– Akaka Falls and Kahuna Falls are located off the main highway between mile markers 14 and 13, turn off on Highway 220 towards the mountain. Follow Hwy 220 until it ends at the parking area. A parking and entrance fee is required. (See this link for the current rates.) After your visit here, get back onto Highway 19 to continue the journey.
– Four Mile Scenic Drive is lovely jungle drive, located off the main highway between mile markers 11 and 10. Turn left, towards the ocean, at Kulaimano Road. Four Mile Scenic Drive will connect back to Highway 19 at the end. If you have the time, we recommend visiting Hawaii Tropical Botanical Garden off Four Mile Scenic Drive. (Admission fee required.) It's our favorite Hawaii garden. We have visited this garden during a day trip from the Kona side. Though difficult to do, we usually have to limit our time at the garden to just an hour.
– See Rainbow Falls and Pe'epe'e Falls in Hilo. Between mile markers 3 and 2, turn right onto Highway 200 (Waianuenue Avenue). Bear right at the fork in the road. Follow the signs to stop and see Rainbow Fall. Get back onto Waianuenue Avenue heading further inland for Pe'epe'e Falls and Boiling Pots.
– If you are hungry for lunch and would like to try local food, Cafe 100 in Hilo is a great little place to stop. They are credited with the creation of the Loco Moco. They're located at 969 Kilauea Avenue (click the address link to create your own directions on Google Maps) near the intersection of Mohouli Avenue.
Explore Hawaii Volcanoes National Park
Out of Hilo, take the main highway, which has now become Highway 11. The drive from Hilo to Hawaii Volcanoes National Park will take approximately 45 minutes.
You could easily spend a full day or longer exploring all that Hawaii Volcanoes National Park has to offer. Unfortunately, you only have a few hours here, so I will list a few highlights and tips for you to see during your visit.
– Be prepared to pay an entrance fee, which is currently $30 per car. When you pay at the gate, the park ranger will provide a useful brochure that includes a park map and highlights. You may want to make the visitor center your first stop to ask for advice for your short stay. I recommend you also ask a park ranger where the lava is visible or flowing — making sure that you ask them how to see it both inside and outside the park boundaries.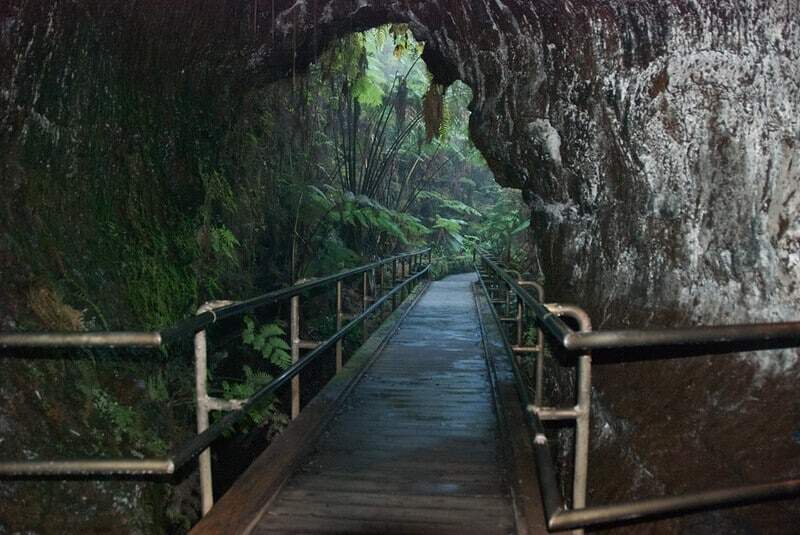 – See Halema'uma'u Crater, which has been the center of exciting lava activity off and on in recent decades.
– See Thurston Lava Tube off of Crater Rim Drive. (Note: Thurston Lava Tube reopened in February 2020 after a closure of nearly 2 years.)
– See the steam vents off Crater Rim Drive. From there, follow the path to Steaming Bluff Overlook for a spectacular view of Halemaumau Crater.
– Drive the Chain of Craters Road until it ends. Holei Sea Arch is located here at the end of the road.
See lava glows and or flows
During your Big Island visit, lava activity may or may not be visible and accessible. If there is activity, it could either be inside or outside of Hawaii Volcanoes National Park. Over our many years of visiting the Big Island, we have been amazed at where the lava pops up, flows, stops flowing and then pops up in a new location. We cannot provide directions or say drive to such and such spot to see lava because it's impossible to predict where lava will be flowing, glowing or visible for your visit.
You'll want to find out what's going on with the lava, where is it and can you view it once you're close to your visit and/or on island. Use these resources to find the current status of lava activity:
What to do in lieu of seeing lava activity?
So, if the volcano activity isn't visible, we know that's disappointing. Here are some thoughts about how to make the most of this day trip if volcano activity isn't visible:
Instead of lava watching at night, look up to the star-filled sky, weather permitting, at Mauna Kea. It's one of the best places in the world for stargazing and it's conveniently on your way back to the Kona side of the island. The best viewing is from the Mauna Kea Visitor Information Station (elevation 9300 ft) or if you want to do less driving stop at the Mauna Kea Recreation Area (elevation 6500 ft).
Spend more time at one of the other suggested stops. For example, arrange to take a tour into Waipio Valley as previously mentioned. Another example of where you may want more time is at Hawaii Tropical Botanical Gardens.
Get back to your Kona side resort earlier.
Which way do you return?
If you've stayed past sunset, you'll be driving back in the dark. Therefore, scenery will not be a factor. I recommend you use Google Maps, a GPS device or directions from your phone to determine your quickest route back to your accommodation.
In years past, Saddle Road — Highway 200 that cuts across the island —  was not accessible to rental car drivers, however it has recently opened and is a very nice road minus any road construction that may or may not be happening. If you do take Saddle Road, you may have an opportunity to do some stargazing, particularly on a moonless night.