Where to Find Farmers Markets in Hawaii
No matter where you travel, shopping at a local farmers market is one of the quickest ways to get to know more about a culture. Not only will you learn more about the area you're visiting, you'll also have the opportunity to support the local economy by purchasing some tasty fruits, vegetables, and baked goods. You'll also find floral bouquets and crafts. So, when you visit Hawaii, I encourage you to visit a farmers market.
To help you find a farmers market on Hawaii, we'll try to point you in the right direction based on our own experiences plus insights from our friends at the Hawaii Visitors Bureau. We'll highlight some of the top farmers markets by island.
On Oahu, the KCC (Kapiolani Community College) farmers' market is a very popular and well stocked farmers market that's also fairly convenient to Waikiki. At last check in 2018, it operates on Tuesdays and Saturdays.
On Oahu's North Shore, check out the Haleiwa Farmers Market held on Thursdays at the beautiful Waimea Valley.
Also on Oahu, though not a farmers' market, you'll definitely hand made crafts and snacks at the popular Aloha Stadium Swap Meet.
On Maui, the Upcountry Farmers Market is known for great produce and homemade banana bread. It's traditionally held on Saturday mornings.
On Hawaii (Big) Island, the Hilo Farmers Market is one of the largest in all of Hawaii! It's open daily, but their "big market days" are on Wednesdays and Saturdays. On the Kona side, check out the Pure Kona Green Market held on Sundays.
On Kauai, the Kauai Community Market is often voted as the top market on the island. It's held on Saturdays.
On Lanai, Lanai City has a farmers' market every Saturday morning. The specific location varies, but it's usually somewhere in or around Dole Park.
On Molokai, check out the Saturday morning market on the island's central hub of Kaunakakai town.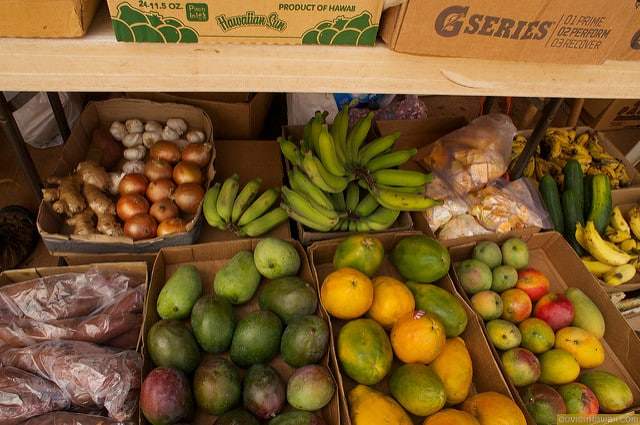 There are plenty more farmers markets scattered around the Hawaiian Islands. To find other markets, check out this web page which is operated by the Hawaii Department of Agriculture. From there, you can navigate to the lists of farmers markets on each island.
Have you visited a farmers' market in Hawaii? Where did you go? What did you buy?