Announcing a New Series: 50 Facts About Hawaii, the 50th State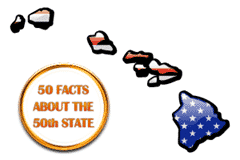 Counting today, tt's 50 days until August 21st. What's the significance of that day?  On August 21, 1959, President Eisenhower made Hawaii's Statehood official by signing the proclamation that welcomes Hawaii as the 50th state of the union.
To celebrate 50 years of Hawaii's Statehood, I'll be posting an interesting fact about Hawaii each day between now and August 21st. I hope you'll enjoy these 50 facts about the 50th state in celebration of Hawaii's 50th anniversary.
To organize this series, I've created a new category under the "General Hawaii" drop down menu that's located  towards the top of the site. The new category is "50 Facts about Hawaii".