Honolulu's Chai Island Bistro: A Feast for All Senses
On our last trip to Oahu we had the pleasure of dining with friends at the award winning Chai Island Bistro. For several years running, this restaurant has been named in Oahu's top 10 restaurants by Honolulu Magazine several years running.
We experienced a sensory feast. The food was absolutely fantastic. The outdoor setting at the historic Aloha Tower Marketplace was enchanting and romantic. The live music was outstanding.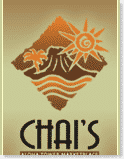 Chai Island Bistro is somewhat off the beaten tourist path about a 10 to 15 minute drive from Waikiki Beach. It's worth the trip. We noticed that the tourist to locals ratio weighed heavily on the local side. That's always a good sign.
The cuisine served here is described as Pacific Rim. (See the dinner menu.) We noticed the listings for many locally grown and harvested ingredients on the menu. We had the Hawaiian fish of royalty, Moi, as an entree. You know you are in a special place when you see Moi on the menu.
In addition to the great food, there's great live entertainment every evening. Most often you'll find Hawaii's leading musicians and artists performing here any night of the week. Honestly, the live music here is a real treat!
What to know before you go:
There's a great coupon for $25 off if you dine on Sunday, Monday or Tuesday evenings.
The restaurant is open for lunch Tuesday through Friday and dinner every night from 4pm.
Dinner entrees range in price from $28 to $48.
To be safe, I'd recommend you make reservations. We liked the outdoor courtyard seats, though the open air interior had a pleasant atmosphere, too.
I'd suggest you wear your nicer vacation clothes. I wore a casual dress and Andy wore linen trousers and shirt.
The restaurant is located in the Aloha Tower Marketplace, at 1 Aloha Tower Drive in downtown Honolulu.
Here's a video with scenes from the restaurant along with the insights of the tremendously talented Chef Chai Chaowasaree.
Have you dined at Chai Island Bistro? What did you think of it?