Where are the best Oahu restaurants?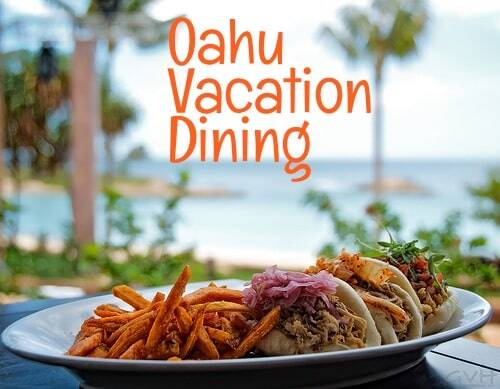 I estimate that Oahu has more restaurants than all the other islands combined. Honolulu has over a thousand restaurants alone. With just about any type of ethnic fare being well represented on Oahu, you won't lack choices — that's for sure.
We'll first look at the restaurants we at Go Visit Hawaii recommend. Then, we'll provide you with other useful websites that rank Oahu best restaurants.
1. Go Visit Hawaii Picks
Here are the Oahu restaurants that we really like and would definitely recommend to friends and family.
Best shave ice – Matsumoto in Haleiwa is the most famous. Aoki's is probably the second most popular. We also like the shave ice at Aloha General Store. Check out our Haleiwa shave ice article.
Most romantic – Hau Tree Lanai  and Orchids on Waikiki Beach.
Best Restaurant for a special occasion: Orchids at the Halekulani in Waikiki Beach. This ocean front restaurant offers wonderful views of Waikiki Beach. It's right beside House without a Key which is one of our favorite places for Waikiki sunset cocktails. We highly recommend you make reservations and when you do, let them know if you are celebrating a special occasion.
Best all around – For a great casual atmosphere, good food, and not too expensive (for Hawaii standards) – Duke's Waikiki, Hula Grill and Tiki's Grill, both have good Waikiki Beach ocean views. They're all kid-friendly, too.
Best value – Nico's Pier 38 is a bit off the beaten path in Honolulu and sorta nearish to two excellent Oahu attractions of the Aloha Stadium Swap Meet and the USS Arizona Memorial.
Best breakfasts in Waikiki – Eggs n' Things specializes in delicious pancakes. One of the most decadent breakfasts we've ever had was Bananas Foster French Toast with Macadamia Nut Ice Cream from Tropics Bar and Grill.  For great views and the excellent historic feel, we also recommend the Veranda at Moana Surfrider in Waikiki.
Best breakfasts outside of Waikiki – Kailua must really love their breakfasts because they have two of Oahu's best breakfast places. Cinnamon's in Kailua is super yummy. We tentatively recommend Boots and Kimo's which is famous for their pancakes, though you almost always have to way 45 minutes or longer to get in.
Best bakery -In Honolulu, that would be Liliha Bakery and trying a coco puff is a must!  On the North Shore, try Ted's Bakery, located near Sunset Beach. It's a colorful shop on the mauka side (mountain side) of Kamehameha Highway. They also serve good plate lunches and burgers. In Honolulu, you must try the delightful Coco Puffs at the Liliha Bakery. For malasadas, check out Leonard's Bakery near Waikiki.
Best local hole in the wall restaurant – Hukilau Cafe at 55-662 Wahinepee St in Laie.
Best sushi – Sansei Restaurant and Sushi Bar Waikiki Beach in the Waikiki Marriott. We've also heard good things about Nobu in Waikiki, but we've not been there yet.
Best burgers – On Waikiki Beach, we like Teddy's Bigger Burgers at the Waikiki Aston, where you can grab a burger and walk to the beach for a cheap sunset dinner. On the North Shore, we love Kua Aina in Haleiwa.
Best North Shore restaurants – Some we've already mentioned, like Ted's Bakery,  Matsumoto's and Aoki's shave ice, Hukilau Cafe and Kua Aina burgers. One thing the North Shore is famous for is shrimp trucks that serve up fresh garlic shrimp. Romy's and Giovanni's are the most well known. A new addition to the North Shore Shrimp area is Oahu barbecue corn.
Best pineapple dessert in a tourist trap 🙂 Dole Whip at the Dole Plantation
2. Best Oahu restaurant list from a local's perspective.
Go Visit Hawaii is blessed with great friends who live in Hawaii. I asked friends who live on Oahu for their recommendations. Here is their great list of Oahu's top restaurants.
3. Yelp 
When we first starting writing Hawaii advice in 2006, Yelp.com was just a start-up and not even on my radar. Over the years, it's become our favorite go-to site and app to find restaurants, when and where we want — both at home and when we travel.
4. TripAdvisor
I've mentioned many times before, TripAdvisor is a good source for researching Hawaii restaurants. Since you will most likely be choosing restaurants based on where you'll be, I'll organize the TripAdvisor reviews by location. So as not to generate too much detail, I'll try to limit this list to areas that tourists are more likely to be staying or nearby for sight-seeing. We'll start on the South shore and work our way around the island clockwise.
South Shore (From Makapuu Point West to Barber's Point including Honolulu and Waikiki Beach)

Leeward West Shore (From Barber's Point North to Kaena Point)
North Shore (From Kaena Point North to Kahuku)
Windward East Shore (From Laie South to Makapuu Point)
5. Guidebooks
I have always found the Ultimate/Revealed guides to be particularly reliable for restaurant recommendations, the Oahu version is fairly good, but not quite as comprehensive as their guidebooks for the other islands. The Oahu version is called Oahu Revealed,
If you live on Oahu, what restaurants would you recommend? If you've been to Oahu, please tell us your favorite restaurants.