Aloha Friday Photo: Flowers & Diamond Edition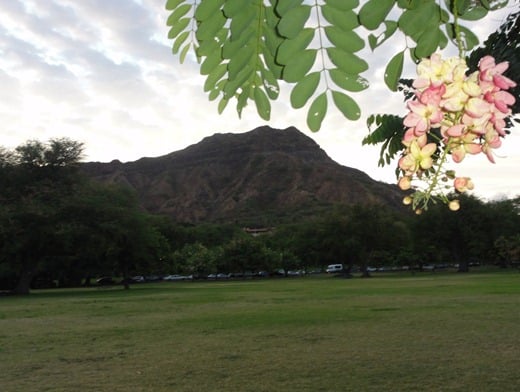 Mahalo to Selene Betzer Mcbee for sharing this lovely photo that he took on her vacation in August. I love the way she's framed Diamond Head crater with the greenery and flowers of the tree in the foreground.
I had noticed this same type of tree blooming while we were just in Maui. I don't recall ever noticing it before and I was really struck by the soft pastel blooms. As we were driving around Maui, I know I rubbernecked each time I saw one of these trees. They're beautiful!
So, I did a little bit of research to find out the name of this tree. In my search, I came across a Honolulu Advertiser article that not only provided the name of this tree, but some interesting history as well. This tree is called a Rainbow Shower and it's the official tree of Honolulu city and county.
Here's excerpt from the article:
RAINBOW SHOWER

"It has a beautiful dusty pink color that's wonderful this time of year," horticulturist Joshlyn Sand said of the official tree of the City and County of Honolulu, a hybrid of the golden shower tree and the pink and white shower tree, pictured above and top.

The original tree was planted in the yard of Wilhelmina Tenney on Lunalilo Street in 1920. Once it matured and bloomed, it was sought after for its magnificent pinkish-yellow appearance and because it did not produce messy seed pods. Offspring of the original were planted all over the city.

Appearance: The blossoms are a fusion of yellow and pink. Two other color variations have been named — "Queen's Hospital White" and "Lunalilo Yellow."

Flowering period: Now. Usually from March through November, reaching its peak in July and August.

Best spots to see it: Along South King Street, diamondhead end of Kapi'olani Park and Foster Botanical Garden.
Have you ever noticed rainbow shower trees blooming in Hawaii on your travels?