You Still Have Time to Win the Hawaiian Prize Pack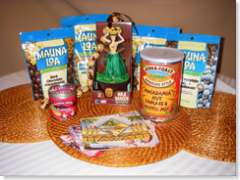 By the end of August, I will be choosing one lucky winner of the Hawaiian themed prize pack. In case you haven't yet subscribed by email or by RSS, you still have time. To read more about this fun giveaway and rules, see this original contest announcement..
The secret message hasn't gone out yet. As a reminder, when you see the secret message at the bottom of the post, cut and paste it into this contact form. Additionally, if you blogged about the contest, please note that with a link to your post and you will be eligible for an additional $25 Amazon.com gift certificate.
For those of you who thought that the prize pack might have been in danger of being eaten, I'm happy to report that every thing is still intact. No macadamia nuts have been harmed as a result of this contest. 🙂
Many thanks to everyone who has subscribed and to all the very nice people who have blogged about the contest! Good luck!