Hawaii Vacation Misadventures of Andy & Sheila: Mosquito Bait Edition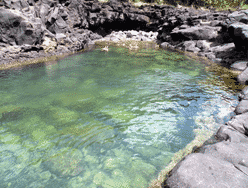 One afternoon on our first visit to Kauai, we set out to find Queen's Bath, a natural lava-formed swimming pool, in the Princeville area. After finding the wooded path, we embarked on this short walk towards the ocean.
Two key pieces of evidence I should share:
Since we'd spent most of that day beach hopping, we weren't wearing mosquito repellent.
We followed our guidebook's instructions for where to park to access to the trail. We didn't know we were going to be traipsing through a jungle. Per the instructions, we had pictured an open path.
If I remember correctly, the walk should have only taken us about ten minutes. The path wasn't particularly difficult but there were some points where we had to slow down and be careful with our footing, especially since we were wearing flip-flops.
We were about five minutes into this short trek when we had to slow down to cross over a gap and a log. Andy went across first so that he could then help me. As he was navigating through this mini-obstacle, I happened to notice about a half dozen or so flying bugs buzzing around a Andy's legs. Upon a closer look, I could tell that they were mosquitoes and they were having a feast! I immediately warned Andy, then looked down at my own legs, which had just become a lavish mosquito buffet. Ugg!
We quickly tried slapping the mosquitoes away, but as you can imagine that was not successful. We had to make a quick decision – do we persevere and find Queen's Bath or make a run back to the rental car? Though, we were only five minutes away from Queen's Bath, we made a run for the car.
Once we got out of the woods, we assessed the damage. We were sporting some nice, polka dots on our arms and legs.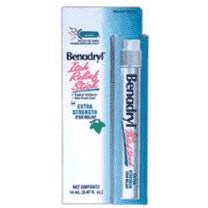 We resisted the urge to scratch the itching while we drove to our accommodation. The first thing we did when we got through the door, was find the Benadryl stick. We took turns dabbing the bites for some relief.
We learned two important lessons that we'll never forget:
Don't got into a wooded area in Hawaii without mosquito repellent. (See this post on mosquito repellent alternatives.)
Bring an anti-itch ointment or solution in our small backpack that we use for our short adventures. We prefer Benadryl stick.
And would you believe we've never made it to Queen's Bath?
Have you been attacked by a swarm of mosquitoes? What are you're favorite products to repel mosquitoes them and to stop itching?