Island Hopping: From Maui to See the Big Island Lava Flow
A reader recently asked if it was possible to take a day trip from Maui to see the Big Island lava flow.  The answer is yes, it is possible and there are a few alternatives.
Before I get into the details of the alternatives, let me make sure that I emphasize that an active volcano is extremely unpredictable. It is possible that if you schedule a flight or tour to see the lava flowing, you may not get to see it.  So, please be aware of that risk when you are booking a flight or tour.  No company can guarantee that you'll see lava flowing.
Now let's take a look at some of the alternatives for island hopping from Maui to the Big Island.
Arrange a air/land package tour.
Tours packages come and go. We've seen a lot of changes over the years. The most recent tour that we've found is by Discover Hawaii Tours. Here's the link to their packaged tour that includes flights to the Big Island plus the tour.
Another alternative is a day tour from Hilo.  You can arrange your own flight to Hilo, then they tour you around this part of the island.  You would need a dedicated day for this tour as it is 7 hours long.
Seeing lava is not guaranteed. That depends on if lava is flowing at an accessible location.
Arrange your own independent tour.

This alternative gives you the most freedom, but will require that you work out the logistics and  details of renting a car, navigating the island, etc.  Hawaiian Airlines provides the only non-stop flight service Kahului Maui (OGG) to Hilo (ITO).
You could choose to fly there and back in the same day or stay overnight (or longer).  If you attempt a day trip and depending on the last available flight back to Maui, you might be pushing it to the limit because the lava viewing is best done after dark. Be sure that you allow enough time to drive back to the airport, refuel the car, return the car, go through airport security etc.  Then factor in time for refueling and returning the rental car, etc.  See what I mean about pushing it to the limit?
Arrange a tour by air.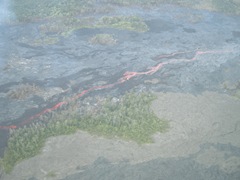 The following tour has been suspended due to new FAA regulations requiring flights over the national park to be 5,000 feet or higher which does not provide a good enough view. In case the rule will be reversed, we will keep the following information in tact, but we will "gray-out" the font.
Volcano Air Tours operates an flight tour from Maui over to the Big Island and back.  The tour is narrated by the pilot.  In addition to flying over the active lava flow, you'll also get to see the beautiful Hamakua Coast and Mauna Kea on the Big Island.
If your time is tight, this tour may be your best alternative.  You will see quite a bit of fascinating scenery in a short amount of time.  Tours leave from Kapalua airport in West Maui and from Kahului at the main airport.  The tours last between 2hr and 2hr 15 minutes.  Tours are pricy (hundreds of dollars) and depend on the tour and your point of departure.
A representative from Volcano Air Tours was kind enough to provide the photo (above right) that was recently taken from one of their tours.  One important fact to consider when selecting an air tour is how much time will be spent flying around the active lava flow.  I asked the Volcano Air Tour representative and she said that the pilots spend about 15 to 20 minutes flying there.  That should be very adequate for allowing everyone to get a good view
—
Please note that all information was accurate at the time of publishing. We have most recently updated this page in January 2018.  Flight service is subject to change. Lava activity and location is subject to change. To check where the lava activity is, see the resources in this article: How to find out what's going on with the lava on Hawaii's Big Island.