Over 50 great things to see & do on a Maui vacation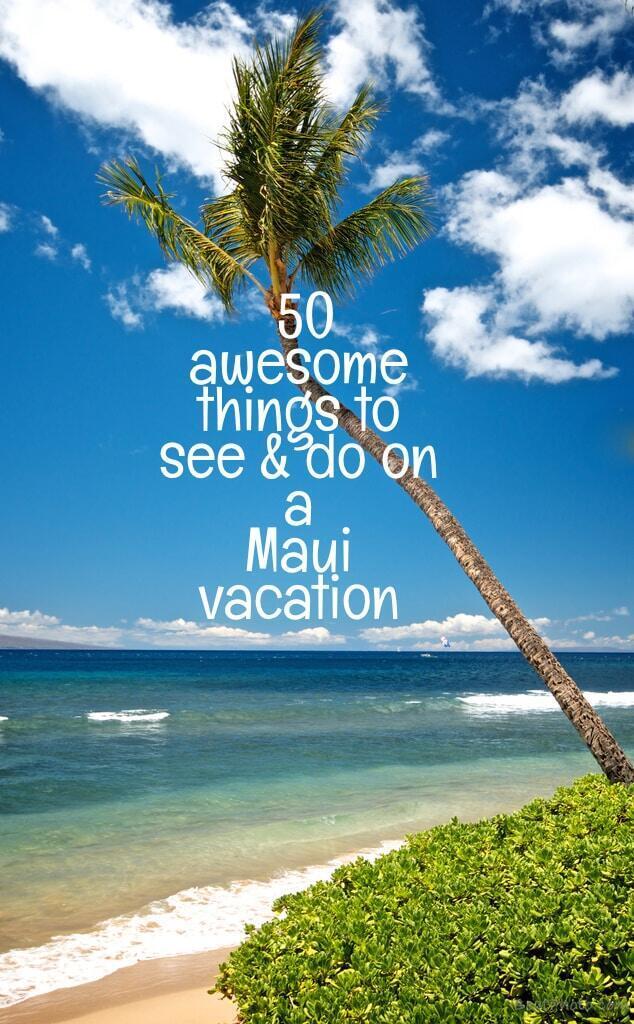 Whether you're planning your first trip to Maui or you're a repeat visitor, we're certain that you'll find loads of great activities to plan into your vacation.
We all know that Maui's gorgeous beaches will captivate us, but what else is there to do? We list over 50 great Maui vacation ideas. We cover everything from unique adventures and sites to culinary experiences.  Our list is organized into the following categories:
– Ocean Adventures and Water Activities
– Land Adventures, Attractions and Other Maui Vacation Activities
– Hawaiian and Polynesian Cultural Highlights
– Maui Food and Drink Experiences
So, let's explore all the best that Maui has to offer…
Ocean Adventures and Water Activities
1. Snorkel, scuba dive or snuba dive to see tropical fish. The crescent-shaped crater at Molokini is a unique place to snorkel. We also like snorkeling at Honolua Bay in West Maui and off Polo Beach in South Maui. Black Rock at Kaanapali Beach is popular spot for snorkeling and you can easily access it straight from the beach.
2. Take a submarine dive.
3. Tour the Maui Ocean Center to see tropical fish, sea turtles and much more.
4. Try stand up paddle boarding. Several companies rent paddle boards as well as lessons.
5. Go for an outrigger canoe ride. Hawaiian Sailing Canoe Adventures offers a great canoe experience in Wailea.
6. Go surfing or learn to surf through one of the surfing schools.
7. Enjoy views of Maui, Lanai and Molokai from a relaxing sunset sail. There are several catamaran operators who offer cocktail or dinner sails. Since it's difficult to walk around with a full plate and dine on a catamaran, we recommend sticking with just a cocktail sunset cruise.
8. Get mesmerized by humpback whale watching. Maui offers some of the very best humpback whale sightings in all of Hawaii as the whales love the shallow waters between Maui and the nearby islands. You can easily whale watch by land, but a boating trip is enjoyable. Please note that the peak of humpback whale season is from January through March, but you'll likely see them in December and April as well.
9. Go windsurfing or learn how to do it with one of the Maui windsurfing companies.
10. Go ocean kayaking. You can find fun guided kayak tours or rent your own kayak if you are experienced. If you rent, be sure to throughly you check ocean conditions and forecasts before going out. For safety, we recommend a guided tour. We had an amazing time on this guided Wailea kayaking and snorkel tour.
Land Adventures, Attractions and Other Maui Vacation Activities
11. Tour Maui's famous road to Hana for a beautiful trip through a winding rainforest with amazing coastal views, waterfalls, sidetracks and a stunning black sand beach. You can either explore the road to Hana on your own or consider taking a guided tour.
12. Explore the summit of Haleakala at more than 10,000 feet above sea level.  You can visit anytime of day, but we prefer arriving in the middle of the night to do some stargazing and then watch sunrise but some folks enjoy sunset. We compare the two options here.
13. Visit the lush Iao Valley and see the Iao Needle.
14. Explore the surreal landscape at Dragon's Teeth.
15. Go horseback riding by the coast or go upcountry for a cooler ride.
16. Meander through a tropical garden. We've been to the Garden of Eden, Kahanu National Tropical Botanical Garden  and also to the Kula Botanical garden
17. Go paragliding. One of my blogging pals tried paragliding on her recent trip to Maui.
18. Hit the dusty trails on an ATV for an exciting drive.
19. Try a thrilling experience on one of Maui's many zipline parks. See our zipline advice.
20. Take a bike ride. One of Maui's most famous bike rides is the white-knuckle bike ride down the slope of Haleakala. You can find several tour companies who offer this adventure. (One note of caution, the bike ride down Haleakala can be on the risky side.)
21. See the bird's eye view of Maui with helicopter tour. A flight above the remote west Maui mountains is a popular tour. Helicopter tours across the channel to see the amazing cliffs of Molokai is another interesting tour.
22. Explore small-town Maui with a trip up to Makawao and/or over to Paia.
23. Walk around Lahaina town to see the famous sprawling banyan tree. You can pick up a historic trail map from the Lahaina Visitor Center in the Lahaina Courthouse. If you don't want to do the walking, you can take a segway tour.
24. Shop for souvenirs and/or art to take back home. Some of our favorite shopping areas are on Front Street in Lahaina, Whaler Village in Kaanapali, in Paia and the Shoppes at Wailea in Wailea.
25. Learn the history of the sugar cane industry on Maui at the Alexander & Baldwin Sugar Museum
26. Enjoy stunning Maui scenery while you hit the links at one of Maui's world class golf courses.
27. Relax and rejuvenate at one of Maui's many award-winning spas. Our favorite West Maui spa is Spa Montage and for South Maui, we tend to gravitate towards Spa Grande.
28. Go on a pleasant walk along one the ocean walking paths. Kapalua, Kaanapali and Wailea resorts all have great walking paths.
29. Enjoy a scenic hike either on your own or on a guided hike. Our favorite Maui hike is the Pipiwai Trail to towering Waimoku Falls, which is off the road to Hana. You can find some nice trails in Kapalua, in Iao Valley, on Haleakala summit and dotted around the island. For more hiking ideas, check out the Maui Revealed guidebook.
30. Watch the windsurfers launching and soaring around the waves at Hookipa Beach.
31. Tour a lavender farm.
32. Take advantage of the clean air and low light pollution to do some stargazing.
33. Go island hopping. We recommend:
Hawaiian and Polynesian Cultural Highlights
34. Try Hawaiian-style food and see Polynesian dancing at one of Maui's many great luau.
35. Learn to hula dance.
36. Learn to play the ukulele.
37. Learn to make a lei.
38. See the evening cliff dive from Black Rock at the Sheraton in Kaanapali.
39. Find a festival. It seems that there's almost always a cultural festival happening on Maui. Prior to your trip,  search for events under the 'Vacation Directory' tab (on the right sidebar) at GoHawaii.com. When you're on the island, check the local newspaper, Maui News.
Maui Food and Drink Experiences
40. Enjoy a refreshing shave ice.
41. Have a sweet slice of Hula Pie.
42. Stop in for one of the famous pies at Leoda's Kitchen and Pie Shop.
43. Try one of the local's favorite dishes with a loco moco, mixed plate or spam musubi.
44. Tour the Surfing Goat Farm and taste their cheese.
45. Tour the organic O'o Farm and enjoy a freshly prepared lunch.
46. Try locally grown fruits and vegetables from a farmer's market or roadside stand.
47. Tour a Maui pineapple farm, for example there's Maui Pineapple Tour.
48. Enjoy Hawaii regional cuisine with an ocean view. Check out our Maui restaurant guide for recommendations.
49. Tour Maui's only winery.
50. Tour a vodka farm and distillery.
51. Enjoy a peaceful and romantic Maui sunset on the beach with a picnic.
—
For more activity and attraction reviews, see TripAdvisor's page on things to do in Maui.
For the first-time Maui vacation planner, if you feel overwhelmed with this list, don't worry, we've got you covered with our popular week-long Maui vacation itinerary.
For the seasoned Maui visitors, please comment to tell us your favorite activities.