6 Tips for Choosing a Hawaii Helicopter Tour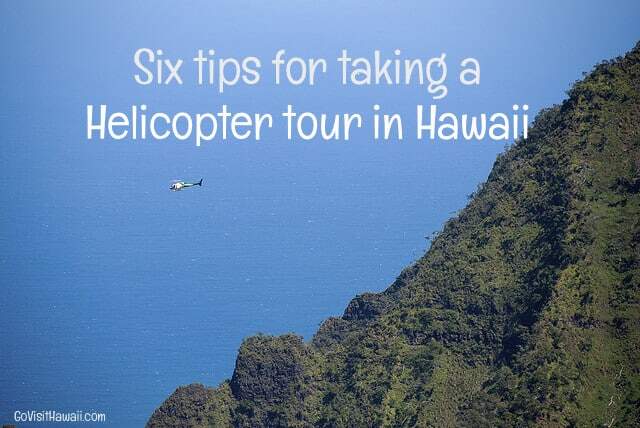 In my opinion, a helicopter tour is much more thrilling than any amusement park ride I've ridden. The views are beyond description and there is so much to see. A helicopter tour in Hawaii is an ideal way to see the islands' cliffs, forests, volcanic shape, beaches and craters. One of the reasons I love Hawaii is the diversity of terrain and by taking a helicopter tour, you can really see that. Before you take a helicopter tour, you should spend some time researching your options online. Here are tips to help you choose the best tour and enjoy it.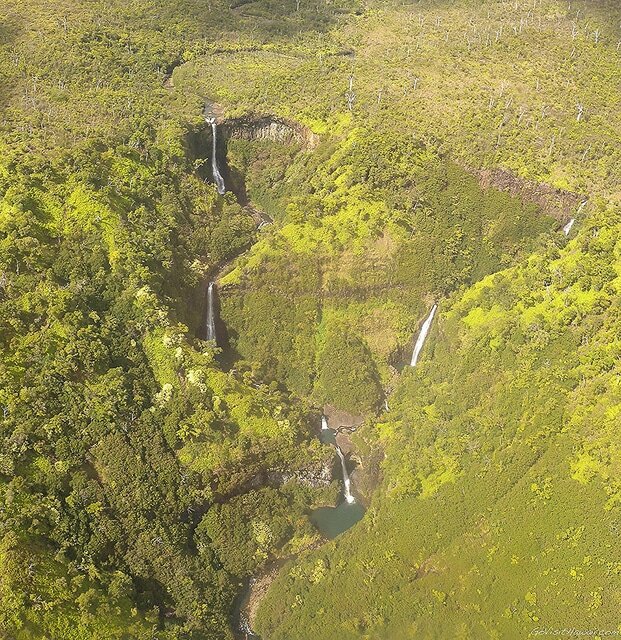 1. Make a Safe Choice – Each year, thousands of Hawaii visitors enjoy safe, scenic helicopter tours across the Hawaiian Islands. Before boarding a helicopter, it is important to recognize that there are risks. Accidents are infrequent, but they can and do happen.
How do you make a safe choice? First, choose a helicoptor tour that advertises that they are certified as a FAA Part 135 Air Carrier, which means that the operator is subject to higher standards than general aviation operators.
Next, you might find it helpful to look up accidents from the National Transportation Safety Board.   You can use this query form to search the accidents database.  To get Hawaii results, be sure to select Hawaii as the state and Helicopter as the category of aircraft. The report can be rather cumbersome to review. As you will see from the report, most incidents are nonfatal, thankfully. Several incidents have happened during flight instructor training while no passengers were onboard. Do take note of the "doing business as" column as name changing is a little trick that helicopter tour companies play to try to disguise their safety incidents.
For your reference, I've culled through the NTSB helicopter accident report for incidents in Hawaii. I also follow Hawaii news sites. From most recent to oldest, here's the list of fatal and/or seriously injured accidents on sightseeing tours since January 2004:
June 8, 2022 – Paradise Helicopter tour on Hawaii (Big) Island crashed on a remote lava field. Two people were seriously injured. (Source)
December 26, 2019 – Safari Helicopter tour on Kauai crashed resulting in seven fatalities. (Source)
April 29, 2019 – Novictor Aviation tour crashed on Oahu.
October 16, 2017 – A Mauna Loa Helicopter crashed in the Pacific Ocean near Molokai during a pilot instruction exercise. This was not a sight-seeing flight. No passengers were on board.
February 18, 2016 – A Genesis Helicopter crashed in Pearl Harbor on Oahu resulting in one fatality and four people with injuries.
November 10, 2011 – Blue Hawaiian Helicopters tour from Maui to Molokai crashed at Molokai. There were five fatalities.
March 11, 2007 – Inter-Island Helicopters on Kauai
March 8, 2007 – Heli-USA Airways, Inc. on Kauai
September 23, 2005 – Heli-USA Airways, Inc. on Kauai
September 24, 2004 –  Bali Hai Helicopter Tours, Inc. on Kauai
2. Know the Seating Arrangement – Most helicopters tour companies in Hawaii use six-passenger helicopters with a seating arrangement of two passengers in front and four in the back. That means that two people are going to be seated in the middle seats in the back and with a slightly less direct view of the window/scenery. The six-passenger helicopters that many companies use is either A-Star or Eco-Star type helicopters. The Eco-Stars are generally a little nicer than the A-Stars because they offer a bit more room, less noise, and more window space.
Though harder to find, there are some tour helicopter tours that take only four passengers. Two sit in front and two in the back. In that case, all four passengers have a direct window view.
Helicopter tours are best experienced if you are enjoying the ride rather than stressing over getting the best photo. For serious photographers, consider taking a doors-off tour. Without the doors, you don't have to contend with refections and distortions from the windows. With the doors off, you'll get much better photographs. As long as you are strapped in with the safety belts, you won't fall out. Make sure your camera equipment is secure. You will be exposed a bit more to the elements and the cooler temperatures at the higher altitude, so wear warm clothes.
Helicopter tour companies that we have used with great results are Safari Helicopters, Sunshine Helicopters, Inter-Island Helicopters (no longer is service) and Blue Hawaiian. We took a unique eco-tour with Safari Helicopters and a standard tour with Blue Hawaiian. (We didn't care much for Air Maui as the window nearest us was obstructed and scratched which blocked/distorted our view. See a photo of that window here.)
Bear in mind that seating will be based on the weight of you and your friend/partner. Weight needs to be balanced on the helicopter to make it fly properly and ultimately for safety reasons. It has been our experience that couples always sit together.
If you are taking a helicopter tour in Kauai, request the right side because most tours circle the island clockwise and you will be able to get the best view of the Na Pali Coast from the right side. You can make the request, though they cannot guarantee seating.
3. Shop online for best pricing – Most companies offer a nice discount for booking directly with them online.
See these links for more information about the helicopter tour companies on each island:
4. Timing your Tour – If possible, try to book your tour on the first or second day of your trip so that you will gain a better orientation of the island.
5. What to do on the day of your tour:
Do
Pay close attention and follow all safety instructions and don't hesitate to ask questions about them.
Wear dark clothing without pattens to minimize the glare on the windows.
If you are prone to motion sickness, make preparations and/or take medication per labeled instructions.
Use high speed film/settings for your camera.
Hold your camera lens near the window to minimize reflections. Just don't touch the window because the vibration will transfer to your hand and camera.
Don't
Wear earrings because they could get in the way of your headphones.
Spend too much time looking at the scenery through tiny viewfinder of your camera.
You might want to avoid having a meal just before the tour.
6. Know which islands are the best for helicopter tours. I'm sure helicopter tours of all the islands are quite nice, but if you have a choice go with Kauai or the Big Island. Kauai is my top pick because of the views of Waimea Canyon, the Na Pali Coast, and seeing the remote waterfalls at the Waialeale Crater. The Big Island would be my second pick because of seeing the volcano activity at Kilauea. I have been fortunate enough to enjoy helicopter tours of Kauai, the Big Island, and the Great Barrier Reef. My favorite was the Kauai tour.
I'll close these tips for finding the best helicopter tours in Hawaii with a few photos from tours helicopter tours I've taken in Hawaii.
This photo is of the Na Pali Coast of Kauai. Notice the rainbow: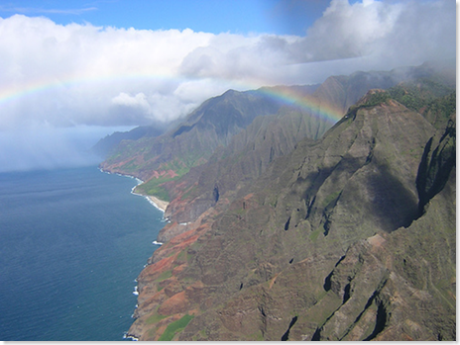 The following photo of "liquid rock" in action was taken at Pu'u O'o. At the time, a helicopter tour was the only way to see any active lava flow.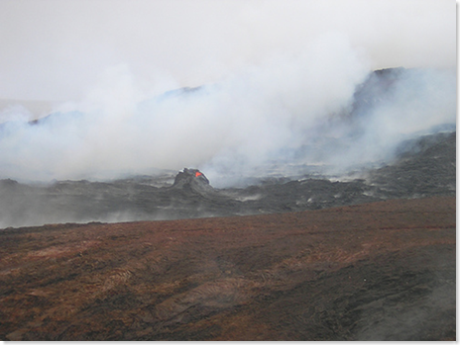 The following photo is from the USGS Hawaiian Volcano Observatory showing a lava flowing as viewed from the air.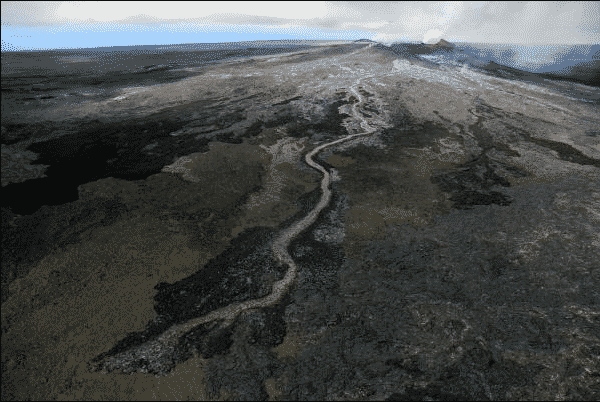 Cliffs of the Hamakua Coast on the Big Island.

Please feel free to add your helicopter tour tips in the comments.