Giveaway: Win these 3 essential items for the adventurous Hawaii traveler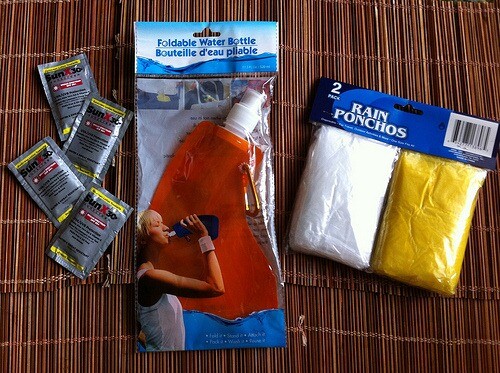 When we find handy dandy products that make Hawaii travel more convenient, we like to let you know. We've got three top ones to share with you today.
SunX30+ Sunscreen Lotion Towelettes
These individually wrapped sunscreen towelettes are oh, so, convenient for Hawaii travelers on the go. They provide broad spectrum UVA and UVB protection. They're PABA-free, oil-free, water and sweat resistant. They'd be super convenient to re-apply sunscreen if you've been out sightseeing all day, hiking, snorkeling, etc. I purchased a box of 25 of these from Amazon.com for $11.95. Here's the Amazon link where you can read reviews.
We all know that bringing sunscreen with you to Hawaii can be a challenge – especially when you know the conveniences of packing light. Since these packets are individually wrapped towelettes, it is my understanding that they would not be classified as liquids or creams, so they won't have to be stored in the quart-sized, zip-top bag for the TSA carry-on screening.
I wouldn't necessarily count on these towelettes being my sole source of sunscreen in Hawaii as it might take several towelettes to properly cover my entire body if I'm spending the day at the beach.
Foldable Water Bottle
Unless you bring a backpack, it's awkward to carry around a  typical water bottle as you go out on your Hawaii adventures. This foldable water bottle is not only convenient to carry with its carabiner, it's also foldable and reusable.
Though this water bottle packs flat, you may not want to pack it in your luggage. It would be so convenient to fill it up with water in the airport terminal to keep you hydrated on the long flight to Hawaii. (See our tips for staying comfortable on long haul flights to Hawaii.)
This water bottle is BPA-free and dishwasher safe. It holds 17.5 oz (520 ml)
You'll never guess where I got this super handy water bottle. I found it at my local Dollar Tree for a whopping $1. You can find similar BPA-free water bottles online at Amazon.com, REI.com, etc. I actually found this exact product on Amazon for $14.99.
Rain Ponchos
These rain ponchos have come in handy so many times as we've been out sightseeing in Hawaii. We usually put them in the glove box of our rental car the day we arrive and use them as needed. Having them close to hand means a shower never interrupts our plans
I've actually blogged about these ponchos in the past. I find them at our local Dollar Tree in a package of two for $1.
—
As you can see, each of these items can be very useful for the Hawaii traveler. If you are new to Go Visit Hawaii, you'll want to check out our Hawaii packing guide for more ideas of what to bring on your  vacation.
I'm giving away this little collection of handy dandy Hawaii travel items as shown in the picture. To enter to win them:
– Please comment to tell me what is your number one travel essential.
– Enter your comment under the section labeled "Leave a Reply" on this blog post, i.e., the blog post you're reading right now. Sorry, but facebook comments cannot be counted towards entry.
– Enter your comment by Sunday, June 10, 2012.
– Winner will be chose at random.