Renting a condo vs hotel for your Hawaii vacation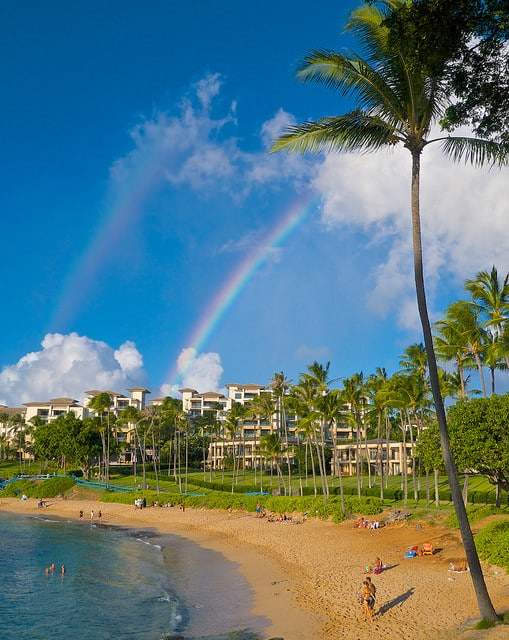 As you are considering accommodation options for your Hawaii vacation, it's important to weigh the pros and cons of your choices. Should you stay in a hotel or would a vacation rental be a better selection? In today's article, we'll look at some of the top aspects to consider.
We are going to use the term condo interchangeably with vacation villa, home, etc. Many of the same characteristics of a vacation condo, villa or home apply to all three.
Space 
A condo provides much more space than the average Hawaii hotel room. Most condos have one or more bedrooms, a living room, a dining space, a kitchen and one or more bathrooms. In comparison, most hotel rooms only have a bedroom area and a bathroom.
Winner: Condos
Housekeeping
Hotels offer daily housekeeping. Some of the higher-end hotels offer housekeeping two times a day. It's nice to have the room cleaned daily, especially when you might be tracking in sand and grit on the floors. Also, hotel housekeeping provide fresh towels and bed linens, which is a nice luxury.
In contrast to hotels, most condos do not offer daily housekeeping or any housekeeping at all during your stay. Some vacation condos and rentals offer additional housekeeping for a fee. However, when we've stayed in a Hawaii condo, we haven't found the lack of housekeeping to be an issue.
Winner: Hotels
Laundry
Most condos have a washer and dryer. For long stays or just for packing light, having the ability to wash clothes can be very convenient.
Many Hawaii hotels offer laundry services, however they can be very expensive – often on par or exceeding dry cleaning fees.
Winner: Condos
Parking
Parking a rental car at a hotel in Hawaii can be pretty pricey — in the range of $20 to $40 per night. While, with the exception of Waikiki, there's usually not a parking fee to park at most vacation condos.
In most cases, parking spaces at condos and vacation rentals are located near the actual rental property. In comparison, we've had some very long walks from the parking area or lobby to our room at some hotels.
Winner: Condos
Kitchen
Having the ability to make some meals can be a big budget saver, especially for families. When you consider that hotel breakfast buffets  can run upwards of $40 per person per day, you can quickly get an idea of the savings to be able to make simple breakfasts in your condo.
Winner: Condos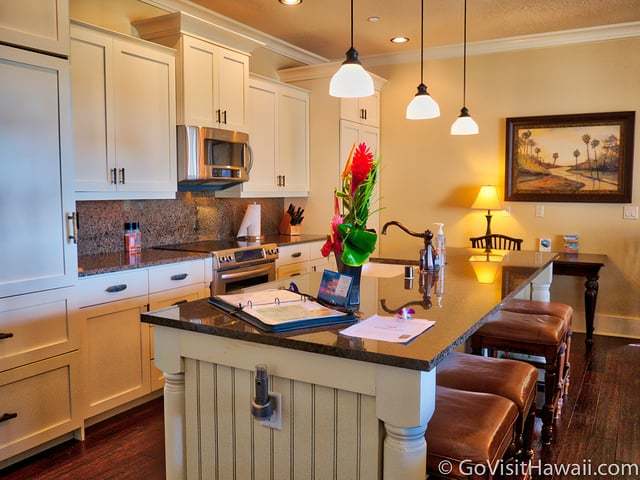 Amenities and services
Many Hawaii hotels offer excellent services that are simply not offered at condos. Here are some examples of amenities and services that you'll find at most mid-range to high-end hotels.
Assistance with luggage
Onsite restaurants and bars
Room service food delivery
Spa and salon
Onsite shops — from sundries to souvenirs
Special programs for children
Fitness center
Concierge services to book restaurants and activities
Beach chairs and umbrellas – mostly at high-end hotels
Laundry service with pick up and drop off in your room
Winner: Hotels
Pools
In general, condos in Hawaii tend to have simple pools, while there are some Hawaii hotels with pools and slides that could almost rival those at amusement water parks. For example, check out the pools at Aulani, Grand Wailea, Hilton Waikoloa Village, Hilton Hawaiian Village and Grand Hyatt Kauai to name a few. Most mid-range to high-end Hawaii hotels have upgraded their pools in the last five to ten years.
Winner: Hotels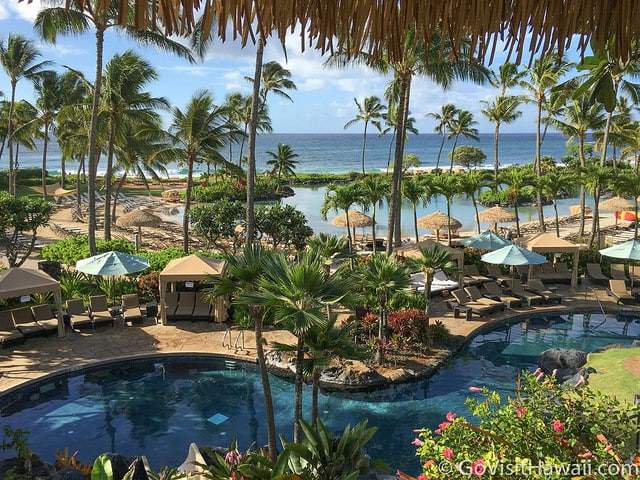 Location
This one is a bit of a wash as you can find both hotels and condos in excellent locations. You can also find both in somewhat less than desirable locations, for example on a cliff without a sandy beach.
It's important to note that all beaches in Hawaii are free and open to the public. Even though a hotel or condo may have a primo beach spot, anyone is welcome to enjoy that beach provided they have parking/walking access.
If pressed, and we had to give an edge to either hotels or condos for location, the nod would go to hotels. The reason being is that many hotels were built on prime beachfront real estate many years before condos. Essentially, it's a case of hotels given first dibs to claim the best spots.
Though we give the edge to hotels for being in the very best spots, that's not to say that condos have undesirable locations. Some of Hawaii's best resorts have hotels and condos in the same vicinity.
Winner: Slight edge to hotels
Rates and Fees
With the differences in amenities, it is difficult to have an apples-to-apples comparison. As we've already outlined, hotels offer many more amenities as compared to vacation condos and generally, the rates of hotels are more expensive.
As an example, I just looked at a quick search of a condo that's next door to a five-star hotel — Pua Poa condo and St. Regis Princeville hotel. I found an oceanfront, two-bedroom, two-bath condo for a nightly rate of $275 on VRBO. The least expensive rate I could find for St. Regis Princeville was $451 for a mountain view room.
As far as fees go, most Hawaii hotels charge daily resort fee, generally in the range of $20 to $30 per night, whereas most vacation condos do not charge them. On the other hand, most vacation rental condos charge a cleaning fee that can be upwards of $150 per stay.
Winner: Edge to condos bearing in mind that there are less amenities
Standards & Security
Unlike hotels rooms which are kept to a good standard, privately owned vacation condos are individually decorated. You will find a wide range of decor and upkeep from unit to unit within the same condo complex.
Unfortunately, there are scammers who will post fake vacation rentals, take your money and you're out of luck. We post some advice to avoid scammers in our tips for selecting a Hawaii vacation rental.
Winner: Hotels
Notes
We've shared the most common aspects. There are a few exceptions in each category. For example, we say that condos have kitchens. Some studio-style condos may not have a full kitchen. Also, some hotels have kitchenettes. But, these are are the exceptions rather than the rule. Another example is space as some high-end hotel rooms can be more spacious than a condo. Again, that's more the exception rather than the rule.
The best of both worlds – condos with hotel amenities
There are some Hawaii accommodations that offer a condo-style stay but with all the hotel amenities. Here are some examples:
A condo resort that has some of the amenities of a hotel — such as nice oceanfront pool and an onsite restaurant is Hali'i Kai on the Big Island.
Additional resources