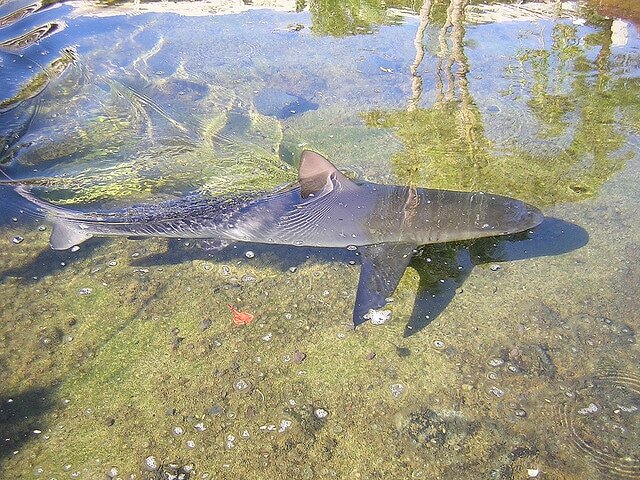 Shark sightings and bites have been on the uptick in Hawaii recently. On Sunday, an 8 to 10-foot tiger shark was spotted from Kaimana Beach in Waikiki. Last week, a 10-year-old boy was bitten on the leg by a shark off Makaha. Thankfully, he survived and doesn't have any permanent damage to his leg.
Thus far in 2015, there have been seven shark attacks in Hawaii with one being fatal. Of the seven shark attacks in 2015, three of them — nearly half — occurred in October. (See the shark incident list.) So what's going on? Is there something special attracting sharks to the shore in October? Per the Hawaii Division of Land & Natural Resources (DLNR), most shark attacks happen in October and November — when sharks have given birth and are hungry. (Source)
Even with the uptick of shark incidents, overall Hawaii waters are relatively safe. Thousands of people enjoy ocean activities in Hawaii everyday and the vast majority don't encounter sharks. Per the International Shark Attack File, the probability of death by lightning or fireworks far exceeds that of a shark attack.
Still, we should have a healthy respect for all ocean creatures when we're in their home — the ocean. Take note of the following safety tips from the DLNR.
Ten Safety Tips to Reduce the Risk of Shark Injury
Swim, surf, or dive with other people, and don't move too far away from assistance.
Stay out of the water at dawn, dusk, and night, when some species of sharks may move inshore to feed. But be aware that tiger sharks are known to bite people at all times of the day.
Do not enter the water if you have open wounds or are bleeding in any way. Sharks can detect blood and body fluids in extremely small concentrations.
Avoid murky waters, harbor entrances, and areas near stream mouths (especially after heavy rains), channels, or steep dropoffs. These types of waters are known to be frequented by sharks.
Do not wear high-contrast clothing or shiny jewelry. Sharks see contrast very well.
Refrain from excessive splashing; keep pets, which swim erratically, out of the water. Sharks are known to be attracted to such activity.
Do not enter the water if sharks are known to be present, and leave the water quickly and calmly if one is sighted. Do not provoke or harass a shark, even a small one.
If fish or turtles start to behave erratically, leave the water. Be alert to the presence of dolphins, as they are prey for some large sharks.
Remove speared fish from the water or tow them a safe distance behind you. Do not swim near people fishing or spearfishing. Stay away from dead animals in the water.
Swim or surf at beaches patrolled by lifeguards, and follow their advice.
Anecdotally, we have seen a shark while we were snorkeling in Hawaii in September, 2007. This 6-foot reef shark appeared to be resting and exhibited no aggressive behavior.
We also recently enjoyed eight nights in October on Hawaii, the Big Island, in the midst of all these shark attacks and sightings. We spent quite a bit of time in the ocean and even went on a guided nighttime snorkel to swim with manta rays. Thankfully these fun times in the ocean were all without incident.
Have you had an encounter with a shark in Hawaii?