Advantage Lanai! Playing tennis at the Four Seasons Resort Manele Bay
If working on your fitness is one of your 2015 resolutions, maybe learning/improving your tennis game in Hawaii might be the solution. Today Andy shares his tennis experience at Four Seasons Lanai at Manele Bay.
—
"The trick to beating Roger Federer is to hit one more ball in, than him."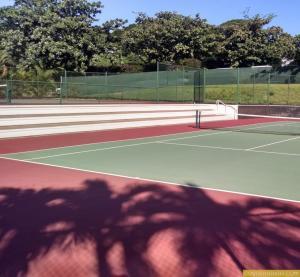 That's the advice head tennis Coach Ryan Winters shared with me on the first of three tennis lessons I would take with him at the luxurious Four Seasons Resorts Lanai at Manele Bay. I knew immediately that I was going to like him.
Coach Ryan is unlike any of the five tennis coaches that I had previously worked with. Instead of trying to force awkward mechanics on my fledgling tennis game, Coach Ryan instead focused on taking my game, working within my abilities, and making me a better Andy Beal–not a Djokovic or a Federer.
Getting to visit Lanai is a treat. Getting to play tennis on Lanai was dream vacation. The fact that I had won a silent auction, which included three private lessons and a tennis racket, well, you can imagine just how excited this tennis fanatic was. To then discover that Coach Ryan could–in just 3 hours–fix my ball contact issues, teach me a backhand backspin shot that had previously been non-existent, and provide me with simple tactics to help me win, was icing on top of my tennis cake.
You have a choice of two tennis locations on Lanai. I had a chance to experience both. The courts at Manele Bay have a well-stocked pro shop–complete with rackets and shoes you can borrow–and a tennis ball machine for rental. A short uphill walk from the resort, the courts have little shade, so plan to play early or late in the day–unless you enjoy Hawaii's heat. If you prefer something a little cooler, you can use the tennis courts upcountry at the Lodge at Koele. Surrounded by Cook pine trees, you're a good 20 degrees cooler–though it can get a little blustery. Either way, Coach Ryan is available to teach at both locations.
And, did I mention what a great teacher he is? His methodical–and instantly understandable–instruction includes drills, practice, and mental development, which are all based on the teachings of Peter Burwash International (PBI manages the tennis program at Four Seasons Lanai). Lessons will run you $120 an hour, but tennis clinics are less expensive and there's even a free "Tennis Open House." Children can work on their tennis skills with weekly Keiki Clinics.
I highly recommend taking a lesson or two when you next visit. I, for one, will be bringing my tennis racket, the next time I'm there!