What to know about a January vacation in Hawaii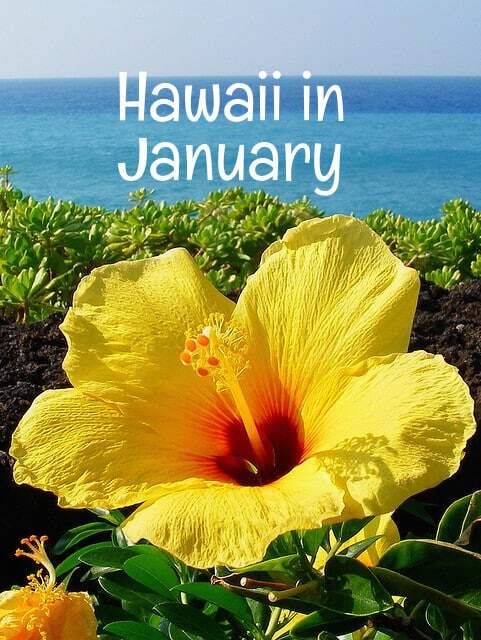 Is January the perfect time for your Hawaii vacation? Let's look at all the important factors — weather, costs, crowds and events — to help you decide.
What's the weather like in Hawaii in January?
Hawaii's weather is warm year round — even in the middle of winter. Hawaii's weather is warm enough to allow tropical flowers and trees bloom all through the year.
January daytime high temperatures typically average in the low 80s at most Hawaii beach resort areas. Evening temperatures call for a light sweater as they dip into the low to mid 60's. (Use this link to convert temperatures to Celsius.)
On average, January is not Hawaii's rainiest month. December has that designation. However, rainfall levels are higher in January compared to the drier months of summer.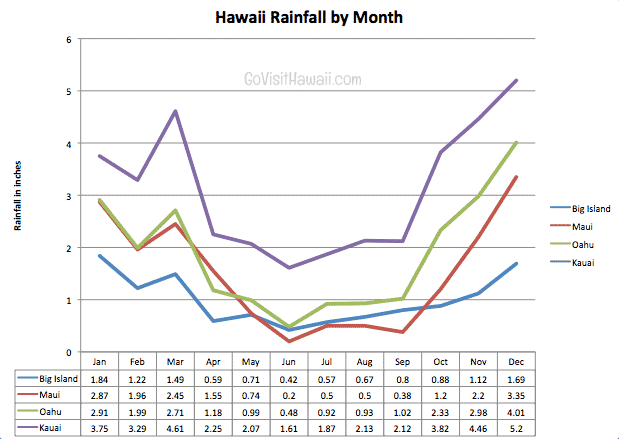 Choosing where to stay in Hawaii for a January vacation can greatly impact the amount of rain you may experience. See our article on where to stay in Hawaii to avoid rain for more detailed advice.
From our visits to Hawaii in January, we've throughly enjoyed plenty of sunny days. We can't recall rain interfering with any of our plans. We recommend that you pack quick drying clothes, an umbrella and a breathable, waterproof rain jacket to lessen any impact a passing shower might have on your sightseeing plans.
Though January is one of the cooler months, you can still swim in the ocean. For more details see our Hawaii ocean water temperatures article.
Is January a crowded time to visit Hawaii?
The first few days of January are slightly crowded as the popular holiday season completes. The holiday for Martin Luther King Jr. Day, on the third Monday of January, can also be a little bit on the busier side. However, the rest of the month, crowds are low. Per the visitor arrival data we've analyzed, the number of visitors coming to Hawaii in January is slightly below average. The following chart shows the arrivals by month based on the most recent data from 2018.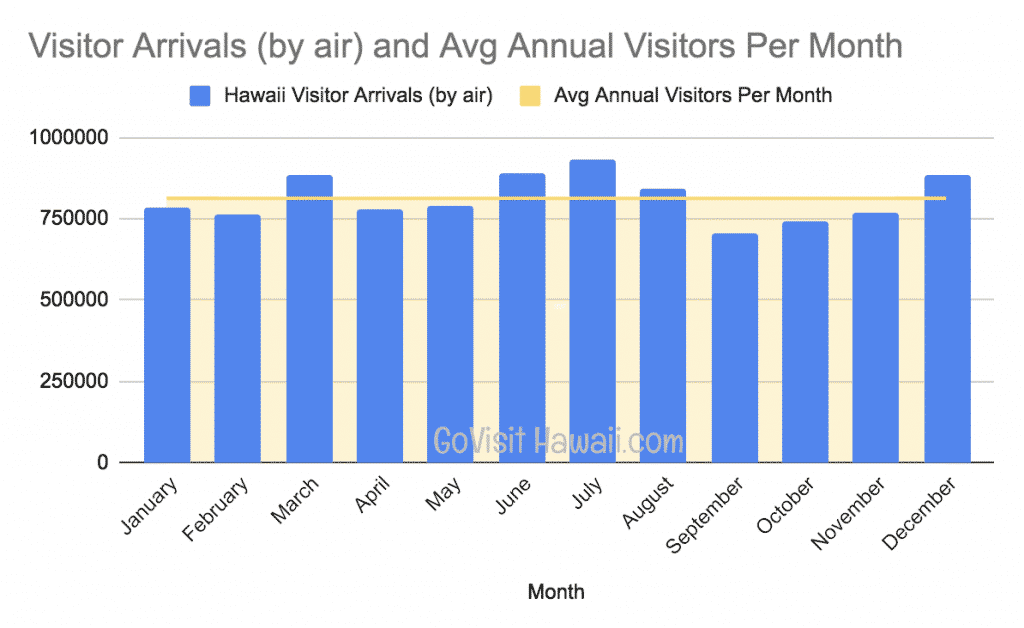 Is January a cheap or expensive time for a Hawaii vacation?
Immediately following New Year's Day, hotel rates are significantly higher than average. After that, rates come down to just above average as you can see from the below chart.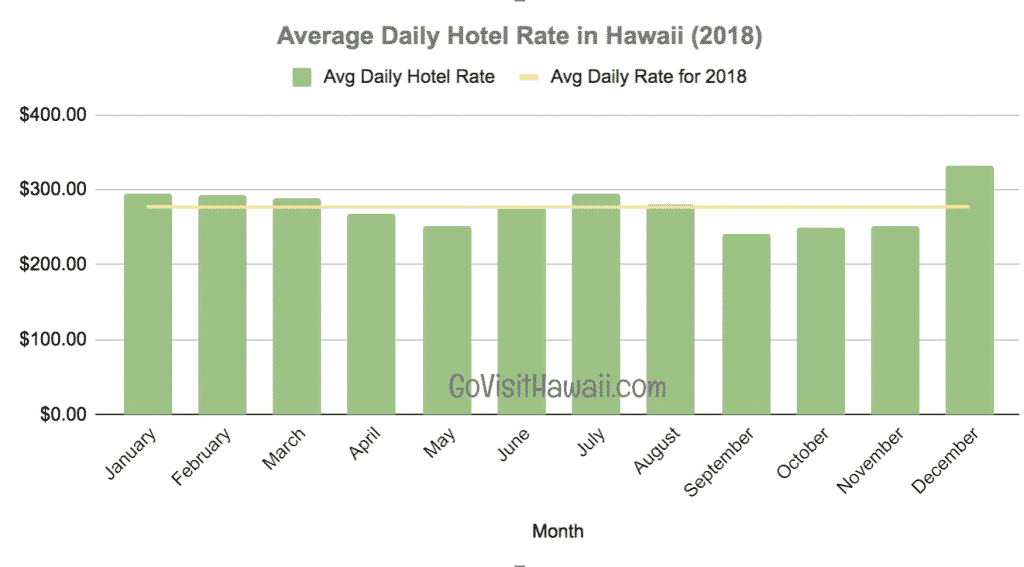 Airfare is more difficult to predict. Anecdotally, we almost always travel to Hawaii when we can find inexpensive airfare and we've found good fares for January travel in previous years. Use our strategies for finding cheap airfare to Hawaii to help you minimize your fare costs.
Are there any special events, festivals or reasons to go to Hawaii in January?
Humpback whales migrate by the thousands to Hawaii in winter months. January is one of the peak months to observe humpback whale season in Hawaii. It's truly spectacular to watch these massive creatures leaping out of the ocean, surfacing to breathe and slapping their tails and fins.
Two of Hawaii's top golf tournaments, Sentry Tournament of Champions on Maui and the Sony Open on Oahu occur in January.
Oahu's famous big waves pound the north shore in January. Quite a few surfing tournaments are held throughout the month.
For more special events in January, use the events search feature on GoHawaii.com.
—
Have you been to Hawaii in January? Where did you go? How was your visit?
—
This article is part of our month-by-month analysis to help you determine the best times to visit Hawaii for good weather and cheaper prices.