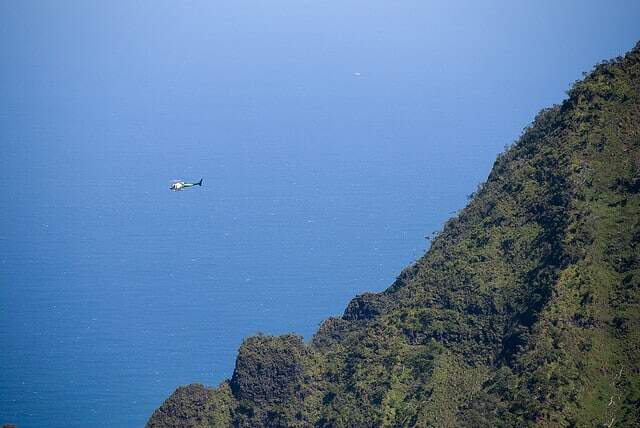 Though we were terrified to take our first Hawaii helicopter tour when we visited Kauai for the first time in 2003, we ended up having a thrilling experience that far exceeded our expectations. Since then, we've taken three more helicopter tours in Hawaii and they've all been spectacular.
We were recently asked for our advice on the best island and tour operator for helicopter tours in Hawaii. Unfortunately, that question isn't as easily answered as it may appear.As for the best island to take a helicopter tour. We'd love to experience a tour around every island. If you have a choice of islands, we'd rank them as follows:
1. Kauai — the bird's eye view of Waimea Canyon and the Na Pali Coast are absolutely stunning.
2. Hawaii, the Big Island — if lava is active, a helicopter tour over Kilauea volcano can be an incredible sight. Depending on where the lava is active, a helicopter tour may be the only way for you to see the lava.
3. Maui and/or Molokai — from Maui you can take helicopter tours over to see some of the tallest sea cliffs in the world on Molokai. Of course, Maui is a beautiful island, worthy of touring by helicopter, too.
4. Oahu
Several variables factor into your Hawaii helicopter tour experience. These three factors can make a difference
The seating arrangement makes a big difference. You can make requests, but please be aware that you don't have a choice. Most Hawaii helicopters seat six passengers with two passengers in front and four in the back. When you check in for your tour, you'll be weighed. After weighing all the passengers, the staff will seat you based on balancing the weight on the helicopter. If you are touring with your partner or friend, the tour companies usually seat you together.
Weather conditions are often unpredictable. What you may see on your tour, someone else may not get to see on a different tour. Waialeale crater on Kauai is a good example. If the pilot has good visibility, s/he will fly into the crater for an amazing scene of pencil thin waterfalls rushing down the crater walls. If the conditions are cloudy or foggy, the pilot will skip the crater to take you somewhere with better visibility and safety.
The pilot's experience and personality makes a difference. Though that being said, we've always had a great pilot.
For more information, check out our advice for choosing and taking a helicopter tour in Hawaii which has recently been updated.
Have you been on a helicopter tour in Hawaii? Where did you go? How was your experience?