Bringing Sunscreen With You to Hawaii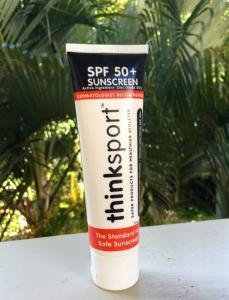 From my article  Six Strategies for Packing Light, Dana asked an excellent question about bringing sunscreen to Hawaii. She asked:
Curious what you do about sunscreen since it has to be packed in "checked" luggage. Is that a "purchase when you arrive" item?
With the current Transportation Security Administration (TSA) 3-1-1 rules, passengers are limited to bringing liquids, aerosols and gels in containers sized  3.4 oz or less in their carry-on luggage. Plus, all your liquids, aerosols and gels must fit into a single quart-sized zip-top bag.
The TSA rules make bringing sunscreen a challenge for people like me who are bound and determined to travel with only carry-on luggage. (See my article, Savvy Reasons Why You should Travel Light.) As you know most sunscreens are sold in containers much larger than 3.4 ounces.
Here's how we continue to travel light, while still bringing sunscreen to Hawaii:
– We shop around to find containers of sunscreen packaged in 3.4 oz or less containers. They can be found in stores like Target,  Walmart, drugstores and online. Our favorite sunscreen is ThinkSport which is fairly inexpensive, rated very wall for safety and conveniently available from Amazon. ThinkSport does not contain Oxybenzone or Octinoxate, which are both known to damage coral. It's a tad bit thick, but applies the best of the plethora of the mineral-based sunscreens that we've tried. For a chemical-based sunscreen, we really like the Sun Bum brand, which we also purchase from Amazon.
– We stuff in as many of the  small-sized sunscreens that we can fit into our  one-quart, zip-top baggies along with our other essential liquids, gels, and aerosols. We both bring a one-quart baggies to maximize the amount of liquids we can bring between the two of us.
– We both have rashguard tops with built-in sunscreen. We love our rashguard tops and highly recommend them, especially for water sports like snorkeling and surfing. If you don't have a rashguard top,  some great places to order them online are at Amazon, Zappos and LandsEnd.
– If we think we're going to use up the sunscreens that we've brought from home, we purchase more sunscreen in Hawaii. The prices of sunscreens at Walmart, Target, ABC and drugstores are comparable to what we pay at home on the US mainland. The resort shops might charge a bit of a premium, but paying a couple dollars more will still save you bunches of money as opposed to paying checked-luggage fees. Right?
No matter which sunscreen you use in Hawaii, if you are planning on being in the ocean, make sure your sunscreen is coral-safe. Essentially, that means that you purchase a sunscreen without Oxybenzone or Octinoxate. Both of those chemicals will be banned in Hawaii in 2021.
What about you? Are you a light packer, too? How do you bring sunscreens while still traveling with only carry-on luggage?