Hawaii packing tips & tricks: Downy Wrinkle Releaser Plus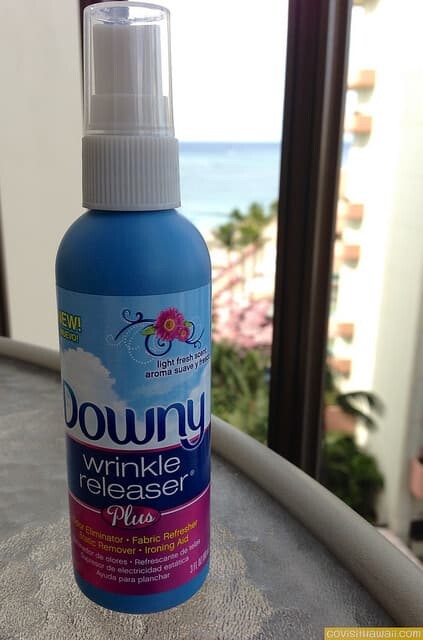 We recently tested Downy Wrinkle Releaser Plus on a trip to Oahu. This multi-functional product claims to smooth wrinkles, eliminate odors, and stop static. How did it work? We were impressed.
Even though we roll our cloths for packing to optimize luggage space and to prevent wrinkles, wrinkles can't be completely prevented. As a case in point, here's a dress that I photographed just after unpacking.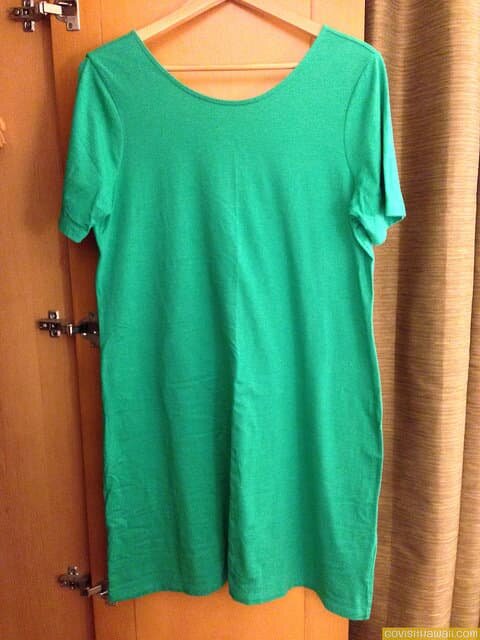 Notice that there's a center crease where I had folded the dress in half before rolling. Also, the bottom half of the dress is more wrinkled where I had started rolling from the bottom to the top.
I sprayed the dress with Downy Wrinkle Releaser Plus. I used my hands to spread the liquid evenly and smooth the fabric. I probably spent a minute  spraying and smoothing the dress. Then approximately 20 minutes later, I took another photo so that I could compare the before and after of using Downy Wrinkle Releaser Plus. The following photo shows the result.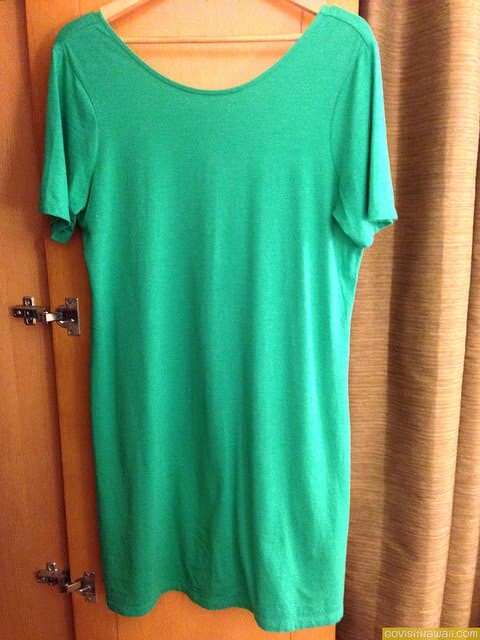 As you see, the center crease was significantly lessened. The lower wrinkles also diminished.
Does the dress look freshly ironed? Not really, but it does look significantly smoother — enough so that I felt confident to wear the dress to a breakfast business meeting the next morning.
Andy and I didn't just use Downy Wrinkle Releaser Plus for smoothing out wrinkles during our recent test in Hawaii. We also used it to refresh clothes that we wore twice during the trip.
The 3-oz container size of Downy Wrinkle Releaser Plus has earned a spot in the limited space of my quart-sized, zip-lock, liquid carry-on bag. The 3-oz container meets TSA guidelines for carry-on liquid containers. It will certainly help us continue to pack light in our travels.
—
Please note that we were offered a free trial of Downy Wrinkle Releaser Plus. This post is not sponsored. As always, we only write the same advice as we would give to our friends and family.