Molokai mule ride and tour of Kalaupapa – an awesome adventure!
Traversing the steep, cliff-hugging Kalaupapa Trail by mule stirred up nerves. Leading up to the sunny morning that we checked in at the Molokai mule ride stables, Andy had been hoping the tour would be canceled. He asked if the tour would be called off, if the trail was too muddy. Then, he carefully checked the ground conditions. Much to his disappointment and fear, the trail was fine and the ride would go on.
Waivers were signed. Hearts pounded. Prayers lifted.
After checking in, we met Mr. Buzzy Sproat, the Ali'i (chief) mule skinner of Molokai — and probably all of Hawaii. Though softly spoken, Mr. Sproat's humor packed a punch from the start. One of the first of his many jokes was that he'd be matching the riders to the mule that they looked most like. His great sense of humor was delightful.
[June 2014 update: we are
sad to report the passing of Buzzy Sproat
. He had been semi-retired. His family was and continues to be very much a part of the business. Mule rides will continue.]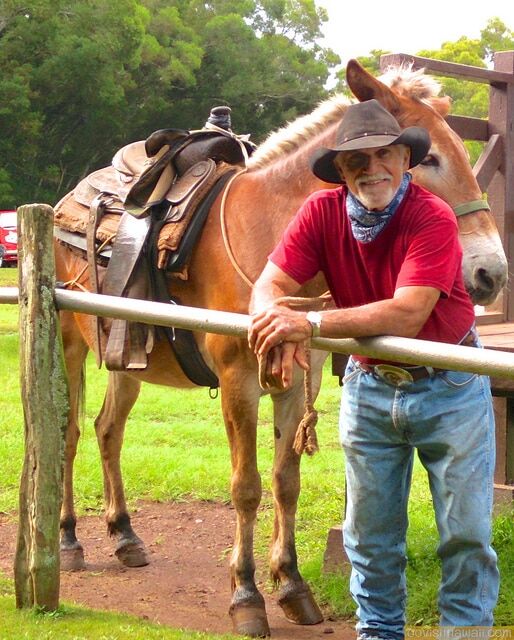 Adventure on the trail
The mules definitely knew the routine. As soon as the gate opened, they clomped towards the trail. After my mule, Chevy, and I managed to survive the first of 26 switchbacks, I naively asked if that was the steepest and the worst of them. I soon discovered it was the easiest of the bunch.
At first, I felt like a Weeble wobbling uncontrollably in the saddle. To help me feel a little more steady, I held onto the back of the saddle with my right hand and the horn of the saddle with my left hand, as you will see in the following photo courtesy of  BeersandBeans.com.
The mules were very sure footed. I really didn't need to hold on with such a kung-fu grip. The scariest moments were when Chevy took wide turns on the outside (cliff) edge of the switchbacks. I had to remind myself that Chevy was far more experienced with the trail than I was and that he knew best.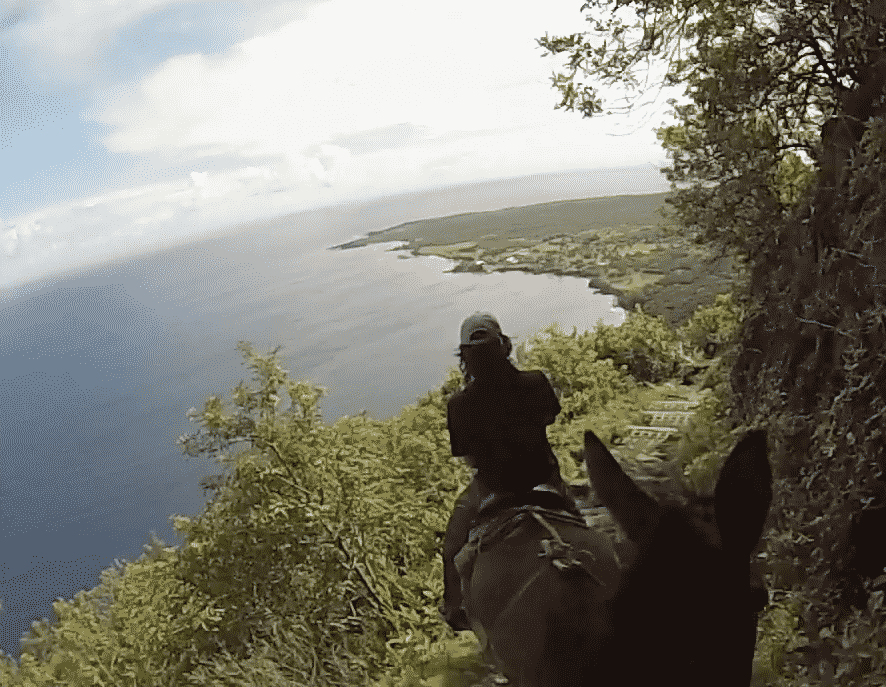 Mr. Sproat's nonchalant whistles indicated he had no fear of this cliff-hugging mule ride. I never saw him take hold of the saddle. He explained that the reasons they chose mules for this trail ride are that they are sure-footed and have a greater desire and sense of survival compared to horses and donkeys.
After a while, I started trusting Chevy more and more. I think Andy took even less time to get comfortable on his mule. I noticed that Andy wouldn't hold onto the saddle from time to time as he adjusted his GoPro camera for our video.
The ocean views from the trail were outstanding. I was glad that Chevy knew what he was doing so that I could enjoy the scenery.
The elevation drop of Kalaupapa Trail is 1,780 feet covering approximately 3.2 miles. Once we were near sea level, we hopped off the mules. They enjoyed some food, water and rest while we set out to tour Kalaupapa.
Hansen's disease (leprosy) – an isolating disease
After riding a mule down the one trail to Kalaupapa, you realize how isolated the peninsula is. Surrounded by tall cliffs and ocean, Kalaupapa is only accessible by the steep trail, by airplane or by boat, though there isn't any boat or ferry service to Kalaupapa.

When Hansen's disease, more commonly known as leprosy, struck Hawaii in the 1800's, the contagious disease spread among the Hawaiian population. Due to its isolated location, Kalaupapa was selected as a quarantine site.
In the early days, the conditions for those struck by the disease were astounding as explained by VisitMolokai.com,
In early 1866, the first leprosy victims were shipped to Kalaupapa and existed for 7 years before Father Damien arrived.

The area was void of all amenities. No buildings, shelters nor potable water were available. These first arrivals dwelled in rock enclosures, caves, and in the most rudimentary shacks, built of sticks and dried leaves.

Folklore and oral histories recall some of the horrors: the leprosy victims, arriving by ship, were sometimes told to jump overboard and swim for their lives. Occasionally a strong rope was run from the anchored ship to the shore, and they pulled themselves painfully through the high, salty waves, with legs and feet dangling below like bait on a fishing line.

The ship's crew would then throw into the water whatever supplies had been sent, relying on currents to carry them ashore or the exiles swimming to retrieve them.

In 1873, Father Damien deVeuster, aged 33, arrived at Kalaupapa. A Catholic missionary priest from Belgium, he served the leprosy patients at Kalaupapa until his death. A most dedicated and driven man, Father Damien did more than simply administer the faith: he built homes, churches and coffins; arranged for medical services and funding from Honolulu, and became a parent to his diseased wards.
Hansen's disease tragically tore families apart. Mr. Sproat told us a story of an eight-year old boy who was playing with friends in Pearl City in Oahu. The Department of Health noticed a sore on his face. They took the boy and instructed his friends to tell his family that he wouldn't be coming home. It took the boy four years before he could tell his parents that he had been transferred to Kalaupapa.
Occasionally family members would visit their loved ones in Kalaupapa. Though they could see each other through a wire cage, they were not allowed to embrace or touch.
By the mid 1900's a cure for Hansen's disease was discovered. By the 1940's the disease was no longer spreading among Hawaii's general population.
After a cure was discovered, many patients chose to stay in Kalaupapa. Mr. Sproat said that despite the separation from family, most patients lived a relatively happy life. Though the disease caused disfigured appearances, the patients all looked the same and didn't feel shunned from their own community because of their looks.
Today, approximately 10 to 15 patients live in Kalaupapa. They enjoy a very slow-paced, peaceful life.
Exploring Kalaupapa
While Hansen's disease patients continue to live in Kalaupapa, visitors are not permitted to explore the peninsula on their own. Photos of residents are also prohibited. Currently, there is only one tour operator, Damien Tours.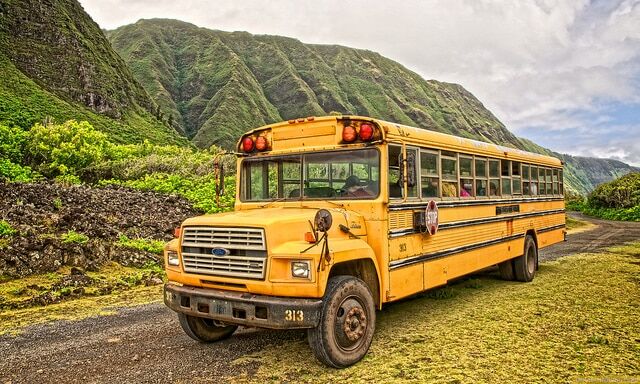 We boarded an old yellow school bus to drive some of the few miles of roads on this peninsula. Mr. Sproat drove the bus making stops at churches, monuments and the national park bookstore for us to explore.
One of the highlights was stopping at St. Philomena Church partially constructed by Father Damien in 1872 at the original Hansen's disease settlement in Kalawao. Saint Damien's grave is beside the church.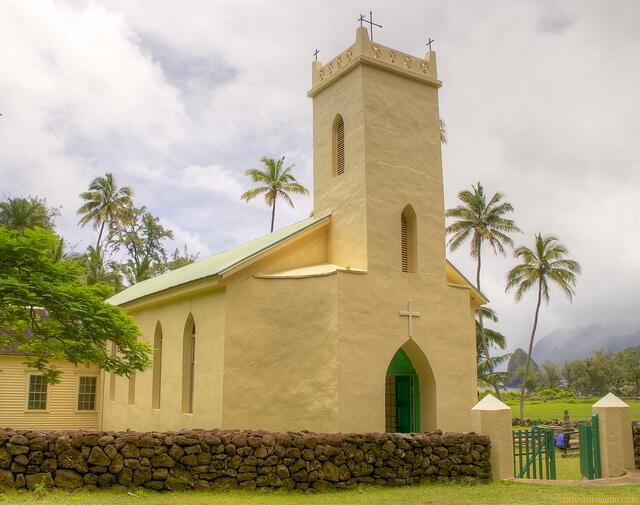 We enjoyed a picnic lunch (included) on the eastern end of the peninsula with stunning views of the velvet green cliffs. From there, we returned to the mules for our ride back to topside Molokai.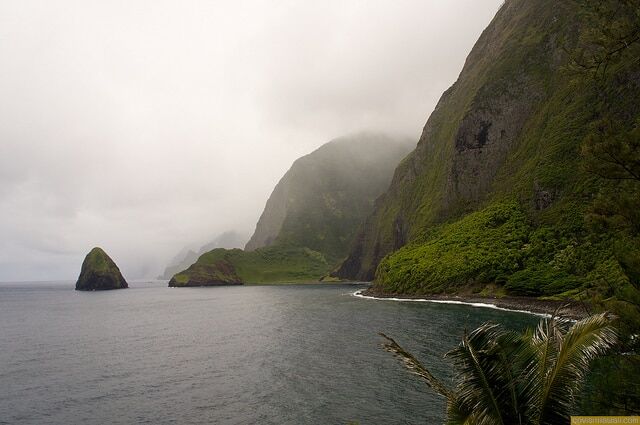 What a day!
Remember when I told you how Andy hoped the tour would be cancelled? He ended up loving this tour. In fact Andy said the Kalaupapa mule ride tour is one of the top 10 things Hawaii visitors should see and do.
The contrast of beautiful scenery to the somber stories of Hansen's disease stirred emotions. It was an unforgettable day of adventure, history and scenery that I feel blessed to say I've experienced.
Andy's video summarizing the mule ride and tour of Kalaupapa provides a great overview of what to expect.

(Email subscribers: click here to watch the video.)
What to know when you go:
– Kalaupapa is a National Historical Park, however, as Hansen's disease patients reside in the park, it's not fully open to the public.
– Though you can hike to and from Kalaupapa via the same trail as the mule ride, we recommend the mule ride for the experience of it. The hike back up the cliff looked grueling. We passed several weary hikers.
– Advance reservations are required and space is limited.  The mule tour website provides great information about the options and booking.
– A permit is required to visit the park. The commercial tour companies, like this mule ride tour, will make the permit arrangements for you.
– You can tour Kalaupapa with day trips from Oahu and Maui.
– The price for the mule ride and tour of Kalaupapa is $199 per person.
– To tour Kalaupapa, you must be age 16 or older per state law.
– The tour is offered Monday through Saturday. The park is closed on Sundays.
– Check in time is at 8am and the tour typically ends around 3:30pm.
– Maximum weight for this tour is 250lbs.
– Wear long trousers.
– Wear closed toe shoes.
– Wear sunscreen.
– Wear a hat.
– Bring sunglasses.
– Bring a camera.
– Drinks and snacks are available for purchase in Kalaupapa. Bring cash for these purchases.
– Picnic lunch is included.
– See all our photos from our mule ride and visit to Kalaupapa.
As guests of the Molokai Visitors Bureau, our tour was complimentary. As always, we only write the same reviews and advice on Go Visit Hawaii as what we would provide to our friends and family.