Come Check Out the New GoVisitHawaii.com for 2013!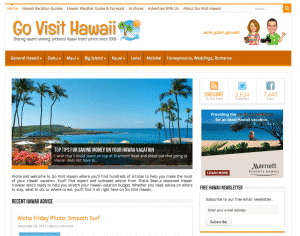 It's a New Year and it's a new design for your favorite Hawaii travel guide!
If you're viewing this post from your email, then come on over to GoVisitHawaii.com and see our brand new refresh for 2013! You'll quickly see a fresh new design that makes it even easier to find the best Hawaii vacation advice.
So, what are some of the features of the brand new Go Visit Hawaii?
A cleaner design that uses a layout and fonts that are easier on the eyes.
A new logo
The new design is also responsive to your browser. Whether you're viewing from a desktop, laptop, tablet or smartphone, Go Visit Hawaii looks stunning!
More eye candy! You'll see we've added a lot of images–designed to whet your appetite for visiting Hawaii!
A better search engine. Now when you use our search box (top right, if you're looking) you'll get MUCH improved search results. Previously, results would be ordered by freshness, then relevance. Now the most relevant posts are shown first–ensuring you don't miss some of our most popular articles.
Easier navigation between articles, thanks to a new "previous" and "next" navigation at the bottom of each post.
That's just a summary of the many improvements we've made. We hope you enjoy the brand new Go Visit Hawaii. Please leave us a comment and let us know what you think. Oh, and don't forget to subscribe to our free newsletter or join our Facebook community.