7 Reasons Why a Hawaii Vacation is Great for Your Health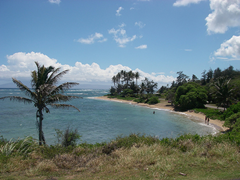 I'm always looking for good excuses as to why we should go to Hawaii. Today, our excuse is to improve our health.
This time of year everyone seems to be a bit more health conscious. We vow to get to a healthier weight, eat more nutritious foods, and exercise more. Well, you'll be pleased to know that going to Hawaii can help you keep your resolutions. Here are seven great reasons how you'll improve your health on a vacation to Hawaii.
1. Fresh Fruits
In Hawaii, you'll find the most delicious fresh tropical fruits. Forget about what you may have had back on the mainland, the fresh Hawaiian fruit is far better. I particularly enjoy the fresh papaya, pineapple and mango.
2. Fresh Fish
Ah, it's time to make sure you get those heart healthy omega-3's and you won't be complaining about it while savoring a fresh Hawaiian fish dinner. My mouth is just watering thinking about all the great fresh fish caught in the clean Hawaiian waters.
3. Rewarding Exercise
Instead of walking three miles on a treadmill staring at a television or magazine, wouldn't you rather hike along a fantastic beach trail or through a rainforest and across a volcano crater? Hawaii is loaded with many miles of hiking trails that offer rewarding scenery.
If you prefer water sports, you'll find anything your heart desires in Hawaii. You can learn to surf, try snorkeling, or go kayaking to name a few ideas.
If you'd rather keep up your gym routine, many resorts have state of the art fitness centers. Several even offer views of the beach.
4. Relax and Rejuvenate in Some of the World's Top Spas
Hawaii has some award winning spas with unique Hawaiian based treatments. Have you ever noticed how helpful and healing a good massage is? It is fantastic for the mind body and soul. (See these tips for getting the best out of your Hawaii spa treatment.)
5. Macadamia Nuts, Chocolate, and Coffee
And I repeat, there's macadamia nuts, chocolate, and coffee! Now at first thought you might be wondering how are those three treats good for your health. So let's explore why.
Macadamia nuts are good for your heart. They're a great source of fiber and protein and they may help reduce cholesterol. You'll find macadamia nuts used in many salads and fish dishes at Hawaii restaurants. You can also visit a macadamia nut farm in Hawaii and do some sample tasting.
Chocolate is a health food. Yep, that's right, chocolate is loaded with antioxidants. Hawaii is the only US state that grows cacao, the plant which is used to make chocolate. You can visit a chocolate farm and taste some of those delicious antioxidants. (Hat tip to Dave @ Hawaii Online Advertising.)
The coffee grown in Hawaii has a unique and robust flavor because it is grown in the rich volcanic soil. Coffee is one of the foods that is the highest in antioxidants. You can read more about the health benefits of drinking coffee in moderation in this article.
6. Fresh Air
Hawaii has very little air pollution. Hawaii is located hundreds and thousands of miles away from areas of heavy industry. The amount of industrial operations in Hawaii is significantly less than on the mainland.
7. The Aloha Spirit
When you visit Hawaii, you'll likely be impressed by the kind and friendly people. That's part of the aloha spirit. You'll find this attitude and way of life to be refreshing. If you pick up a little aloha spirit to bring home with you, you'll find a bit more happiness.
——
So, are you ready to improve your health and go visit Hawaii?