Touring the Munro Trail on a UTV with Western Lanai Adventures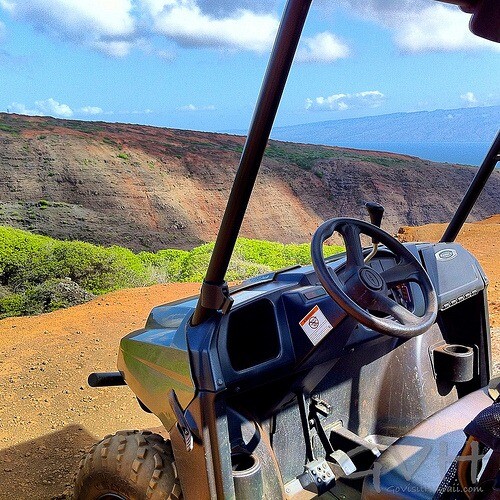 As a Hawaii travel blogger, I've experienced many fun adventures over the years. After touring Lanai's Munro Trail by  utility vehicle (UTV), I'd definitely rank it as one of the most scenic and fun tours. I can't wait to do it again.
From the Stables at Koele, we met our Western Lanai Adventures tour guide Cody. Operating a UTV is rather simple, so he just gave us a few instructions.
The best piece of advice Cody told us was that we didn't need to keep up with him. We quickly learned why as we would be eating his dust if we tried to stay with him.
Andy and I shared a UTV, though I think we could have had our own if we wanted. We were happy to share the ride together. Andy drove first and he took it easy thinking that I would prefer a gentle ride.
After a stop for a view, I had my chance at the wheel.Honestly, I didn't know I had this inner race car driver or motocross racer in me until I mashed the gas for extra zoom. I had a blast! Andy said I was grinning from ear to ear. It was exhilarating to navigate the dirt road,  feel the cool breezes blowing while catching glimpses of the ocean from nearly 3,400 feet above sea level.
We stopped several times along the way to enjoy the excellent views of Lanai and the neighboring islands of Molokai, Maui and Kahoolawe. After hearing the slight roar of the UTV engine, the view points were strikingly peaceful. The only sounds we heard were from birds, axis deer and the breeze softly whistling through the pines.
These UTVs were so stable. The tires absorbed shocks while also gripping the varied terrain. We thought they might be a bit rough, but we found them to ride much smoother than Jeeps.
The biggest laugh of the entire trip came when we went to the restrooms at the stable to clean up. I took one look in the mirror and laughed out loud. Dust had caked onto my face making me look like I had a beard.
Check out our fun UTV Munro Trail tour video to get an idea of what to expect.
(Email subscribers, click here to access the UTV Munro Trail video tour.)
What to know when you go:
–  Do not wear white or light colored clothing that you would mind getting dirty.
–  Temperatures at the higher elevation of the Munro Trail can be chilly. You might want to wear a long-sleeved shirt or bring a light jacket.
– Western Lanai Adventures provides (ski) goggles and, if I remember correctly, a helmet to wear. We wore the goggles, but not the helmet.
– The Munro Trail tour is 2.5 hours long and costs $199 per person. Lanai Western Adventures also offers a scenic 1.5 hour tour that goes to trails closer to the stables for $125 per person. Mention that you read about the UTV tours on Go Visit Hawaii for a 10% discount.
– The Jeep rental companies rarely, if ever, allow Jeeps on the Munro Trail, so touring it by UTV is definitely the way to go.  Though brochures may indicate that you can drive the Munro Trail by Jeep, I have never known the Jeep companies to allow their vehicles on the trail in the five times I've visited Lanai since 2007.
– See more photos from our Munro Trail UTV adventure
– For more UTV tour  information and booking, see this link.