Review Update: Four Seasons Resort Lanai at Manele Bay
Refreshing this post from 2010 with updated information and more images and video.
In 2012/2013, the resort implemented many enhancements — see new upgrades to Four Seasons Resorts Lanai at Manele Bay.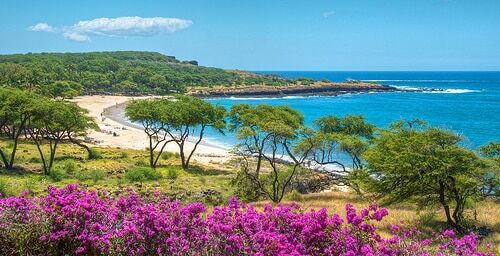 Since we've been home, we've lost count of the number of times that we've daydreamed about being back at the Four Seasons Lanai at Manele Bay. In fact, we're still aiming to get back there again this year.
So, why did we look forward to returning? This resort is absolutely gorgeous and we're in love with Lanai! In fact, there's more to love about this private island than meets the eye. We've been all over Hawaii, and we'd have to rank this resort in the top 5 resorts in Hawaii. This resort offers a beautiful ocean side setting.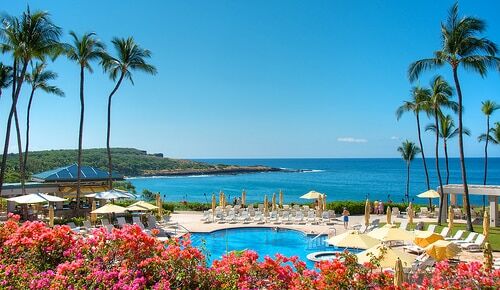 The resort's location on Lanai's remote, south shore makes the resort very special. It feels secluded and swank. The resort is perched on a bit of a cliff over looking the marine preserve of Hulopoe Bay where pods of spinner dolphins frequently visit and one of Lanai's more famous landmarks, Puupehe (sweetheart rock). The scenery will not disappoint.
We were still impressed with the generous size of the rooms and all the special little amenities the resort offers. You don't even need to bring sunscreen because they provide it for you. One of our favorite amenities is that when you go to the beach, the staff set up beach chairs, umbrella and table for you. After you're settled in and enjoying the sounds of the ocean, they deliver fresh cut slices of pineapple, Evian spritzes, chilled towels, and ice water. How's that for service?


On our recent visit, we had a bit more time to explore the resort's services. The spa was outstanding. Andy and I enjoyed an ocean side, sunset couples massage that still makes me swoon when I think about it. I still rank Grand Wailea's spa (on Maui) number one in all of Hawaii, but this Four Seasons Spa at Manele Bay is easily number two.
We loved using the fitness room. To give you an idea of how much we liked it – Andy and I don't normally work out in resort fitness centers when we're on vacation. From this fitness room, you have a fantastic view of the Hulopoe Bay that makes you want to add minutes to your elliptical or treadmill workout while you sip on the free energy drinks and dab your brow with a chilled towel.
We noticed a big improvement in the friendliness of the staff and the service levels compared to our first visit in 2007. To be fair, during our first visit, Four Seasons had just taken over management of this property and I think the kinks were still being worked out. We have absolutely no complaints this time. Everyone was so friendly and where possible tried to remember our names.
Tips, tricks, and what to know when you go:
I'm going to let you in on a secret – you will not find a better luxury value in Hawaii. Period. There's currently a promotion to stay in a lovely garden view room for $367 per night.
You don't have to pay a resort fee here. Yippee!
You really don't need to bring much to this resort. Normally, Andy and I travel with enough sunscreen to get us through our first few days. We didn't need to do that as the resort provides sunscreen. The resort even provides a nice beach tote to use during your stay. I should also mention that the toiletries are L'Occitane brand. Me likey!
Resort guests have access to the spa's steam room and sauna that are quite nice. So, take advantage of that.
Kids and teens programs are free here. At other Hawaii resorts, you'd pay upwards of $75 a day per child for the resort kids' club. See my article, Four Seasons Resorts Lanai Makes Family Escapes Easier.
You don't need to rent a car on Lanai. A shuttle service is provided to and from the airport and into Lanai City. The shuttle service costs approximately $38 per person per stay.
When you go to Lanai City or over to Koele, bring a light sweater or jacket. The higher elevation there can be chilly in comparison to Manele.
The resort regularly brings in local artists. We had the pleasure of meeting Mike Carroll and fell in love with his art. In fact, we bought this piece and had it shipped home.
The short hike over to see Puupehe (Sweetheart Rock) is well worth doing. Consider catching sunset there with a picnic.
Do you have an American Express Platinum Card? If so, book your stay with that card (through American Express travel services) and you'll get free breakfast for two daily, plus one free lunch and a room upgrade based on availability.
Anytime is a great time to visit, but New Years Eve is an especially festive time at Four Seasons Lanai. The resort puts on a wonderful fireworks show.
One of the best restaurant views in all of Hawaii is the Clubhouse Restaurant at The Challenge Golf Course. Don't miss it!
To get more of an idea of this resort, check out our video tour of Four Seasons Lanai at Manele Bay.
Also, for good measure, enjoy this video of 60 seconds of tranquility from this resort.

As a matter of transparency and disclosure, we paid for our stay at this resort, however, the spa treatment was provided by the resort free of charge.