Kauai's 15th Annual Festival of Lights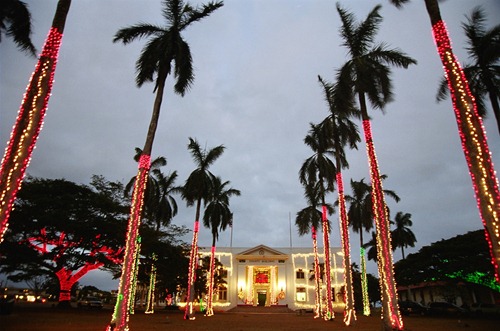 The Garden Isle of Kauai is all aglow for the Christmas season with their annual  Festival of Lights. In its 15th year, Kauai Festival of Lights was created by the community to continue a local tradition that was started more than 50 years ago by Auntie Josie Chansky, a folk artist born and raised on Kauai. For nearly 40 years, Auntie Josie opened her home to neighbors, strangers, tourists – everyone and anyone. People just started showing up on her lawn and then at her door.  They wanted to see all the Christmas folk art decorations that she created and displayed on the outside and inside of her home.
Auntie Josie's home became known as "The Christmas House."  Generations of families began making "The Christmas House" part of their holiday traditions to see favorites such as a Christmas tree made of 7,500 green toothpicks, wreaths formed from egg cartons, table decorations constructed with seed pods, and a chandelier fashioned from wire coat hangers.  Auntie Josie transformed these humble materials into sparkling treasures.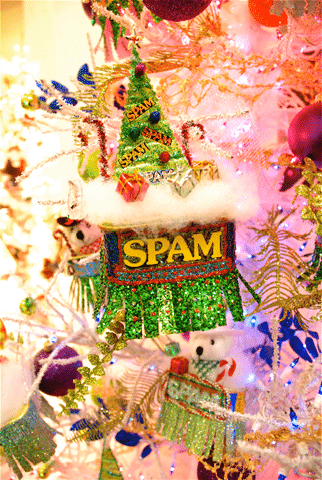 With the grief of  Auntie Josie's husband passing in 1996, she realized she didn't have the strength to put up all the decorations herself, Auntie Josie held a garage sale.  Luckily, the loss of the "The Christmas House" to the community was recognized and her entire collection was saved by a community member and donated to the County of Kauai. Festival of Lights was born and continues to be run by community volunteers with funding by the County of Kauai, Office of Economic Development, Hawaii Tourism Authority, individuals and private businesses.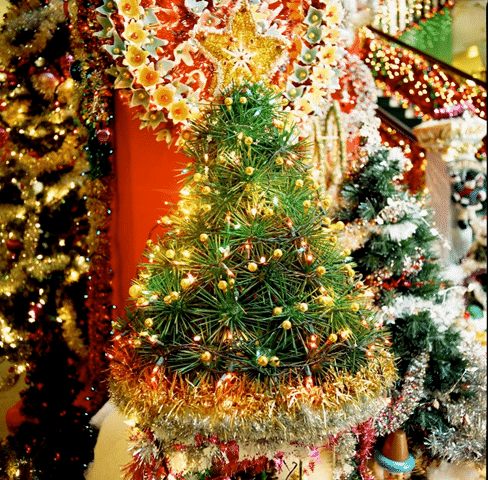 The Festival of Lights' treasures have expanded to also include "Kauai-style" decorations crafted by local  volunteers. Many of the additions are crafted with recycled materials.
Festival of Lights runs through December 24at the historic Kauai County Building at 4396Rice Street in Lihue . Visitors can enjoy the Christmas decorations within the Historic County Building between 6:00-8:00 p.m. every Friday-Sunday. Admission is free. For more information, please contact 808-639-8564 or email friends@thefestivaloflights.info.
All photos courtesy of the Festival of Lights.